Considering you're on a site named "Horror Obsessive," you likely agree with the hosts of With Gourley and Rust when they posit that watching horror films can actually be a comforting, and even relaxing, experience. 
The slasher genre specifically seems to be a go-to choice for many of us who are looking to escape the horrors of reality with a little camp. Films like A Nightmare on Elm Street, Friday the 13th, and Halloween may have debuted as frightening concepts, but after each became a franchise, the once-disturbing kills turned into fun schlock for the kids. 
Now more than ever, the pop culture of yesteryear has been methodically picked through and recycled to capitalize on our collective nostalgia. And for many of us, Michael Myers, Jason Voorhees, and Freddy Krueger are as warm and familiar as Mickey Mouse. If this rings true, then Paul Rust and Matt Gourley have the perfect podcast for you. 
Paul Rust has made a name for himself as an actor-comedian who has become widely known throughout the comedy podcast world by appearing on Comedy Bang Bang and performing with his band Don't Stop or We'll Die. He also starred and co-created the Netflix show Love, which this writer believes to be criminally underrated in the dying world of romantic comedy. 
Matt Gourley has also become a standout podcaster by producing and starring in a plethora of shows which include Superego, James Bonding, I Was There Too, and Conan O'Brien Needs a Friend.
Their mutual love of classic slasher films brought them together to make the world's best easy-listening horror podcast. Matt and Paul match the lunacy of these franchises by creating hilarious characters and inside jokes, while also providing surprisingly thorough insight which includes charting out the nonsensical timelines in real-time. And every episode is created with the excited energy of a late-night slumber party. 
The podcast now has three seasons that cover the franchises of Friday the 13th, A Nightmare on Elm Street, and Halloween, respectively.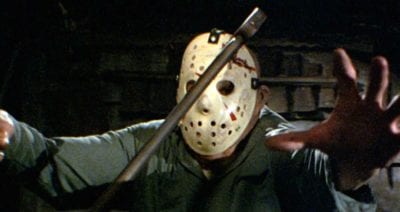 In Voorhees We Trust With Gourley and Rust
At first, you may be under the impression that the only reason they named the first season "In Voorhees We Trust" is because it rhymes well with "Gourley and Rust," and you would be right, but since the beginning of the pod there has been a laid back, friendly vibe that certainly invokes trust in our silly co-hosts. 
Each episode covers a single film from the Friday the 13th series, and our friends walk through the film with us scene by scene. Paul and Matt make sure to note all the strengths and weaknesses of each individual take on the legacy of Jason Voorhees with the intensity of a much more serious podcast. 
Anyone who knows the franchise well is aware that maintaining continuity was not a real concern throughout its history. The first film begins as a mixture of a low-budget giallo and a Psycho ripoff, then once Jason takes the reins, the story is molded to take on the shape of whatever subgenre or trick seems likely to make the most money at the time—this quest for capital takes us to Manhattan, Space, Hell, Freddy's nightmarescape, and even the world of 3-D.            
For a series that can't even decide on its title structure from film to film, perhaps they're giving the films more thought than is necessary, but for die-hard fans of the slasher, it is likely to stir up late-night debates had amongst friends looking for something joyfully pointless to talk about.
Friday the 13th (1980)
Friday the 13th Part 2 (1981)
Friday the 13th Part III (1982)
Friday the 13th: The Final Chapter (1984)
Friday the 13th: A New Beginning (1985)
Friday the 13th Part VI: Jason Lives (1986)
Friday the 13th Part VII: The New Blood (1988)
Friday the 13th Part VIII: Jason Takes Manhattan (1989)
Jason Goes to Hell: The Final Friday (1993)
Jason X (2002)
Freddy vs Jason (2003)
Friday the 13th (2009)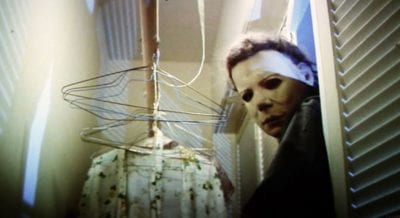 In Myers We Trust with Gyers and Rust
After saying bye to their dear frog-boy friend, Jason, Paul and Matt moved the podcast to Stitcher premium and turned their attention towards Haddonfield, Illinois to cover John Carpenter's classic, Halloween.
Matt Gourley's dedication to the pod was proven when he took to the podwaves and announced his decision to change his name from "Gourley" to "Gyers" just to maintain the rhyme structure of the original show. This season is just as silly as the previous one but also provides some entertaining cynicism when the duo finally gets to a slog of films that they truly don't enjoy.   
Halloween (1978) 
Halloween II (1981)
Halloween III: Season of the Witch (1982)
Halloween 4: The Return of Michael Myers (1988)
Halloween 5: The Revenge of Michael Myers (1989)
Halloween: The Curse of Michael Myers (1995)
Halloween H20: 20 Years Later (1998) 
Halloween Resurrection (2002)
Halloween (2007)
Halloween II (2009)
Halloween (2018)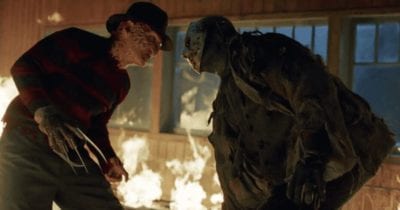 In Krueger We Trust with Grueger and Rust
Like many other podcasts during COVID-19 times, the show has moved to Patreon (a website that allows a podcast to charge a monthly fee to subscribers in exchange for perks, such as early or exclusive episodes).
Thankfully, their new series—In Krueger We Trust with Grueger and Rust (in which, once again, Gourley changed his name for rhyme's sake)—is still streaming free on your favorite podcast app, but as a Patreon subscriber to the show, I can assure you that the bonus material is well worth the monthly fee of 3 to 10 dollars. 
Freddy Krueger always seemed like the most outlandish transformation out of the big three. Jason Voorhees starts out as a frog-boy made for a jump scare but evolves into a lumbering, silent killer, and Myers rarely deviates from that persona even when we are forced to learn more of his backstory, but Krueger runs the full spectrum by starting out as the most vicious of villains and ending his run closer to a Bugs Bunny than a Leatherface. 
A Nightmare on Elm Street (1984)
A Nightmare on Elm Street 2: Freddy's Revenge (1985)
A Nightmare on Elm Street 3: Dream Warriors (1987)
A Nightmare on Elm Street 4: The Dream Master (1988)
A Nightmare on Elm Street 5: The Dream Child (1989)
Freddy's Dead: The Final Nightmare (1991)
Wes Craven's New Nightmare (1994)
Freddy vs Jason (2003)
A Nightmare on Elm Street (2010)
---
The highest tier of their Patreon includes commentary tracks of your favorite slashers, starting with the original Halloween. But, again, every episode is currently available for free and easy listening, so do yourself a favor and join your friends Jason, Michael, Freddy, Matt, and Paul as they relive the nostalgia of picking teens off one by one.