When writing characters, a writer needs to consider motivation. What is driving the character, why would he do these things? It's how the audience connects to the people in books or movies and feels empathy for their situations. When we don't have good motives, the result is predictability—an inevitable conclusion that the film is leading us toward. We can see through the story and behind the curtain to see the strings being pulled, and that is the problem with BJ Verot's The Return.
The Return begins well enough with a brilliantly crafted nightmare sequence, in both color and cinematography, where a child sees a monster emerge from the basement bulkhead while in his backyard. When the sequence ends, we meet Rodger (Richard Harmon), the boy from the sequence, as a college student in the present traveling home with his girlfriend, Beth (Sara Thompson), and best friend, Jordan (Echo Porisky), because his father has died.
A normal dead parent setup is in rotation and we slowly gather clues to the father's death. Rodger goes to a lawyer's office to hear about the will, and the lawyer mentions some manic behavior in his father before his death. Verot is creating a mystery narrative and the setup works to a point, in the next few scenes I had the full outline ready and it wasn't difficult to untangle. Barring a few specifics, I did rather well too.
While looking through old family photos, Jordan makes a light natured pass at Rodger which he shoots down immediately. This angle seems so forced, and it isn't like Beth is an unlikeable character, either. In fact, the cast works terrifically together, seeming very comfortable with each other. This helps with character building by making the relationships feel stronger.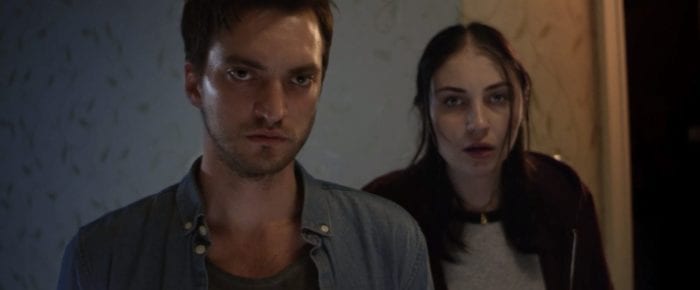 Rodger recalls a time where he and his deceased sister messed up one of his mother's equations in her lab. Jordan calls for a catharsis moment and the group heads downstairs to see what's down there. This leads Rodger to find a stack of psychiatrist reports about himself that he has zero memory of.
So now we have a forgotten childhood psychosis plot, a dead relative gifting a haunted house, a mad scientist, and a love triangle plot. For everyone playing horror movie trope bingo at home, please shout out when you've won. The love triangle plot gets thicker as Beth asks the grieving Rodger to dismiss his best friend out of jealousy. This seemed so out of place for Beth's character that it metaphorically broke the movie for me.
I saw the plot devices the film was setting into motion and how it was all going to change character motives to achieve what it was going for. Rodger's mother's lab was the only thing I couldn't pin down by this point, but I was actively rooting for it to be a wildcard and set the predictability meter back to zero. So obviously Rodger tracks down his old therapist, Dr. Henrietta Cox (Marina Stephenson Kerr), through two clumsy scenes that I thought were strange having stacked on top of each other. Cox explains that during his childhood, he had an imaginary friend.
When Rodger returns from Dr. Cox's office, he and Beth undergo a forced bit of dialogue that leads them into a fight. Beth, who was studying for a test before having a box fall on her, seems to outweigh Rodger's dead dad and newly discovered psychiatric history in terms of needs. As she storms off, Jordan enters, and given her pretext for flirty behavior with Rodger, the viewer gets the full view of where it's all going to end up.
Beth decides to leave, and the setup for her exit is nothing short of transparent. While Rodger and Jordan decide to pull a break-in at Dr. Cox's office, Beth returns to the house. The separation between her leaving Rodger and returning is less than three minutes as we see another pair of scenes similarly stacked on top of each other that would have benefitted from room to breathe. The reason why she left in the first place is ostensibly to make sure no one is looking for her when she's taken by the monster.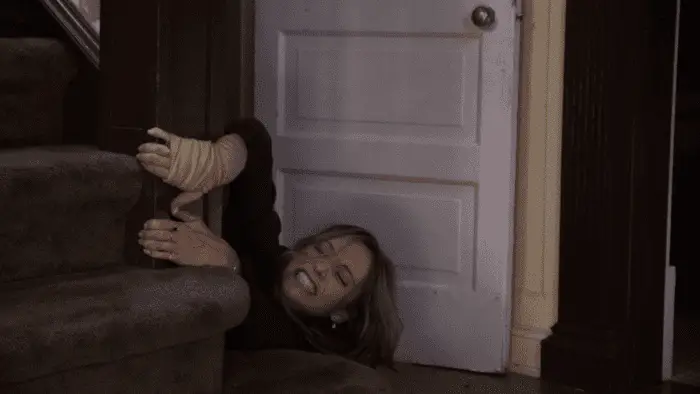 I may have rolled my eyes hard here; The Return managed to do a lot of things to generally upset my viewing experience. At times, an echo on a flashback would drown out the dialogue, leaving me unable to hear things. In one scene, Rodger grabs a fire poker and slashes at the monster like he's Dean Winchester, and the audience should know this unestablished endeavor will absolutely work. My attention started to dissipate.
By the end, I will say, the mad scientist angle is generally a likable one and feels like this is where most of the story idea comes from as it is the most concise part of The Return. The science fiction plotline is generally interesting and creative. Unfortunately, it doesn't apply any twist to the film to make it go in a more imaginative direction.
Now don't misunderstand me, The Return is watchable and has a few enjoyable moments in it. Just consider that it's more like a Syfy channel movie of the week and not the Poltergeist type of ghost story its trailer suggests. I will give the film points for dialogue, except in the places where the story forces it, and the acting is pretty damn solid.
Coming from a background in stunt work and camera operation, The Return marks director BJ Verot's first time writing and directing a feature film. Creating something of this scale would be a large undertaking for anyone who hasn't attempted it before, and there are some good things about the technical way he approaches the film. I was a big fan of the incredibly effective switching of cameras for the nightmare-memory sequence; the cinematography during the regular sequences, however, feels like a television experience at times.
The Return is having its east coast premiere in this year's all-virtual Salem Horror Fest 2020 during its second weekend beginning October 9. An all-access pass gets you into all the premieres, panels, reunions, and more beginning October 2.