On December 16, 2012, Jyoti Singh went out to celebrate finishing four years of university. She and her male friend Awindra Pandey were traveling on a bus to Delhi to see a movie. The pair never made it. Singh was brutalized, gang-raped, and tortured by six men on the bus. The two were both hospitalized with severe injuries, and Singh would die eleven days later.
There's a legend that exists throughout southeast Asia about what happens if a woman dies in a brutal manner. These myths describe the woman's return as a revenant to this world, seeking revenge on her creators as a churail. Many folklores exist about the churail, sometimes called the churel depending on the culture. A woman's unwillingness to conform in some cultures is enough to make her a churail. Director, writer, producer, star K/XI creates an intense portrait of a churail in Black Lake based on these legends, her extreme anger for what happened to Jyoti Singh in 2012, and her own personal experiences.
Black Lake begins with Aarya (K/XI) arriving at her Aunt Ayaneh's (Aditi Bajpai) country house for some time alone. Through conversations with her aunt, we find that Aarya's life in the city has been strained, and she is looking for a few days to relax. Ayaneh tells Aarya that there's a gift waiting for her from her recent travel to Pakistan. Aarya finds a beautifully vibrant red scarf that smells of the marketplace her aunt bought it in.
Thankful but indifferent to the gift, Aarya continues with her day. When she falls asleep in the bath, her nightmares portray a woman in a scarf waking up at the lake. We soon discover the scarf isn't what it seems, having once been in the possession of a young girl who incurred a terribly violent fate. The viewer is entreated to feast on the visuals through intercut scenes of frightful imagery as Aarya navigates a deeply personal nightmare. Violence begins erupting from things she once found beautiful.
I think everyone can understand the effect certain items can have on a person. You could spend years in a relationship, good or bad, and amass many items that take on a different meaning long after the relationship ends. An old concert ticket or a trinket from a trip can hold a memory you may or may not wish to remember. Aarya's connection to the scarf and some of the imagery within her nightmares tells a tale of toxic, unimaginable brutality and the struggle to overcome trauma.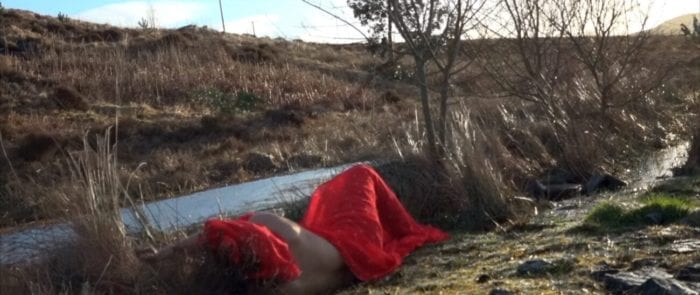 Getting the gist of Black Lake is easy. Trying to understand it completely is far more complex. Her biggest idea for the film came in the form of dialogue from V for Vendetta. The lines spoken between V and Evie in the film—"What was done to me was monstrous. And they created a monster"—were K/XI's starting point in crafting the film. The churail is a monster of someone else's making.
"Monstrous acts of violence create monsters and Black Lake was made to explore cycles of violence," K/XI says in a Q&A from earlier this year. "Violence isn't always at the hands of men. Black Lake explores violence through the hands of someone who has been violated, making it a very sad and complex monster movie.
When you grow up with violence, or fear of violence, you sometimes end up in violent relationships and you don't question it because it feels normal. Sometimes you want to continue loving someone so much until there comes a point when you realize you no longer feel safe. There's no trust. Your mental and physical well-being is being destroyed and Black Lake is a film that deals with culture, art, love, sexuality, violence, rape and human compassion because these things do matter. They do need to be discussed. And people do need to open their eyes up to issues like domestic violence and other forms of abuse.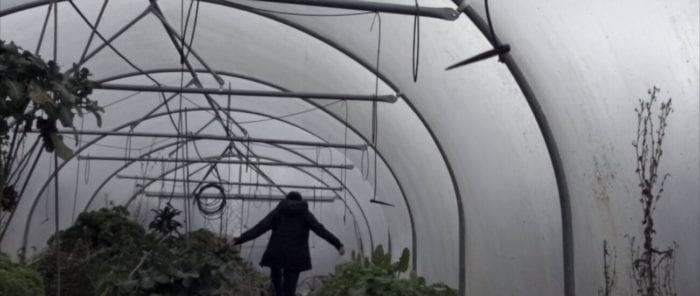 Black Lake is a slow roll and very much an art piece. K/XI displays saintly patience behind the camera, and it is highly effective. At times, however, her lingering on imagery can become briefly tiresome as viewers try to differentiate between what images are more important to the story. That is not to say it isn't beautiful, which it surely is. K/XI intercuts visceral imagery and nature together so well that this movie deserves its own subgenre as elemental horror.
Additionally, Black Lake features an incredible soundtrack, curated by K/XI, and a hell of a film score provided by Burning Tapes. The brilliance of which had me tracking down one of the 300 vinyl copies in print to add to my collection. The score adds a whole extra level to the film and to its communion with nature.
K/XI has said her film is a love letter to her favorite directors. From the start of the film we see Aarya wearing Evil Dead and Eraserhead shirts. The movie is incredibly Lynchian in the way objects are presented with meaning behind it. Ayaneh's hands are bloody no matter how hard she washes them. Gifting the cursed scarf to Aarya is like her setting everything in motion. The blood symbolizes her guilty conscience. Other references to Nicholas Windig Refn's The Neon Demon, Tarsem Singh's The Cell and Bryan Fuller's Hannibal series are seen more in the cinematography and color pallets.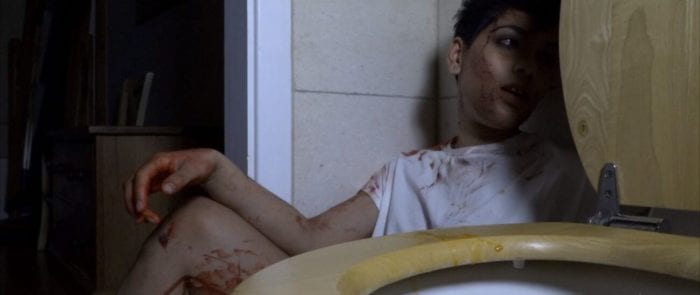 It took three years for K/XI to make Black Lake. After initial filming locations in Pakistan shut down, K/XI tried pleading with locals there. Most of the movie ended up filmed in the Scottish countryside at an Airbnb location, with K/XI scraping money together for re-shoots in Pakistan. I hope she knows it all paid off. The result is a labor of love and truly something special by an artist with an undeniably keen eye. K/XI says she has a good idea for what she wants to do next. Revisit and finish her first feature she shelved back in 2015, Maya.
Black Lake will be playing at the all-virtual Salem Horrorfest 2020 during its second weekend starting October 9th.