If you didn't know there was an anti-abortion-themed holiday horror movie, you do now. Welcome to Craig Anderson's 2017 Aussie horror Red Christmas, which proves that the holidays weren't already filled with enough dread…
I decided to watch Red Christmas on Tubi the other day. I wanted mindless entertainment after a full day of writing about the history of abortion for my Ph.D. dissertation. Seeing as how it's the yuletide season, the worst time of the year, I couldn't pass up a title like Red Christmas or a description like this: "A widowed mother (Diane, played by the incomparable Dee Wallace) must protect her family when a demented stranger turns their Christmas Day celebration into an over-the-top bloodbath." "Over-the-top," you say? A Christmas celebration gone awry? SIGN ME UP.
Life Imitates Art
Imagine my surprise when the movie opens on a group of screaming protesters in front of a clinic. Some are holding signs arguing for women's rights, others equate abortion with death, while another displays a coat hanger with the message NEVER AGAIN. A man dressed like a priest, carrying a rosary and a briefcase, casually walks down a hallway in the clinic. We don't see his face. The focus is not on him, but on the briefcase. We know what's likely to happen. Tell me again what this hellscape has to do with the holidays?
I almost shut Red Christmas off. I'm watching this to get away from my dissertation material, not jump back into some anti-abortion holiday nightmare. But I soldiered on because, interestingly, the voiceover comments sounded strangely familiar. In fact, I knew them word for word. That's because they come from a 2007 documentary by Tony Kaye. You might recognize him as the director of American History X, that 1998 Edward Norton movie about neo-Nazis. Kaye's Lake of Fire took eighteen years to make and explores the dynamics of America's "abortion wars." This includes clips of well-known figures involved in the issue like Randall Terry, Flip Benham, Norma McCorvey (aka Jane Roe), Kate Michelman, Sarah Weddington, and Frances Kissling.
I'll come back to why this matters later. For now, let's get back to the movie.
Anti-Abortion Violence
As we expect, a bomb explodes. A woman who has just had an abortion drops a necklace, while the "priest" picks up a viable aborted fetus as it reaches up from a bucket. What's interesting about the fetus is that its hand and arm is clearly formed, indicating that this fetus is the product of a third-trimester abortion, which makes up less than 2% of all procedures in the United States.[1]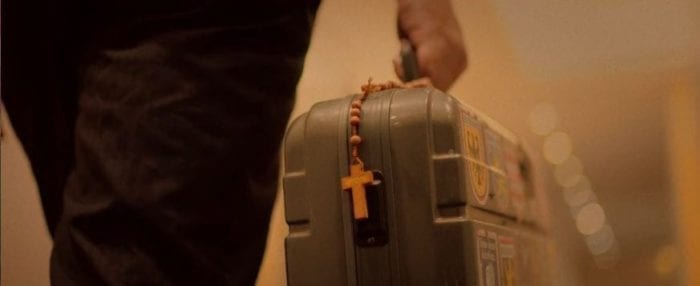 And this all takes place before the credits run. The opening credits are interspersed with scenes of a red-lit room papered with newspaper clippings of reports of violence and murders. A hooded figure, who is definitely up to no good, kneels before a cross and holds the aforementioned necklace. The bombing is clearly not the only anti-abortion violence that this person has engaged in. But it's unclear to what extent this person is involved in a particular group or acts alone.[2] Red Christmas isn't interested to explore his actions beyond this, though. This horror movie is content to terrorize only a single-family.
Domestic Horror
Cut to a home in the countryside. Diane, her brother, her teenage daughter, and her adult son, Jerry, live there. (Jerry has Down syndrome, which will become relevant). Diane's other adult children are coming home for the holiday, too. The regular camaraderie and contention ensue between the sisters, one of whom is pregnant while the other deals with fertility issues. Not only is there resentment and jealousy between these siblings, but all feel the loss of their father (and soon-to-be-sold family home). Think of any, literally ANY, movie about family gatherings during the holidays, and I'm sure you can imagine how the banter looks and sounds. (Dutch? What? No. That's Thanksgiving. National Lampoon's Christmas Vacation? Warm. The Family Stone? Getting warmer. Krampus? Hell yes.)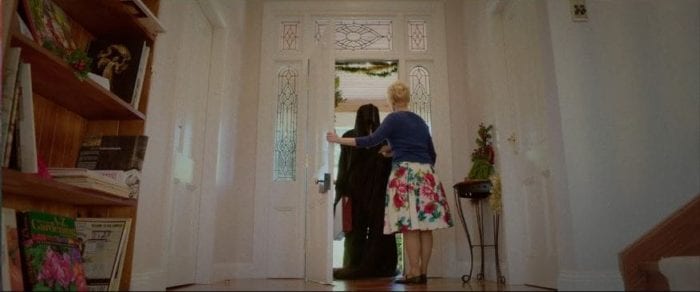 But the cutting remarks and otherwise uncomfortable holiday environment in Red Christmas are nothing compared to the horrors that an unexpected guest brings to their home. This person, wrapped in bandages and a black cloak, is the spitting image of the Grim Reaper. This stranger followed no star to this humble abode, nor did they carry tangible gifts. Instead, this hooded figure comes bearing a secret: twenty years ago, Diane had an abortion. The fetus from the beginning of the movie has grown up (he is "Chekov's Son," as Kristy Puchko refers to him), coming to…well, it's not clear what his intentions are, exactly.[3] His bombshell of a story upsets the family so greatly that they subsequently throw him out. Cletus is not "reborn" into a new life with his family. Rather, he is "re-aborted," this time from the womb of his mother's house. This calls for bloodshed, with a side of anti-abortion rhetoric and guilt.
Real-Life Horror
Red Christmas' promised holiday horror bloodbath in the description does not disappoint. On that note, let's go back to the beginning, shall we?
"Satan worshippers, [who] actively worship Satan…They take the baby out of the womb by the hind leg and they'll hang the baby in front of us pro-lifers who are there and then they'll barbecue this baby right in front of us on a barbecue pit."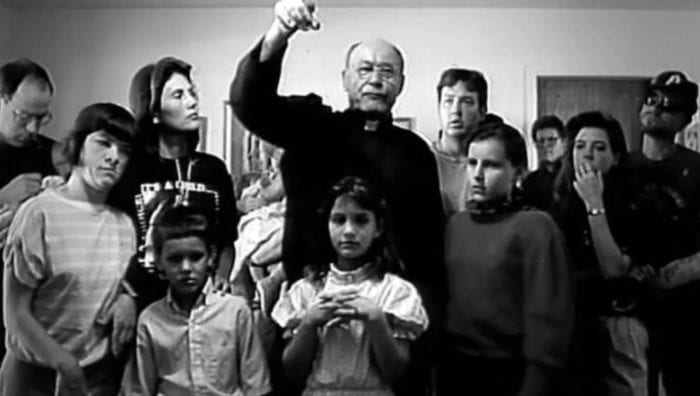 I'd forgive you for thinking this was a description of a scene from Red Christmas. They're actually the words of Father Norman Westlin, the leader of anti-abortion/pro-life group Lambs of Christ. In Kaye's documentary, Westlin stands among a group of women and their children, residents at his home for "unwed mothers." In this scene from the 1990s, Westlin describes the kind of people who protest against the pro-lifers outside of clinics. He also derides Bill and Hillary Clinton for advocating for days like "Lift Up Your Dress Week" at California schools. I'm sure it won't surprise you to know that any search on the internet for such a "holiday" only populates results that point back to Westlin's statements.
Real-Life Violence
Honestly, Westlin's comment reads like something you might hear on an episode of Art Bell's Coast to Coast AM. It's hard to find any truth behind such outlandish statements. And that's precisely what makes them dangerous. One of the other comments at the beginning of Red Christmas comes from a 1994 interview with Richard Seron. Seron was a security guard for a clinic in Brookline, Massachusetts when John Salvi III walked into the clinic and opened fire, killing one woman and injuring two others (Seron included). That same day Salvi had walked into a nearby Planned Parenthood clinic, killing a woman and wounding three others. Earlier that year, more anti-abortion violence had occurred outside of a clinic in Pensacola, Florida where Paul Hill shot and killed Dr. John Britton and his clinic escort James Barrett and wounded June Barrett.
Truth Is Uglier than Fiction
But I digress.
What does all of this have to do with Red Christmas? Sure, the horror of Red Christmas is that a family is brutally murdered in their home during the holidays. But I'd argue that the real horror here is the rampant misrepresentation and demonization in discussions about abortion, which sometimes leads to acts of unconscionable violence. And while we could discuss the political messaging of, say, Black Christmas, this holiday horror may not have any deeper message than venturing into unknown territory by having the antagonist be an aborted fetus. (No, Belial from Basket Case doesn't count—he's a conjoined twin.) Its politics draw on real-life events and rhetoric far more menacing than many horror films might imagine.
[1] "Induced Abortion in the United States." Guttmacher Institute.
[2] Although some identify people as "lone wolf" terrorists, the truth is that radicalization towards violence is never the result of solitary action.
[3] "Red Christmas Review: The Anti-Abortion Holiday Movie No One Asked For." Pajiba. 27 August 2017.