Jen and Sylvia Soska, identical horror filmmaking duo from Canada, blasted their way onto the big screen with their debut feature Dead Hooker in a Trunk (2009). The Soska Sisters (or Twisted Twins as they're often known) took their love of Grindhouse films and Robert Rodriguez's low budget action flicks like El Mariachi (1992), and mixed it with a grimy punk rock DIY aesthetic to make Dead Hooker in a Trunk (2009), a film they made for only $2,500 (Canadian).The Soska Sisters took cues from Rodriguez and made up for lack of funding with an overdose of passion. The Soska Sisters love to encourage their legion of fans to "follow your stupid fucking dreams."
The twins briefly attended film school, but in the end their true "school" was the process of making their debut feature. It's this message of going after what you want and a consistent focus on marginalized people (sex workers, the art of body modification) that carried on into their body horror female empowerment thriller American Mary (2012).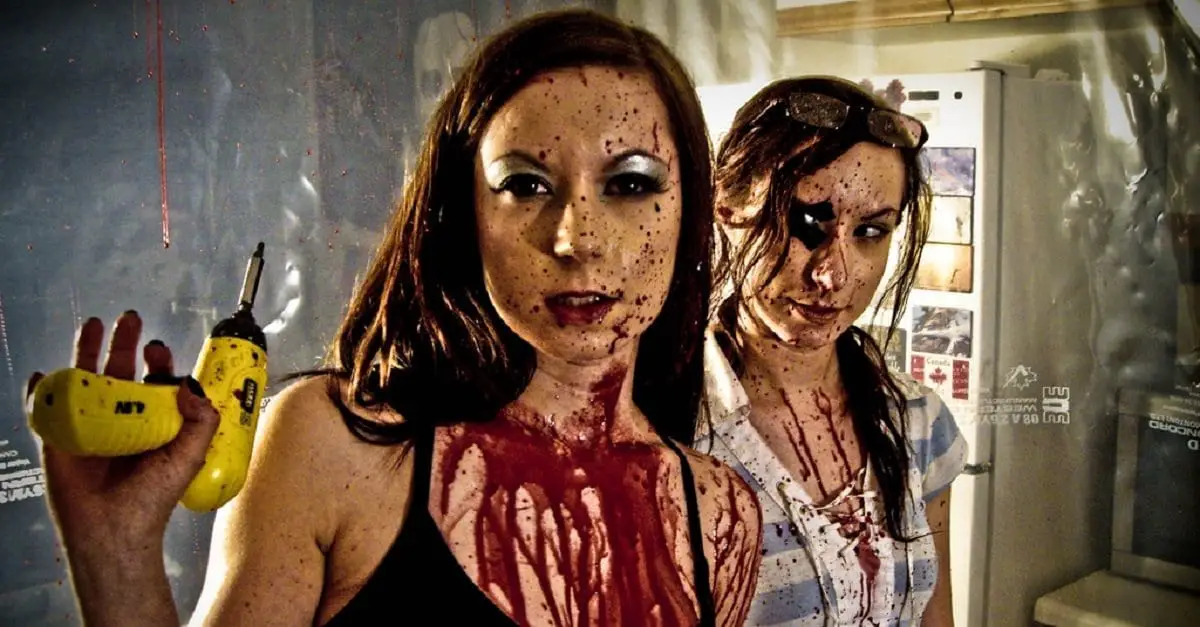 Jen and Sylvia Soska have had to do it the hard way every step of the road. Making a movie for $2500 isn't easy but Dead Hooker In a Trunk (2009) is a master class in modern Grindhouse style. They have been championed along the way by such genre heavyweights as Eli Roth (Cabin Fever, Hostel) but Dead Hooker in a Trunk is a group of friends grabbing a camera and saying to hell with convention, let's make the movie that we want to make. The film is as good as anything from the "Grindhouse Resurgence" like Hobo With a Shotgun (2011) or the double feature billed as Grindhouse (Planet Terror/Death Proof) (2007) from Rodriguez and Quentin Tarantino themselves. The Soska Sisters told Grindhouse stories from a distinctly female point of view and also threw in a lot of fun shots at Christian fundamentalism, but Dead Hooker in a Trunk (2009) hits just as hard today as it did ten years ago.
It's not easy being a female in the film industry and the Soska Sisters can tell more than a story or two about that. They had both tried acting in films before turning to writing and directing their own projects but found they just couldn't stomach the boys' club mentality of Hollywood. The Twisted Twins have always been an inclusive pair that aren't afraid to get political. They really want to entertain you, but they also want it to be clear where they stand which is firmly on the side of the disregarded and the voiceless in society. Their next film, American Mary (2012), focused on the rape and aftermath/transformation of a young medical student played by Katharine Isabelle (Ginger Snaps, TV's Hannibal) proved to be a David Cronenberg-inspired masterpiece and one of the most important female driven films of all time.
American Mary (2012) was the most talked about genre films of the year after its release. Like a mix of David Cronenberg and Takashi Miike's Audition but told entirely through a female lens that both entices the male audience and scares the shit out of them. American Mary at the very least should serve as a glimpse into the over-sexualization of women for men's entertainment culture in Hollywood, and the world at large. Every time, as a guy, you lose yourself in how sexy or cool Katharine Isabelle's performance as the "surgeon of the underworld" aka "Bloody Mary" you're soon reminded that she is always being asked to perform and to play so many different roles at once by everyone from her leering professors to the desperately misunderstood souls that turn to Mary's surgical skills for help in making their outward appearance match who they are underneath.
Mary begins the film a smart and broke, hard-working medical student who is drugged and raped by her medical school professors at a party. What the professors don't know when they pluck Mary from school and invite her to this "party" is she has already begun a trip down the rabbit hole of her own that could prove the repercussions of their sexual crimes deadly for them. Hoping to score quick cash to keep her phone on during school, Mary goes for a job dancing at a local strip club. That decision would prove to change her life.
Mary brings a resume to the amusement of the manager of the club Billy (Anthony Cupio), but it proves useful as one of the clubs' henchman has been shot and Billy offers Mary 5 grand on the spot to surgically fix him up and tell no one. Beatress (Tristan Risk), a woman who has gone through surgeries to look like a real life Betty Boop catches wind of the hot young surgeon and enlists Mary to help her friends perform surgeries that her friends couldn't legally get done anywhere else. Through the random encounter Mary begins to help people in the body modification subculture get the procedures done they need for their outsides to match who they actually are inside, to feel complete.
The Soska Sisters aka Twisted Twins are fierce, independent women who work their asses off for everything that they have achieved but also recognize the help they have received along the way and are extremely gracious, down to earth individuals to be such infamous genre-defining filmmakers. Speaking with Rue Morgue magazine about their upcoming re-imagining of David Cronenberg's early horror milestone Rabid (1977), the Soska's talked very candidly about the frustration of being a woman filmmaker today. They have personally watched male peers consistently fail upward from multi-million dollar loss films to helming even bigger projects while they still fought for funds and distribution like scrappy young upstart punks…even after two extremely successful films heralded as instant classics from critics and audiences alike.
After American Mary the Soska Sisters would reunite with their American Mary actress Tristan Risk in 2014 for their segment in horror anthology film The ABCs of Death, "T is for Torture Porn" (2014).  The short film fits nicely and expands upon their Cronenberg body horror/feminist ethos as Risk portrays a star name Yumi who is being photographed and filmed by a group of filmmakers who are being more and more abusive toward her. After they strip her down, tentacles end up shooting out of Yumi's clitoris and kill all of her abusers. "T is for Torture Porn" makes for a nice pairing with American Mary as they both deal with the issue of Hollywood's, and to a larger extent society's, objection and oversexualization of women and how the response to that treatment can be very real and visceral even though from a point of male privilege one may not always see it.
Also in 2014, the Twisted Twins inked a two-picture deal with WWE Pictures. With a film like American Mary not even two years behind the Soska's, it's amazing to think that they still had to struggle to get projects off the ground,  but as women who want to make movies for a living that's just part of the game. Things are changing, but at an often infuriatingly slow pace. That isn't a slight at the Twisted Twins WWE films either. In interviews, Jen and Sylvia have been adamant to point out that when you are making films for a studio you do not expressly have the final cut in the same way as when you are making it yourselves.
There are trade offs. More money, less overall creative control. The Soska Sisters themselves stated that when you make a movie for a studio they expect a certain product delivered. That's why said company hired you in the first place. It's not quite the same experience watching the Soskas helmed WWE Pictures See No Evil 2 (2014) or Vendetta (2015) as a Soska Sisters film from their own Twisted Twins Productions that they have financed themselves. Both films aren't a departure for The Twins however and fit nicely with their other work. See No Evil 2 brings the Soska's back together with Katherine Isabelle in a fun slasher film starring wrestler Kane that entirely takes place in a morgue.
American Mary had such an artful tone about it that it's easy to forget that the Soska Sisters and WWE Pictures made a perfect fit together. They got to go back to their Grindhouse roots and perfect a lot of their action and slasher crafts. See No Evil 2 has a lot to offer specifically because the Soska's came in and worked their magic on this project. Their personality is a huge part of why they are such genre icons. They teamed up with Jason Blum and Blumhouse to host two seasons of the game show Hellevator (2015-2016). The game show largely focused on the chemistry between the Twisted Twins themselves.
The sisters treat their fans as they would like to be treated. They have taken a personal crusade to using their platform for raising voices up in marginalized communities. They know the work is of course important, but they are also unabashed genre fans who take the time to be warm, receptive, and encouraging toward their fan base. It wasn't that long ago that they were simply horror fans themselves, so that's why they yell so much at people to stop living lives that aren't fulfilling and "follow your stupid fucking dreams." It's a cry to action and a cry of love. The Soska's do it every day and they really want everyone else to do it too.
It was announced in February of 2016 that Jen and Sylvia Soska would direct and co-write a re-imagining of David Cronenberg classic Rabid (1977). The film serves as the passing of the torch from one Canadian body horror master to another. They cite Cronenberg as an influence on their work, and looking back it's hard to imagine a better set of filmmakers to take body horror into the 21st century with a feminist lens.
The Soskas' upcoming Rabid (2019) stars Laura Vandervoort (Jigsaw) as a young woman who is facially disfigured in a motorcycle accident, and then becomes a type of sexual vampire after an experimental surgery to restore her looks has unexpected side effects. Rabid is the perfect next film in the Twisted Twins canon and feels like a true follow-up that the collective genre world has been waiting for since American Mary.
The Soska's haven't don't everything in a straight line. They've been writing for Marvel since 2015 and their latest project is the current run of Black Widow (Marvel) comics that started publishing earlier in 2019. The arc sees the ex-Avenger fighting a shadowy organization of pedophiles that are running a website called "No Restraints Play" that involves bidding on the torture and rape of little girls. It's pretty harrowing but timely material for a Marvel series…but that's what the Soska Sisters do, they bring their sensibility to whatever medium they're working in and they insert themselves and their ideas into the story for the better. They shed a light on groups of our culture that are constantly told to shut up and go away. Everything they have done to this point almost seems like a trial run for Rabid, a film that is already poised to be their third masterpiece.
Jen and Sylvia Soska have already seen their Rabid play some festivals this year as it awaits full distribution being unleashed throughout the world. The rest of us are taking time out of chasing our stupid fucking dreams to wait with them, as the Soska Sisters have always been there for us when we didn't have a voice waiting for some new diabolical story of surgeons and taboo subcultures, exploitation and oversexualization, all with a healthy dose of stylized violence and a big middle finger waving at the establishment. The Soska Sisters have been following their stupid fucking dreams for over a decade now…and 2019 is poised to be the biggest year of their career so far, so what are you waiting for?  You should be out there right now following your stupid fucking dreams. You know you want to.