The horror genre has always had a complicated relationship with women. In terms of representation in front of and behind the camera, it's been a case of three steps forward and two steps back for far too long. Slasher films of the 1980s put women in two distinctly different yet equally problematic camps. They were either cast as the virginal final girl, or they were killed off one by one for choosing to engage in pre-marital sex and/or recreational drugs. As fun as many of these horror films are, it's sad that past all the thrills and chills is a reinforcement of a Reagan era just say no ideology. Women of color have had an even more complicated relationship with horror for just daring to exist. For every beautiful, haunting film like Eve's Bayou (1997), there are a million examples of black and other POC characters killed off first, an absolute guarantee if the character in question were also female.
The times they are a'changin though, as the old song goes…but history doesn't move in a straight line. It's important to recognize the women who work within the industry to shine a light on problematic character tropes and plot devices. More importantly, women always have and will continue to make and star in some of the horror genre's best offerings. That should go without saying in 2019, but reality sadly paints a different picture.
Is their equal representation in the genre between the sexes? No, it's a microcosm of the gender disparity in every other element of our society. Just last year, Jason Blum, perhaps the biggest producer in current mainstream American horror, said the reason Blumhouse Productions hadn't yet hired a women director was because they couldn't find any. Those are the moments that the Internet comes in handy. Women in horror deserve as much respect and recognition for the contribution that they continue to make each and every time they step behind a camera. Equality is a long way off, but here's a personal list of female filmmakers that have changed the rules of the genre entirely. One thing that this is not is a ranking. Our society is constantly pitting women against each other, and we all have preferences of artists, but they'll be none of that here. The following is a celebration of these women and those that they inspire.
Soska Sisters
Hailing from Canada, the Soska Sisters (identical twin writer-director duo Jen and Sylvia Soska) not only make some of the best horror films the world has to offer, but they also are some of the kindest individuals on the planet. There's nothing that these women can't do. Their debut film, Dead Hooker in a Trunk (2009) was made for only $2,500. The film screened at a few festivals and basically spread exclusively by word of mouth until it quickly became a well-deserved cult classic. The experience has led them to spread a mantra to just "follow your stupid fucking dreams." They want creatives to go for it, and they are never too busy to take time out to speak to a fan. The Soska Sisters wrote, directed, edited, and starred in the pulpy ultraviolent crime thriller with their friends. The message their debut sent to the world was to pick up a camera, put out the signal, and just start shooting. It's such an important lesson for women to hear getting into film and the Soskas should be applauded for it.
The Soska Sisters sophomore film American Mary (2012) was anything but a slump. Expanding on their DIY ethos, they made a movie that is still leaving its mark on cinema everywhere. The film has a distinctly feminine point of view. Mary (Katharine Isabelle) is sexy but not objectified. She's smart but not imperfect. She's beautiful and enticing but not a generic femme fatale. She's a young, intelligent medical student who goes on a journey of self-discovery. Sure, she kidnaps her medical professor and performs torturous surgeries on him, but it seems like an adequate punishment for rape to me. Mary becomes infamous in the body modification underworld after a chance encounter sees her meeting Beatrice (Tristan Risk). Beatrice has had elective surgeries to make herself look like a real-life Betty Boop, and she has plenty of friends who need elective surgeries so that their bodies match who they truly are. American Mary shined a spotlight on the body modification community in a way that hasn't been done before or since and helped viewers understand true marginalized voices from a feminist perspective. It's also scary as hell.
Remember how I mentioned the Soska Sisters are women in horror who can do just about anything? After American Mary, the longtime wrestling fans signed a two-picture deal with WWE Studios that resulted in See No Evil 2 (2014) and Vendetta (2016). Neither film gave them final cut, but they delivered the product, and they delivered it well, proving that the Soskas can rise above constraints, like full creative control, to deliver an entertaining thrill ride. In the interim, they hosted the hit Syfy game show Hellevator for three seasons before moving back into film. The Soska Sisters also put their money where their mouth is. They are tireless activists who are never afraid to speak truth to power in their work and their personal lives. Jen and Sylvia take time out every year to participate in blood drives and are vocal about getting toxic individuals out of the film industry entirely.
The duos latest project is their most ambitious and biggest yet: a remake of fellow Canadian body horror auteur David Cronenberg's early (The Fly, Videodrome) horror masterwork Rabid. As the United States still officially hungrily awaits a release date for their reimagining of the body horror film through a distinctive female gaze, it's perhaps time to stop by the comic book store and pick up their six-issue run of Marvel's Black Widow (2019). Much like many of the issues they personally address concerning sexual predators in the film industry, the series reads like the reckoning that deep down many of us truly want in Hollywood. I don't mean to sound too Old Testament, but the idea of a vigilante killer hunting down and murdering pedophiles who are actively preying on innocent children doesn't sound like such a bad idea.
Mary Harron
Sometimes all it takes is one film to make you a master of the genre. Mary Harron has been making feminist films for twenty-five years. Her first big breakout hit was the Valerie Solanas biopic I Shot Andy Warhol (1996), and let's just say the history of the woman who wrote the S.C.U.M. (Society For Cutting Up Men) manifesto, how she came to enter and then destroy Warhol's orbit made men very uncomfortable. It's another film that seemed to spread by word of mouth and have an underground, almost forbidden like quality to it. There were messages in Harron's work that certain powerful men didn't want audiences to hear. Luckily, the truth always finds its way out in the end and I Shot Andy Warhol put Harron's name on the map as a woman to watch at a time when there were even fewer opportunities afforded to women in film then there are today.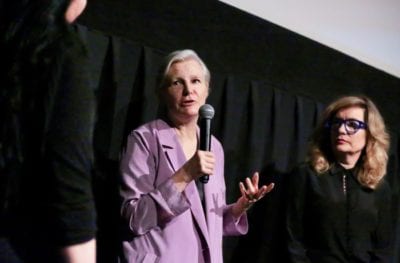 Not a horror film but not without horrific elements, I Shot Andy Warhol set the stage for Mary Harron to make her second film, an adaptation of Brett Easton Ellis's notorious novel of 1980s male excess and middle finger to the me generation, American Psycho (2000). People were outraged. The novel had long been controversial and its author accused of writing a vile book with nothing but malicious violence specifically directed at women from a wealthy powerful Wall Street broker named Patrick Bateman.
These critics were entirely missing the point and the absurd humor of American Psycho. This wasn't some misogynistic author fantasy; this was a fuck you to the male ego society of American in the 1980s. One person that thankfully got the joke was Mary Harron. Post-Columbine, the film almost didn't get made, despite having a young Christian Bale (The Dark Knight) cast in the lead. There were protests from just about every group imaginable from across the political spectrum concerning the film adaptation of American Psycho. Mary Harron herself received death threats as production was beginning to roll on the film.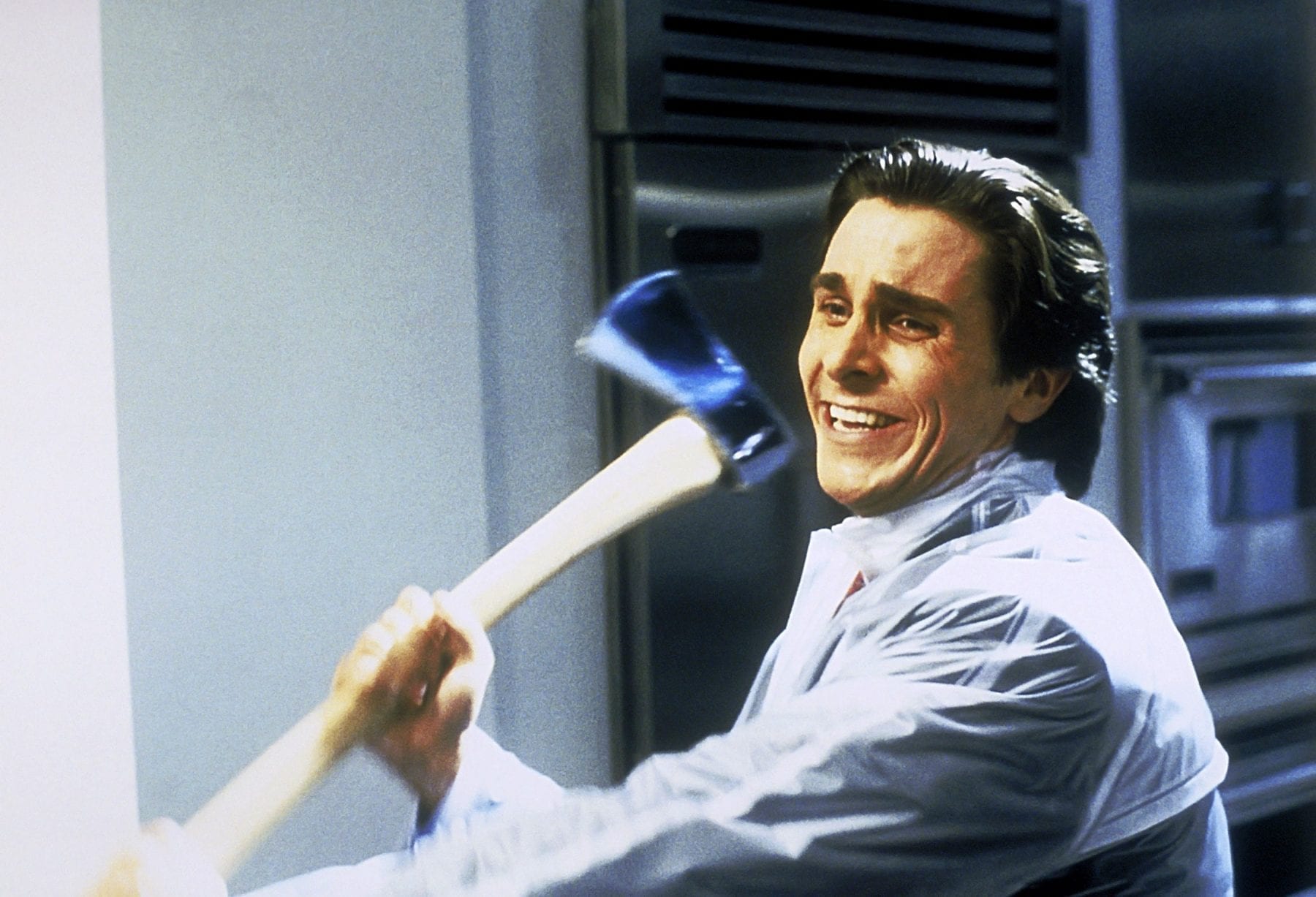 It's another film that became quite a sensation as time went on by word of mouth. It isn't even fair to call it a straight horror film, though you won't find it in the comedy section. American Psycho is violent, misogynistic, depraved, and utterly disgusting…on purpose. Mary Harron knows this. She made it that way to show the true evil that lies behind the thin veneer of social acceptability thrust upon women by powerful men. By the end of American Psycho, not even Patrick Bateman knows if any of the monstrous events have even happened. It doesn't matter. He's just another soulless suit in a world full of soulless suits where men can't even tell one another apart. A powerful woman made this film in a way that no male director, no matter how talented, ever could have done. Her eye truly exposed the rot at the heart of the male ego, driven to excess through greed and the Gordon Gecko ethos of the 80s. American Psycho is as relevant today as it ever was if not more so in 2019.
Just this year, Mary Harron has returned to the horror genre with perhaps her most provocative statement yet. Charlie Says (2019) looks at the Manson family murders from a real perspective of a woman who tried to work with three of his convicted followers, including Susan Atkins and Leslie Van Houten. The film argues that while what these women did was horrific and indeed unforgivable, they should still be shown some semblance of mercy. They were young girls who were brainwashed by a charismatic psychosexual predator who lured them in like family, tortured them psychologically, sexually, and physically; before sending them to commit a senseless and horrific pair of murders that would see them rot in prison. For what? To please Charlie. Matt Smith (Doctor Who) gives an incredible performance as Charles Manson in a film that stands up to the long tradition of Mary Harron making controversial films that stand the test of time while challenging the notions of patriarchal male dominance prevalent in all aspects of society.
Mary Lambert
FIlmmakers like Mary Lambert are truly queens of the horror directing throne. In 1989, she helmed the film adaptation of Stephen King's beloved novel Pet Sematary. How many other women horror directors were there in 1989? Let's just say it was an extremely short list of names. So for Lambert to have landed this job in and of itself was monumental, but what she then accomplished bringing the world of Stephen King to life like never before was absolutely astounding! I love the new iteration personally, but the original Pet Sematary can never be topped because it's a part of my horror DNA. Mary Lambert knew that at the heart of Stephen King's stories, what made them work, was the characters. If the characters weren't believable, people certainly weren't going to be buying tickets. King had the ability to place his characters in the most bizarre and supernatural situations, but the stories are always about people at their core.
Mary Lambert adapted that element to Pet Sematary with a deftness that seemed like a filmmaker with decades of experiences, not someone on their first big studio feature. The gothic atmosphere, the ghostly warning from beyond the grave, and the central theme that father doesn't actually know best can all be attributed to Harron's vision. In lesser hands, the material could have come off too melodramatic and disconnected from reality. It is a story of raising your loved ones back from the dead in an old Indian burial ground. It's a grisly subject matter.  Mary Lambert's Pet Sematary cut right to the heart of the lie of the Normal Rockwell nuclear family. Every mistake Louis Creed makes along the way sends his family closer and closer to an unfathomable outcome. He is an educated doctor who doesn't have any time for superstitious nonsense. This proves to be his ultimate folly. The man's ego sees him put in situation after situation that could have easily been avoided, but as Lambert shows, "the heart wants, what the heart wants."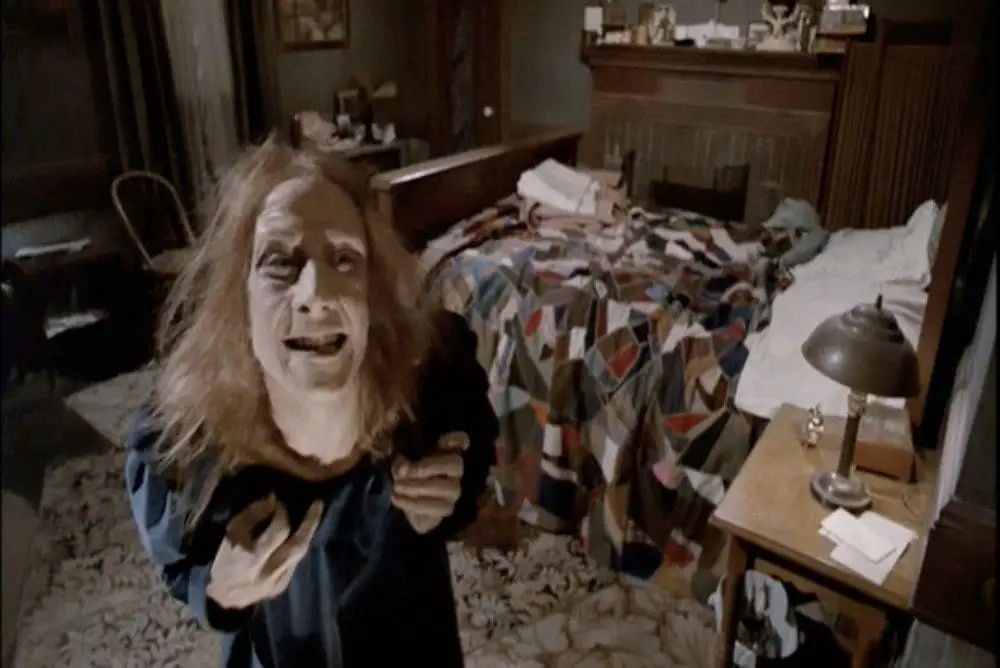 Lambert returned to the world of Pet Sematary with a sequel that only loosely connected to the original. Neither of these films were received well at the time, but by the time Pet Sematary 2 came out, King asked for his name to be entirely removed from the project. There's only a loose connection to the first film, but looking back it's one of the most underrated horror films of the time. Edward Furlong (Terminator 2: Judgement Day) was at the height of his fame in a starring role. It's a great time capsule movie that takes me right back to being nine years old, watching it for the first time absolutely terrified. Lambert got great performances in the sequel, especially from veteran character actor Clancy Brown (Starship Troopers). It is an utter horror fan's dream to watch him play a ghoulish version of himself in a darkly comic scene that ends with the death of his family. Mary Lambert, with Pet Sematary, kicked off a wave of Stephen King adaptations when everyone said they had run their course in Hollywood. That alone earned her a seat at Mick Garris' (The Stand) Masters of Horror annual dinner.
Jenn Wexler
Swinging from one of the Masters of Horror to a burgeoning young talent, Jenn Wexler has made one of 2019's most exciting horror films: The Ranger. Taking influence from filmmakers like Alex Cox (Repo Man, Sid and Nancy)  and her own background growing up in the punk scene, the throwback slasher is a journey into Hell for four young punks who go on the run from the police in the big bad city to hide out in the idyllic countryside at the female protagonist's cabin. She hasn't been there since her uncle's mysterious death years ago, and they're all in for a nightmarish surprise when they realize they've jumped out of the frying pan and into the fryer.
Jenn Wexler is one of those fresh young talents that has been making films for ten years as a producer with genre icon Larry Fessenden's Glass Eye Pix. She has produced gem after gem for Glass Eye like Darling (2015) and Like Me (2017). She made the transition to directing and writing her first feature after directing shorts for Fessenden in the horror anthology ABCs of Death 2 (2014). Want to talk about pedigree? Jenn Wexler's work for Glass Eye Pix should be all that's needed for everyone to stand up and take notice. Even mainstream magazines like Entertainment Weekly have recently named The Ranger has one of the best horror films of 2019 so far.
I had the privilege of talking to Wexler just before The Ranger's release for 25YL, and it became quite clear early on that she has a deep and genuine love for all her characters. This comes through so clearly in The Ranger that it's hard not to root for these kids and pray to whatever that they make it through the night alive in their battle of survival against Jeremy Holm (House of Cards), the titular instant slasher icon of the film.  It's a fast-paced, terrifying film that announces the arrival of a filmmaker who understands the outcast and how to put them in some really intense horrific situations!
Ana Lily Amirpour
Amirpour's back story is as fascinating as any film. Her family fled Iran, her native country, after the Iranian Revolution of 1979. She grew up in America but considers herself an outright alien. She lives and breathes life into her work. Speaking in interviews, she comes off like a mystic; someone who is in touch with vibrations in the universe that others aren't quite in tune with. She sounds a lot like David Lynch (Twin Peaks: Fire Walk WIth Me). She breathes that life and wonder about the universe and human race into her films. Her debut feature, A Girl Walks Home Alone At Night (2014) is one of the most original vampire stories of all time.
Shot in black and white and written in Farsi but an American film, it is truly a one of a kind cinematic experience. Amirpour wears influences like Alejandro Jodorowsky (Holy Mountain,  El Topo) and Federico Fellini (La Strada, 9 /2 Weeks) on her sleeve. A Girl Walks Home Alone At Night rightfully wowed audiences and critics alike as her first film felt like the announcement of the bold new filmmaker that she had already proven her to be. She's more than a filmmaker. Ana Lily Amirpour is a living, breathing work of art.
Her second film The Bad Batch (2016) left a lot of audiences and critics alike shaking their head as it wasn't as easily accessible a film and radically different from A Girl Walks Home Alone At Night. Instead of a black and white Romantic meditative picture, Amirpour's next feature showed off her fascination with many odd aspects of American culture like Venice Beach bodybuilders and shopping cart carrying homeless people. She throws all this together in a desert-filled post-apocalyptic wasteland filled with cannibals and drug dealers. Rave culture gets a satirical sendup as Keanu Reeves plays a crimelord pimp sort of character in this bizarre fever dream that comes to life through Amirpour's paintbrush; her camera. She's also moved into directing television, with episodes of Legion and the best episode of the Twilight Zone reboot this year ("The Blurry Man") by far.
Stay Tuned
Hollywood and the film industry have come a long way with equal representation between the sexes but not nearly far enough. The funny thing is that women are making many of your favorite horror movies today whether you realize it or not, and should all be celebrated. The leading performers and the directors listed above, but also the hundreds and sometimes thousands of other women that work on every production to bring it to life. The names above are a few women horror directors that need to be celebrated more. Mary Lambert is still the only female director that is at the Mick Garris Masters of Horror dinner. Why? Mary Harron doesn't deserve to be there? Is Jenn Wexler too young? Lily Ana Amirpour too brown? I used to look at those photos and see my heroes, but the more I look now I'm starting to see the same old boys' club that needs to be broken up. Please come back for more celebration of women in tv and cinema articles throughout July, and I'll be back personally for part two of female horror directors who are making a difference.