Larry Cohen, perhaps the greatest guerrilla filmmaker of all time, passed away this week at the age of 77. He is best known for directing horror classics such as It's Alive and The Stuff, but leaves behind a much larger legacy that stretches across over half a century of television and film. After writing more than 100 episodes for hit series television series The Fugitive and then creating a string of television shows in the 1960s like Branded and The Invaders, Cohen decided to direct his own films. They were self-financed at the start, capitalizing on the blaxploitation genre of the era with his first films Bone, Black Caesar, and its sequel Hell Up in Harlem.

In 1974, Larry Cohen made perhaps his most definitive picture with Warner Brothers It's Alive. Although initially a commercial failure, the film would be re-released and eventually become enough of a cult hit to warrant two sequels. Larry Cohen was known for doing things his own way; this was truly independent cinema. Cohen has jokingly been referred to as the John Cassavetes of the exploitation genre and the label is actually not far off.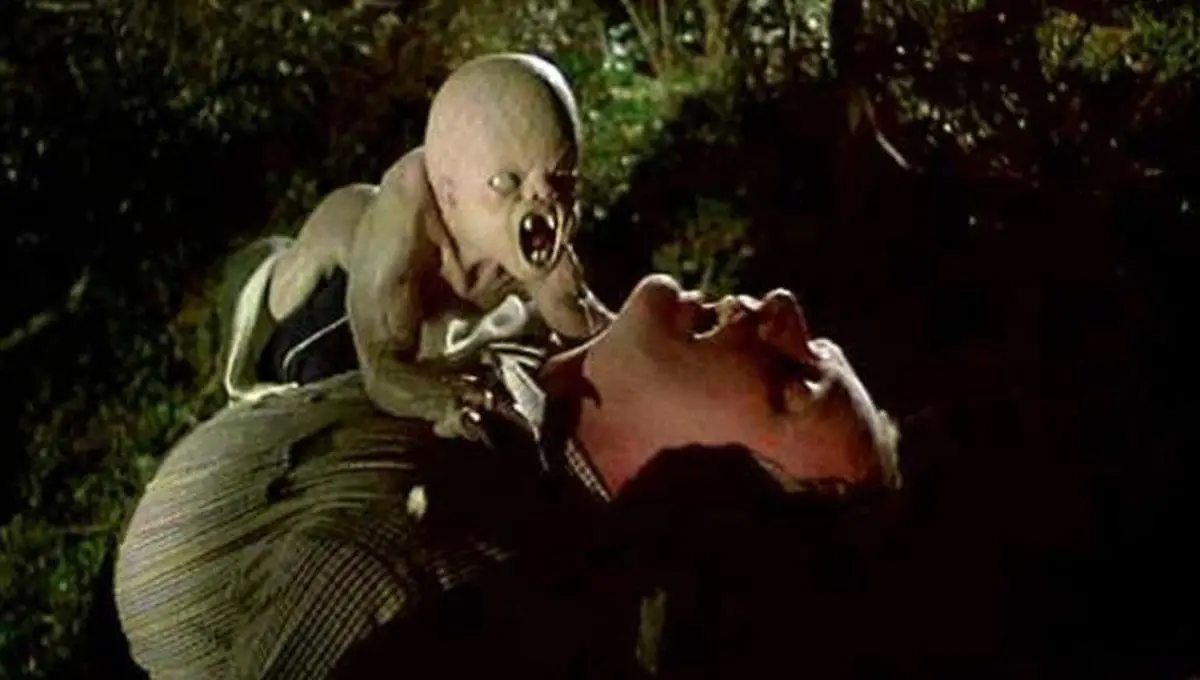 Throughout his productions, everything was done with a very spontaneous, on the fly mentality. Cohen would have a basic outline on what he wanted to get and then he would just go out there and get it. He took to filmmaking with a "by any means necessary" approach; he couldn't be bothered with permits or hiring extras when creating real-time reactions and filming dangerous stunts without any safety net was much more fun for the auteur. Making movies with Larry Cohen was subversive and exhilarating; whatever it took to get the shot and tell the story is whatever Cohen would do and then some.
The films of Larry Cohen stretch across the genres of horror, science fiction, blaxploitaiton, action, and noir; no matter the genre, he brought a feel of Italian neo-realism to his films. He was always on the lookout for exciting new talent an was truly an actor's director; he often worked with the same performers, including Michael Moriarty from Q: The Winged Servant and The Stuff. Don't make the mistake that Cohen had any grand delusions about his work though. It is rightfully noted in the excellent career encapsulating documentary King Cohen: The Wild World of Filmmaker Larry Cohen that Larry definitely saw himself as a "meat and potatoes" director.

Cohen was no friend of producers in any kind of give and take sense. He had a very specific idea about what kind of film that he was going to make and he wasn't the type to compromise with people who he viewed as a barely necessary hindrance. Despite this combative attitude toward getting his uncompromising vision made, he never took himself too seriously. Eric Roberts described his experience on the 1990 Cohen The Detective as "going to a summer camp." Most actors have nothing but fond memories because Larry Cohen's films were as fun to make as they were to watch and improvisation was a way of life.
After making his last film Original Gangstas in 1996, Larry Cohen would spend the next decade as a successful screenwriter writing Hollywood films like Phone Booth and Cellular. Cohen would only return to the director's chair one more time; in 2006, he would direct an episode of Mick Garris' Showtime anthology Masters of Horror "Pick Me Up," reteaming with actor Michael Moriarty in a career best performance and Fairuza Balk. It is fitting that what would essentially serve as his swan song be set within the horror genre, finally being recognized as the master of horror that he truly was. Whatever the idea or genre, Larry Cohen could make pulp feel real in a way that not many other directors could. He was a constant workhorse, whether as a screenwriter, producer, or director. His mark on not only the horror genre, but on cinema as a whole will never be forgotten.