Last week, Netflix secured the global streaming rights to the upcoming Taiwanese horror film Incantation. The film was released in Taiwan back in March, earning $5.7 million (TW$170 million) and making it the "highest-grossing film at the Taiwan box office this year, as well as the top-earning original Taiwanese horror film of all time," according to The Hollywood Reporter. The movie has been an overall success, with an already announced sequel in the works and securing seven Taipei Film Award nominations, including best narrative feature. And if that isn't enough to elicit some curiosity, people are also calling it the "scariest Taiwanese film ever." 
Writer-director of Incantation, Kevin Ko, says,
I'm really proud that Incantation is going to be released on Netflix globally, maximizing the number of people who can watch it. It has always been my dream to make films that travel around the world and are watched by every horror fan on Earth, keeping them awake at night. I can't wait to hear viewers' reactions.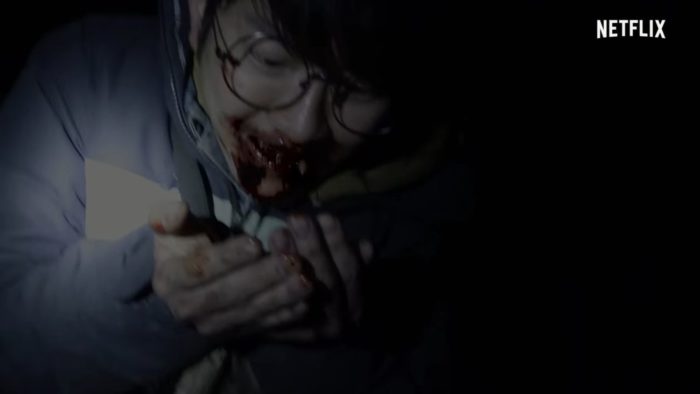 Ko's movie looks deliciously disturbing. During a rapid-fire presentation of images within the Incantation trailer, he looks to shake you with mind games, creepy crawlers, and intensely threatening moments. The film is about a pair of ghosthunting horror bloggers who are asked to attend a cult ritual and return cursed. Six years later, the past finally catches up with them. The film's synopsis cautions, "WARNING: This is a cursed video. It might contain certain risks to watch; For those who dare to follow, please solve the puzzle of my daughter's curse with me." The film is said to be a mix of mockumentary, found footage, and character fourth wall breaking. What may shock you more is that it's inspired by a true story about a family of cult worshippers from Kaohsiung, Taiwan. 
Netflix's global acquisitions in horror have been top-notch over the past year, specifically with Asian-based titles like Squid Game, Alice in Borderland, and All of Us Are Dead becoming huge successes for the streamer. All of those titles announced second seasons last week as well. Add in Shudder's recent success with The Sadness and it seems that some of the best horror films in the world are currently coming out of Asian markets. Netflix's content acquisition manager Janelle Ong says, "Asian horror has been very influential in shaping the genre and bringing it to new heights, and we are proud to partner with a new generation of Asian filmmakers who are creating the movies that will define what terror means for today's viewers." 
Incantation comes to Netflix on July 8.