How is it that you define beauty? Is it measured by how a person acts or solely by the lines on their face? Are you happy with what nature has bestowed upon you? Why do people worry about their physical beauty when what most really need is to change their hearts?  Writer Nagano and director Yasuhiko Shimizu navigate these questions through the dark lens of Vise (Manriki).
Vise is very peculiar. It approaches the viewer with simple, loving advice: you are beautiful as you are; be proud of that. From then on, it manages to create a spree of scenarios that test its characters through precarious situations. None of the characters in Vise have names. I assume this suggests not to judge a face by a name. Without nomenclature to label characters, we just may be open to seeing who they are.

The film's title shots are really impressive. Right from the get-go, I knew I was in for something very unique and visually stunning. In the space of a few minutes, Shimizu creates a world of surrealist absurdism that even ought to impress David Lynch. We see a young Girl (Julian Koike) taking selfies and posturing herself to maximum cuteness through filters while a group of women works and falls behind her. The tone shifts fast as the filters spiral out of control and The Girl's head pops like a balloon, all while intercut with a man preparing a vise.
As the credits end, we begin the story. The Girl awakes from this nightmare looking rather sickly. We learn that she's a part-time model who is becoming increasingly aware of her looks as there seems to be more and more work going to girls with more of a signature "small face" look. The Girl becomes increasingly self-conscious of her "big face" and, though it's never mentioned, stops eating.
This element of the film is exceptionally executed. As a culture, we are increasingly placing pressure on others to maintain specific societal aesthetics which have pressured too many people into questionable health practices. There are a few scenes here that take place with others eating and it's pretty easy to take a leap and see that The Girl is not. What should further be acknowledged is how The Girl suffers internally, trapped in a face she's uncomfortable in.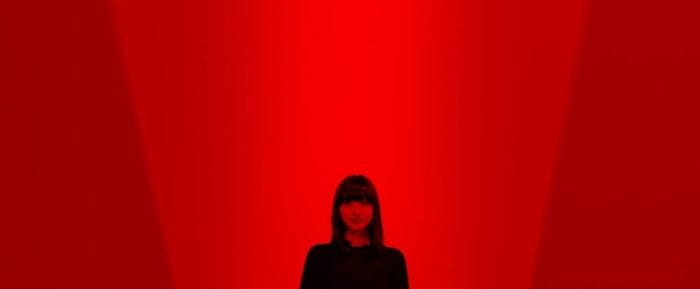 While leaving a failed audition, The Girl thinks she finds an in with the photographer. Inviting the girl to dinner with another model, The Girl quickly realizes she's only there so someone doesn't feel like a fifth wheel on a triple date. During dinner, the model loses her reconstructed nose and when The Girl finds it, she takes it to the toilet and flushes it and laughs maniacally as the water oscillates the nose down the drain. Since The Girl can't feel pretty, she lashes out.
After weeks of passing by a reconstructive surgery clinic, The Girl gets the strength to go in when the charming Surgeon (Takumi Saitoh) speaks with her outside. The Girl is greeted warmly by the trans Receptionist (Nagano) whom The Girl gives the side-eye to while filling out her questionnaire. I think this is really where Vise wants us to focus on its message.
The Surgeon explains a "skull distortion" procedure to the Girl. He tells her, "physical beauty doesn't test a person's value. It's what's inside." His eloquent words serve as a warning to The Girl. He continues to tell her that decreasing the size of her face will only promote her self-confidence because it's The Girl's image of beauty that she's placed value on.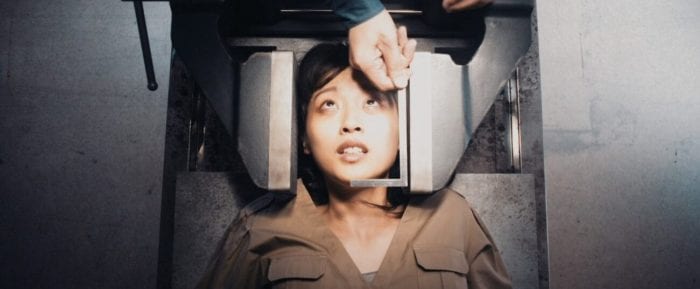 She decides to go through with the procedure anyway. The Surgeon ties The Girl to a table and locks her head in a vise to begin the procedure. A nurse walks by, dropping his tray and revealing that he's blind. Suddenly, The Girl isn't so sure about her procedure and begins to wriggle her phone free from her pocket. The "distortion" begins with The Surgeon turning the vise, throwing him into fits of ecstasy. The Girl cries out "Doctor, I Love You!" and her boyfriend listens voyeuristically from the other end of her dropped cell phone.
The release of various tensions among characters in perverse states is a lot for the senses to process. The Blind Nurse gets a whiff of "The Stench" which almost seems like a reference to Twin Peaks' garmonbozia—or maybe the direct opposite. Garmonbozia is the food the residents of The Black Lodge feed on that is made up of the pain and suffering of Laura Palmer. I don't believe Vise's characters are reacting to suffering but to The Girl's rebirth in her own image. This release is felt by so many characters that it almost feels like a form of sustenance for its major players.
As the curtain closes on Vise's first act, The Girl is extremely pleased with the work of The Surgeon. All eyes are now upon her, and she gets to live with the smaller face she always wanted. Though many are pointing and laughing at The Girl, her confidence becomes unmatched. The film shows us exactly what it's like to walk in another's shoes. Many people in this world are not comfortable in the skin they're born to live in.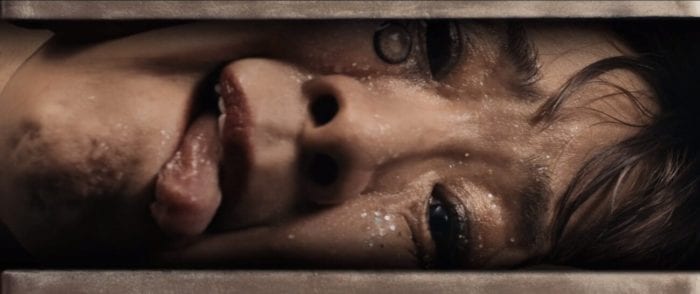 Vise's story continues on after as The Surgeon goes into hiding, chased off from his practice for many obviously illegal practices. The rest of the movie continues in a very similar fashion, incorporating a dark sense of humor to get its point across. Some parts in the second act are even laugh-out-loud bonkers.
Where Vise succeeds is in its presentation to the audience. The movie carefully sets up the questions it wants to ask without making the viewer aware of what it's asking. As the audience begins to empathize with The Girl, the film shifts and exposes the prejudices they have with beauty. Just because a person may look different or not conform to a particular version of "normal" doesn't change the nature of their character. The Surgeon in Vise gets branded as a hack despite The Girl finally loving the way she looks.
What Yasuhiko Shimizu creates with Vise is a creative and stylistic approach to what has been branded queer horror. Through subtleties and nuance, Vise marks an adept feature debut for Shimizu. I look forward to seeing what comes next for him and writer Nagano.
Vise will be playing at this year's all-virtual Salem Horrorfest during its second weekend starting on October 9th.