Tanner Beard wears many hats working in the industry; actor, writer, director, and producer. In 2008, Beard created the company Silver Sail Entertainment which has produced a travel show, award-winning short films and documentaries, commercials, music videos, web-based television series and films such as Hellion, starring Aaron Paul (Breaking Bad) and Juliette Lewis (Natural Born Killers), and The Legend of Hell's Gate starring Henry Thomas, Jenna Dewan Tatum, and Summer Glau. Beard's productions have been screened at top festivals including Sundance, Cannes, Venice, SXSW, and Toronto, as well as his own Mammoth Film Festival.
Beard was gracious enough to take time from his work to talk to us about his latest acting work as Sheriff Dembrowski in Marc Meyers' We Summon the Darkness (2019) starring Alexandra Daddario (who also acted as a producer), Johnny Knoxville, Maddie Hasson, Amy Forsyth, Austin Swift and Logan Miller from a script by writer Alan Trezza (who wrote the 2008 gem Burying the Ex). Darkness is a story of three best friends Alexis (Daddario), Val (Hasson), and Beverly (Forsyth) who embark on a road trip to a heavy metal music festival but as the party moves inside Alexis' country home things take a bloody and unexpected turn in this wicked homage to '80s horror.
---
Jason Sheppard: What was it about We Summon the Darkness that attracted you to the project besides it being a classic horror/heavy metal throwback?
Tanner Beard: Who doesn't love a good genre picture, ya know? I was excited to work opposite Alex Daddario, Keean Johnson, and Johnny Knoxville. The whole cast is really great but for me, it was nice to play a good guy for a change, and I loved that the story was set in the '80s. It's just good fun.
JS: What was the mood and spirit like on set?
Tanner Beard: I came in after they had been shooting a few weeks so I was the new guy for what seemed like only a few hours before I fell right into chopping it up with everyone and getting to know the crew. It was such a fun environment. I felt like I had been there since the start. Not a lot of egos on set.
JS: What was your reaction to Alan Trezza's script the first time you read it?
Tanner Beard: Man, I loved it. Again, I loved the time period it was set in but I almost can't even talk too much about the script without giving away the goods. It wasn't what I was expecting! It was better.
JS: You shared a great scene with the movie's lead actress and producer Alexandra Daddario that was humorous in a pretty intense movie. Was it as much fun to shoot that scene with her as it came across on screen?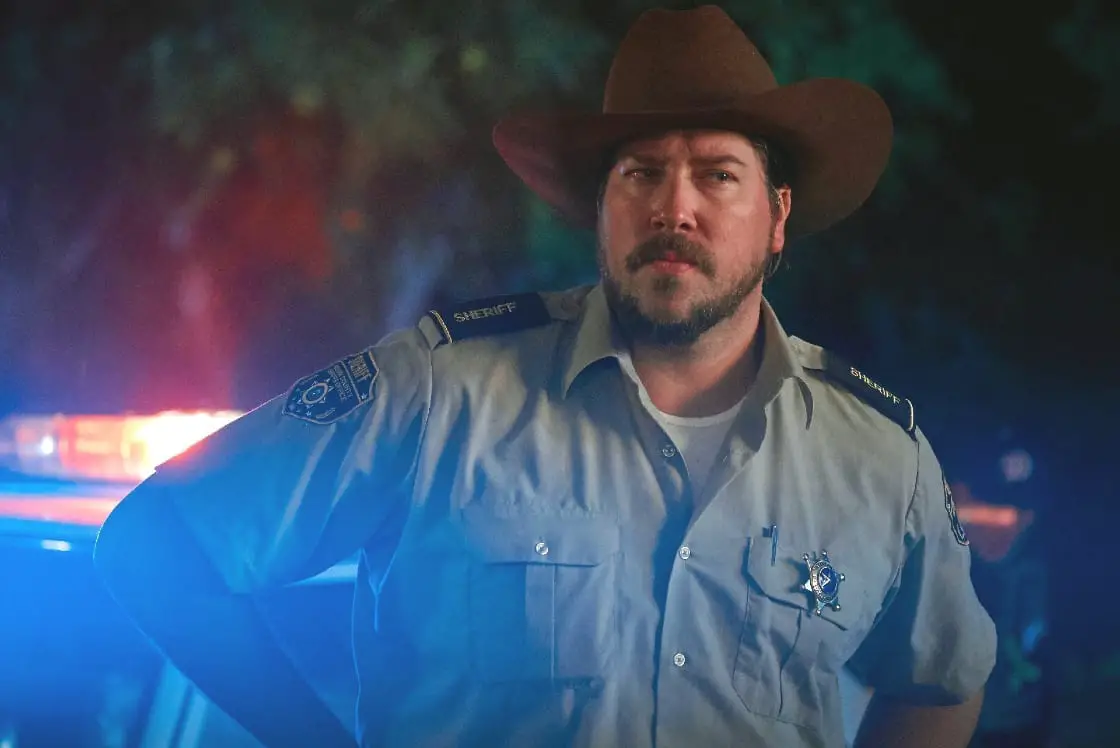 Tanner Beard: Alexandra was so great across the board. I'm a big product of rehearsal and we were having to hold a lot for the rain that night and I remember us taking that time to work the scene back and forth and stay with it rather than spending that time at crafty or chilling. Alexandra was a delight and someone I think most actors would love to work with. I know I did.
JS:  So I have to ask, do you have a favorite '80s horror movie or character?
Tanner Beard: You know for me, good old fashioned Jason from Friday the 13th I think has to be my favorite. Obviously Freddy and Michael Meyers are dope but Jason takes the cake! Pure classic.
JS: That answer will go over very well with our readers for sure. So can you tell us about some other projects you are working on?
Tanner Beard: There are a few things in the works. ABC's Holey Moley airs May 21st and you can watch me compete for $250K on behalf of our charity that houses the Mammoth Film Festival. Not sure what episodes I'm on but tune in. I'm currently acting in a film called Sentinel due out in 2021, and I'm producing a film in Bangladesh called Friend of Bengal. Other upcoming projects include an animated feature entitled Fridgeport which I co-created with Paul Khoury produced alongside Liam Hemsworth and Ashley Greene, and my latest passion project is a new Christmas comedy, Just Be Clause, which I co-wrote with director Tim Skousen and is being produced by Jeff Kalligheri and Jared Hess of Napoleon Dynamite.

JS: Tanner, you wear many hats working in the industry. You're an actor, writer, and producer. I'm not going to ask you which is your favourite but can you name one thing about each you enjoy?
Tanner Beard: Acting is just the most fun I think anyone could ever have. It offers in so many varieties of "the people you can become" it is just unparalleled. But writing, which I wish I did more of on its own, is also a pretty amazing release. You get to be every character, to write their words and scenarios, it's acting on paper and I really enjoy that. And lastly producing. Producing is understanding the business and the creative side. To have a movie or project come out that you know you have a hand in creating to "make it real" is a very gratifying thing, no doubt.
JS: What is the main thing you look for in a story you feel needs to be told?
Tanner Beard: Ah, probably sounds a little cliche to say but honesty. The honesty of a scene or a line that is powerful to say. The honesty of a joke that really lands. The honesty of someone's journey in that story.
JS: We Summon the Darkness has been available for a few weeks now. Have you gotten any feedback from fans?
Tanner Beard: Yeah, tons of great feedback! Still sad that this movie wasn't able to have it's small theatrical run because it's such a great film for big crowds. But I've been getting a lot of Instagram DM's about how much fun this movie is and the fans seem to love it! I think it'll live on. They need to make action figures [laughs].
JS: Thanks so much for speaking with me with everything you have going on.
Tanner Beard: Thanks so much.
Follow @TannerBeard @SilverSailEntertainment and @MammothFilmFestival on Instagram.
We Summon the Darkness is now available to stream on Amazon Prime and Google Play