We all love an underdog story. And in the annals of Hollywood, there are few who have an underdog story quite like director Richard Stanley. The artistic storyteller was an indie darling in the early '90s after underground hits Hardware and Dust Devil shook up the genre world by storm. But he became a casualty when given the reigns to a big-budget property called The Island of Dr. Moreau. I'm sure you've heard of it. I'm sorry if you actually saw it.
Stanley's nasty ouster from the production (documented with car-crash-you-can't-look-away-from intensity in Lost Soul: The Doomed Journey of Richard Stanley's Island of Dr. Moreau) led to over twenty-five years of abandonment from the establishment when it came to Stanley helming a narrative feature. Despite a few writing credits throughout the '00s, the full Richard Stanley experience was thought to be a treasure lost forever.
And then came Color Out of Space, an H.P. Lovecraft adaptation that seemed primed for not only Stanley's trippy visual mindset but the genre-busting shenanigans of lead actor and Academy Award winner Nicolas Cage, two men entering distinctive phases in their career. When someone implied to Mr. Cage that he was in the "second phase" of his career at a recent live-streamed Q&A, Cage, deadpan, said "is it really the second phase? I've got forty years buddy, forty years" and then laughed. Stanley admitted he was in his third phase, which he said comes after the "all is lost" period. The combination of these two talents, combining on such rich material, was sure to lead to yet another genre breakthrough for two men who desperately needed one. And that expectation is not met with disappointment upon viewing.
Lovecraft is an especially difficult author to adapt directly. Only Stuart Gordon has had repeated success at it but even Lovecraft purists have their issues with the liberties taken in Reanimator and From Beyond. The eccentric American author had a deliberate way of writing: little dialogue, more explanation than actual action, and horrors meant to be felt than actually seen. He created an entire mythos that many have used in their own fiction (surely you've heard the term "Lovecraftian") but rarely has a direct adaptation been attempted.
And Color Out of Space certainly advances the timeline of the original story into the present day. But the concept of other-worldly infiltration from a source barely comprehensible to our simple human minds, accompanied by space/time manipulation and physics-defying body horror is emphasized prominently in Stanley's presentation making it one of, if not the, most faithful Lovecraft film adaptations ever.
Centered around an American family living on an isolated farm, Color Out of Space tells the tale of what happens when a meteorite from space hits the farmland and begins transforming the landscape, both from within and without. The family's anchor is melancholic father Nathan Gardner (Nicolas Cage) who has transplanted his family from a more populated and "normal" way of life to his father's farm.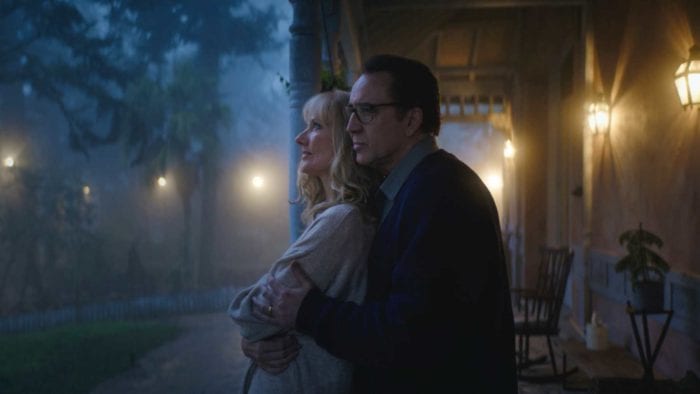 Joining him are his meek wife Theresa (Joely Richardson) who has recently survived a bout with cancer, his stoner teenage son Benny (Brendan Meyer), rebellious Wiccan teen Lavinia (Madeleine Arthur), and curious young boy Jack (Julian Hilliard). When a purple meteor hits near the family's burgeoning alpaca farm, the effects can be seen both physically and mentally.
For one, the landscape begins to blossom into an otherworldly realm of purples, pinks, and mauve where time seems to have no meaning. This transcendent beauty is followed by abrupt changes in personality within the home. The normally docile Nathan becomes loud and abrasive while the tender, and fragile, Theresa becomes forceful and strong. On the opposite side, the two teenage kids, functioning previously as loners with selfish whims, begin to take charge of the family with unexpected care and responsibility.
Accompanying these personality changes are physical ones as well. But most troubling is that young Jack is hearing the voices of a new invisible friend inside the farm's well. What lurks there? The family, slowly crumbling, both physically and mentally, from the transformative atmosphere entrapping them must find out before all is lost.
Those worried Richard Stanley might be a little rusty after decades away from the camera need not worry: Color Out of Space is a majestic cinematic venture, filled with stunning landscapes, intriguing shot selection, and a unique flair. As fellow critic Brian Haas noted after our screening of the film regarding Stanley's abilities: "some people are just born for this." Nothing could be truer than that statement. Richard Stanley was born to make a film like Color Out of Space and we are all the better for it.
Of course, a good film needs a good cast and Color Out of Space goes the extra yard to give us that led by the inimitable Nicolas Cage. While some feel Cage has become a parody of himself, it is easy to forget how fine of an actor the man is and how specific he can be when acting even in the nuttiest of roles. And both Stanley and Cage seem to know the audience is expecting some bonkers Nic Cage action. And yes, the film delivers on that, but it also has the sense to provide balance with it. The "crazy Cage" we get fully services the story and never reaches an unwanted level. It is tough to say if this is Cage's best role in years but it certainly qualifies as a finalist as he shows an impressive range that will remind people of his Oscar glory days.
However, the film's true revelation is Madeleine Arthur as Lavinia. Though Cage gets the lead credit, Color Out of Space relies on Arthur from the first scene to the last and she does not fail to deliver. Lavinia is a firecracker inside a small goth-like package but she also has tender flaws and moments of vulnerability that give the film its soul. Of all the ravaging effects we see this alien invasion have on the family within the farm, Lavinia's is the most affecting. As I typed on Twitter immediately after my screening: "put her in more movies".
There is so much more to discuss with Color Out of Space but, spoilers aside, to explain more would be to do little justice to the experience of watching the film yourself. So this comes as no surprise that this is a highly recommended film that must be seen on the biggest screen possible. Like what happens to the Gardners at their idyllic farm, seeing Color Out of Space is a transformative experience.