Brian Darwas, the director of 2017's brutal film, Get My Gun (see our review here), sped headlong into the potentially controversial territory by tackling one of horror's most incendiary subgenres, the rape-revenge film. Audiences are justifiably wary of a male-directed film tackling the subject in 2019 but Get My Gun, co-written by Jennifer Carchietta showed how a rape-revenge film can still be thrilling and faithful to the conventions of the genre while compassionately and intelligently bringing it into the modern era alongside Coralie Fargeat's Revenge. After seeing the film, I reached out to Darwas to learn more about the man behind this bold new film.
Speeding headlong is something of a constant in Darwas' life. Beginning his career in cinematography and hot-rod/motorcycle culture, he knows how to push something right to the edge and still stay in control. Rather than set out to write a traditional rape-revenge film, Darwas wanted to write about the trauma that comes with being assaulted. "The main character does get revenge on her attacker…but there's another sub-plot going on there as well which, sort of represents the emotional trauma of the assault," he said. He wrote his film to confront "the feeling of general unease that follows an attack of that kind." When Darwas finished the original draft of Get My Gun, he knew it was lacking something, and so he reached out to Carchietta. "I wrote the movie the best I could, but it was still from a male perspective.  I felt it was important to have a woman read it and give me their feedback. To which we re-wrote/tweaked some of the scenes," Darwas said.
When it came time to begin shooting, Darwas leaned on his cinematography experience to structure the shoot, how much he could rely on editing, and how to cover his mistakes. More surprisingly, his automotive and motorcycle experience came in handy as well. "Having a background in building cars helped make the movie possible. Since I put my fabrication skills to work, I was able to shoot on a smaller budget.  We built our own dollies, camera mounts for the cars, sets…"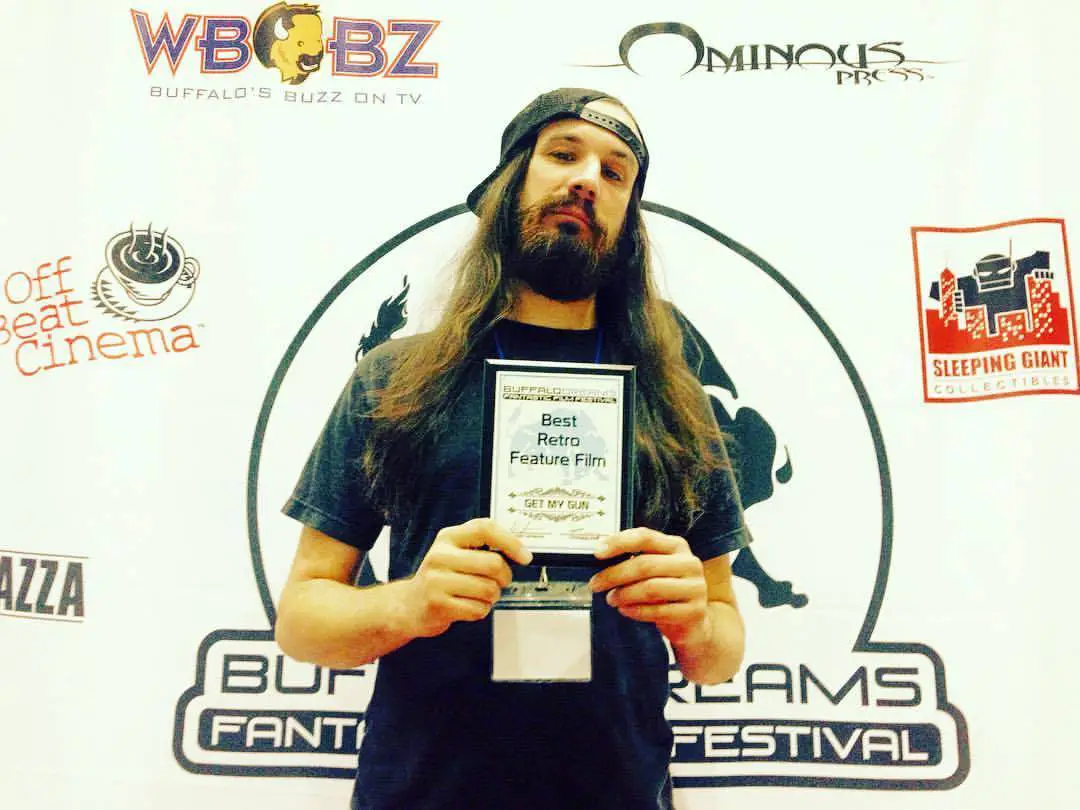 This might sound like an unlikely crossover, but to Darwas, it all made sense. "Both filmmaking and car building are very hands-on. They both involve problem-solving in the worst-case scenarios. Old cars break down often and need to be fixed on the fly with whatever parts/tools you have available to you. Filmmaking is the same way…no matter how much you plan, something is going to go wrong at the worst time, and it's up to you to fix right then and there with whatever resources you have available to you."
This skill became most apparent early in Darwas' career while filmmaking the motorcycle documentary White Knuckle: The Story of the Motorcycle Cannonball, which followed a group of motorcyclists racing across the country from coast to coast, while on bikes built before 1916. "They forged on no matter what happened, and went to great lengths to overcome any obstacles that came up and keep their bikes on the road," Darwas said about the bikers. "Filmmaking is the same thing…don't start the race if you don't have the will and determination to see it through to the end."
Darwas clearly has that determination, now with a self-made feature film and a host of documentaries under his belt. After Get My Gun was grabbed by horror streaming platform Shudder and released earlier this year, he's already got his mind on the next project. "We finished up another script and will hopefully be shooting it this coming spring/summer…fingers crossed," Darwas said.
As for his influences, they run the gamut. When asked about his influences, Darwas touched on filmmakers like Herschell Gordon Lewis "…as he just went out and made what he wanted to make.  No money, no problem. . . he was gonna make a movie anyway, and I really admire that."  His thoughts on John Carpenter, "I love The Thing, aside from being a horror/sci-fi film on the surface, it's also an intense character study. And, great characters are what make a great movie.".  He also mentioned Stanley Kubrick's The Killing, "It was one of the first movies I saw which told the story in a non-linear fashion, which is very similar to how a novel reads.  Not everything always needs to unfold in real-time. It's O.K. to jump around for the sake of not revealing certain information until just the right time."
All these influences and his own experience shooting documentaries create Darwas' resourceful, fast-paced directing style that got something as emotionally grueling and entertaining as Get My Gun shot in twelve short days. Since its Shudder release, reactions to Get My Gun have been polarized. "…either people absolutely love it, or they hate it (laughs).  There's no in-between."
Whatever the reaction, Darwas is already revving up and speeding on to the next film, like a souped-up motorcycle that could break down at any minute. This might sound terrifying, but Darwas isn't worried, he knows how to fix it if anything breaks on the way.