Shudder Classics is a weekly series from Horror Obsessive. Our writers have been given free rein to pick a film from the Shudder library that they feel is a classic and tell us why. Join Kevin Hoover as he looks at back at Behind the Mask: The Rise of Leslie Vernon, featuring an interview with star Nathan Baesel.
---
Originality is dead; it's all been done before. Beg, borrow, copy, and steal the best parts of everything else to fabricate your creation. Just be sure to slap on a coat of fresh paint before unleashing it upon the world, so everyone knows it's your very own.
In 2004, a group of filmmakers shot a horror movie that not only doesn't try to hide away its inspirations; it makes them the very premise of the film. Featuring the exploits of a central character  as relatable as a best friend, the team created an enduring work that, almost 15 years after its release, is still considered to be one of most beloved genre pieces of the modern era. It's currently streaming on Shudder.
We All Need Someone to Look Up to
In the world of Behind the Mask: The Rise of Leslie Vernon, cinema's villains-most-vile are real. Jason Voorhees is indeed stalking the campgrounds of Crystal Lake. Child murderer Freddy Krueger is busy tormenting the dreams of neighborhood kids. Michael Myers is stalking about with the blood of his sister on his hands.
It's their dirty deeds that have influenced the motivations of the titular character. Young, good-looking, and a smart-ass to boot, Leslie sets out to imprint his own deviousness on the sleepy town of Glen Echo, Maryland. As the opening moments unfold, viewers are introduced to Taylor Gentry (Angela Goethals). Documentary film crew in tow, they follow the local legend and capture the goings-on of a man working to ascend to the upper echelon of serial killer supremacy.
An innovative exploration into the meta of movie maniacs, directed by Scott Glosserman from a script penned by David Stieve. As excellent a vision as theirs was, every Victor Von is judged by the adeptness of his monster, and theirs is played to perfection by Nathan Baesel (Invasion, CSI: Miami), who shares his story of walking in the convoluted, more fiction-than-fact footsteps of psychopathic prodigy Leslie Vernon.
Paradise Lost
Horror fans have always been careful to allow new faces onto our personal Mt. Rushmore's of fandom. We're not so accepting of every maniac with a twinkle in his eye and glint on his knife. However, upon its release in 2006, we happily broke out the chisels for Leslie Vernon. GlenEcho Entertainment had given us Behind The Mask: The Rise of Leslie Vernon, and it was unlike anything that had been done before.
Nathan states, "The script was David Stieve's and the concept was his and Scott Glosserman's. Once the production was in motion, then it was a process of assembling the best talent available, so having a background in horror was helpful but not necessary. I'm a perfect example. I didn't know much and am still learning but at the time felt as strongly as everyone that if we did our jobs right and didn't screw up, we had a chance at making something special for the genre, a gift for fans with some durability to it."
And what a gift it was and continues to be. BTM is creative ingenuity at its finest. It offers up a peek into the life of an executioner that we as viewers are not often privy to. For all the questions it answers, the most pivotal to the narrative happens to be, "How exactly does one become a slasher icon?"
Cardio, for starters. Lots and lots of cardio. There is, after all, that whole "making-it-look-like-you're-walking-when-everyone-else-is-running" thing. There has to be a backstory, preferably one that hinges on the premise of revenge. A psycho killer also needs the trappings of one, such as a creepy mask with "an almost fetus-like quality of being featureless while suggesting potentiality." Those details are what really make the movie shine.
One moment that didn't make it into the final product was a scene intended to be the film's original ending. Recalls Nathan, "The film was supposed to end with incensed townspeople calling for justice, Robert Englund's fiery defense of the documentary crew and a dramatic courtroom revelation. We didn't have the budget to execute it properly, so the scene only lives on in the trailer with Robert shouting, 'He needs an audience!' It's too bad we had to lose it because he gave a great performance."
With a Little Help from His Friends
The film connects with audiences by casting some instantly recognizable faces. Kane Hodder makes a one-off early on, and Robert Englund plays the yin to Leslie's yang in a starring role. Also appearing in what would turn out to be her final on-screen film performance is the legendary Zelda Rubinstein (Poltergeist).
Assembling such a legendary cast was not a mere afterthought. According to Nathan, it was vital to establishing the universe as a living, breathing place. "Kane came on and shot his scene after we'd wrapped production because we needed to establish that the Nightmare on Elm Street, Friday the 13th, and Halloween locations took place in the world of BTM. Robert lends his legend to every project he works on. He can't help it and wouldn't help it if he could. He's living his legacy. Freddy is inseparable from him. BTM borrows all of the associations' people have with him and harnesses them for a mind-bending effect. And Zelda… That voice. Essential."
Popular in other circles but still playing a key part in Behind the Mask was the late Scott Wilson. While horror wasn't always in his wheelhouse, his casting as the beloved Hershel Greene on AMC's The Walking Dead made him a favorite among fans for his years on the show and thereafter. Before battling the undead alongside Rick Grimes (Andrew Lincoln) every Sunday night, he was Leslie's best friend and mentor, Eugene. His death in 2018 surprised many, but to the crew of BTM, it was the loss of a genuine chum. "I'm still digesting his passing. He was a dear friend and mentor," Nathan remembers. "I'm grateful for the heart and generosity that constantly swirled around him like satellites of love. His casting was inspired and his accepting the role was a gift to all of us."
Vernonites United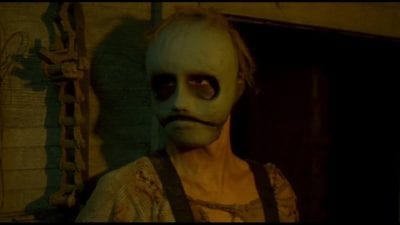 Every discussion about the merits of the film, of which there are plenty, generally culminates with the same question: When do we get more Leslie?
The major hurdle has, as one might imagine, been a lack of funding. "Money. It's all about money," Nathan continues. "Behind the Mask was always a tricky film to describe, which meant it was a tricky sell to potential backers. The sequel is no less tricky."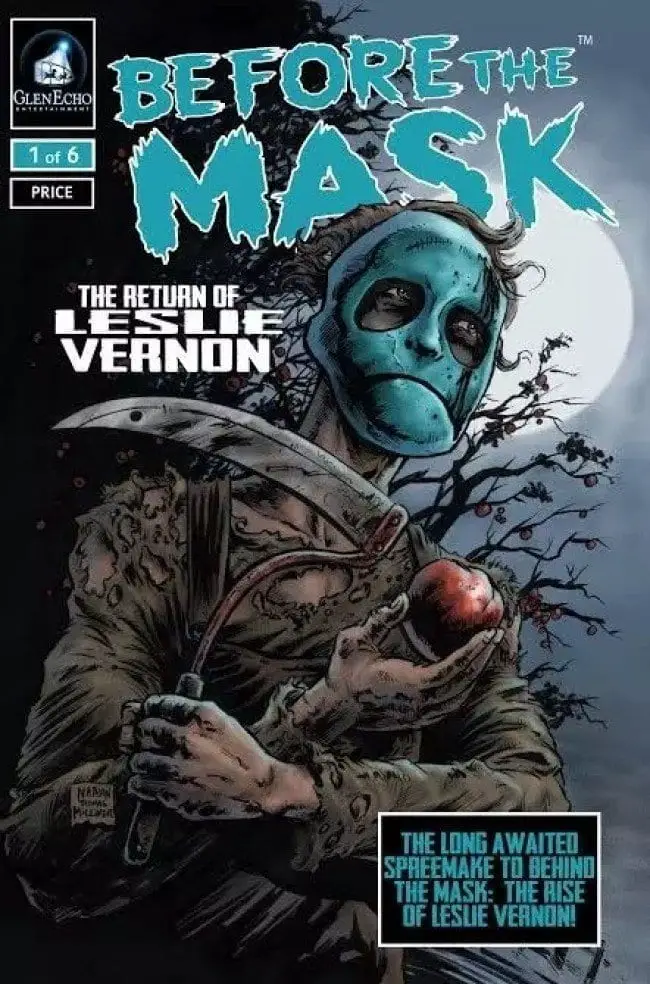 While a crowdfunding campaign some years ago didn't secure all of the necessary resources to produce a proposed prequel/sequel, it did still garner quite a backing from fans. A separate successful campaign in 2017 resulted in Leslie's story being fleshed out in comic book form, with the first four of a planned six-eight issue story arc already available for purchase at Vernon's Farmhouse.
So how does Leslie himself feel about that? "I'm a comic book kid, so I think BTM branching off into that medium was a really clever turn. Comics and horror are a power team-up that deserve to be explored more. Nathan Thomas Milliner's illustration of the sequel script was a really impressive example of how comics can tap into the sensationalism and menace of horror in ways that actually improve on how it's delivered in film. And given how prohibitive filmmaking is, comics are an ideal way to diversify a project so that it can continue moving forward relatively economically when other avenues get closed off. It'll do as a fine place holder until we can get the film made."
Leslie Today
Given the current climate of things and the advances in technology over the last decade or so, it's not too far-fetched to think that a 2019 iteration of Leslie Vernon would be a creature of the times. Maybe he'd have a Facebook fan page or a YouTube series devoted to bodyweight workouts. Nathan could see it happening; "Leslie responds to horror trends real-time so there would certainly be a social media component to his legend-building. Trends shift so quickly in the genre that were (David) Stieve to sit down and write a new sequel script it would be unrecognizable to the one represented in the comics."
While waiting for new things to happen in the town of Glen Echo, the team have all kept busy with their own projects. "I've been teaching acting which I enjoy far more than doing acting," says Nathan. "Scott is running Gathr Films, which is a very cool enterprise you should all know about. We both recently got together with Ben Pace and Britain Spellings to do a short that Ben had written called Hello, Jogger which he based on my compulsion to acknowledge people I pass by when running or biking. He likes making fun of me. They all do. Enjoy my ridicule at https://youtu.be/md-ZfjCIaXc."
Part of the appeal of Leslie Vernon lies in the duality of the character. One moment he's a ham for the camera crew, cutting wisecracks and making puns; the next, he's murdering reckless youth to thin the herd for the all-important showdown with the final girl—a virgin, nevertheless.
It's a split-persona that isn't often observed with the likes of Jay and Fred (as Leslie calls his peers). And it helps establish commonality with us as fans: he works out just like us, drinks beer and enjoys cookouts just like us, and has goals and aspirations to be the very best at what he does.
Just like us.