A.J. Mattioli stood in a blue blazer with an all-encompassing energy unlike anything else in the room at Bit Bar when I walked over to meet him at Salem Horror Fest a few weeks ago. Not an easy feat when you're among the neon lights of brightly lit arcade games, a bustling bar area filled with indie film actors and directors, and a dance floor of vacated tables imminently set up for a bloody burlesque show. Still, Mattioli shook my hand with authority and excitement before engaging me in discussion with unparalleled focus, making it seem like there was nothing else happening in a room where literally everything seemed to be going on.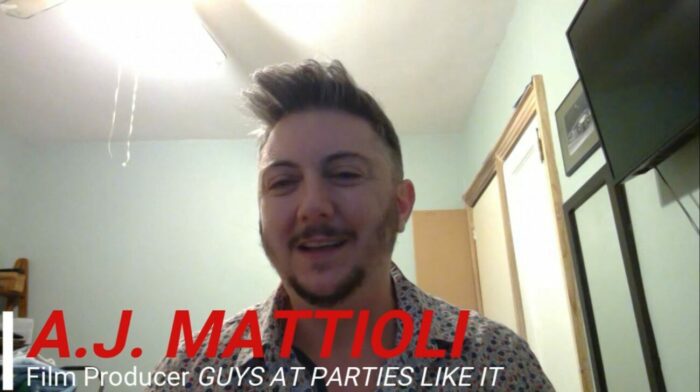 Our conversation was brief, mostly because I hadn't had the chance to see the movie he was there to promote, Micah and Colton David Coate's grisly #metoo horror film Guys At Parties Like It. Honestly, I had some reservations about the film. The trailer I had seen online gave the film a sexual assault via Euphoria vibe, which left me a little unsettled. I don't have many trigger warnings, but movies that often portray this content tend to romanticize the ugliness of brutalization (SEE: I Spit On Your Grave, Snuff Tapes).
I had asked festival runner Kay Lynch about the movie, to which her immediate resolution was a simple look suggesting I trust her choices. To that extent, she's never steered me wrong before, a fact that helped put my concerns at ease. My meeting with Mattioli only strengthened what Lynch had enforced. Mattioli was clearly not the type of person willing to produce just anything, so I decided to take a chance. On the spot, we exchanged information and decided to get together for an interview.
Guys At Parties Like It presents its challenges, but it's more of a monster movie than anything else, turning college frat boys into grotesque, inhuman beasts. The film involves college freshman Brad (Anthony Notarile), who's tasked with losing his virginity before the end of the night's party or suffer the fate of a shocking hazing ritual. Brad, taking the advice of his fraternity mentor, Tony (Pablo Sandstrom), decides to seize any opportunity, even if it means taking advantage of and getting violent with Mary (Monica Garcia Bradley), a party girl with a reputation. After being manipulated into his room by her gay frat boy best friend Connor (Yuhua Ou), Mary begins a fight for her life against this vicious pack of cultish creatures, as she finds herself locked in their upstairs lair with no phone and no way out.
Almost immediately, while researching Mattioli's production website, it became clear that Mattioli, a trans man, had only one intention when producing films: inclusivity. Early on in our interview, Mattioli references he only makes films with queer characters in them, and surprisingly enough, Guys at Parties Like It's initial script was bereft of any Queer representation. This left Mattioli to help influence Queer filmmakers Micah and Colton David Coate to draw from their own college experiences to create dynamic dialogue and versatile characters that add an influx of mortifying realism to the story.
When I asked Mattioli about the content, specifically when it came to the appalling motivations of the men in Guys at Parties Like It, He told me,
When I read it, I was like these guys have to be directed even more disgusting and even more volatile. I think that you do grab these men that have toxic masculinity all over them and there isn't redeeming traits to a lot of college aged cis men. There's not that many redeeming qualities that some of them have and I wanted to show that. I wanted to show that sometimes people are just bad. I think that's a truth in this country and in this world, that people are just bad.
It works out surprisingly well in the film as we root for Mary and see her turn the frat brothers' sadistic intentions into a devolving situation of chaos, murder, and mayhem.
Check out the full interview with dedicated producer AJ Mattioli below and catch Guys At Parties Like It next week at Crimson Screen Horror Film Fest and the Long Island International Film Expo in July.