Guy Pearce is one of the most consistently surprising actors of the last decade. Making a name for himself through his gritty, noirish performances of L.A. Confidential and Memento, he's dipped his toes in a bit of everything since. Whether it's the villain in an imagination-driven Adam Sandler family film for Disney (Bedtime Stories), beating the snot out of Robert Pattinson as a man with nothing left to lose (The Rover), or being an unpredictable love interest to Kate Winslet through multiple HBO shows (Mildred Pierce and Mare of Easttown). Pearce rarely disappoints no matter what character he's playing, and he was a big part of why I was drawn to his latest film, The Infernal Machine.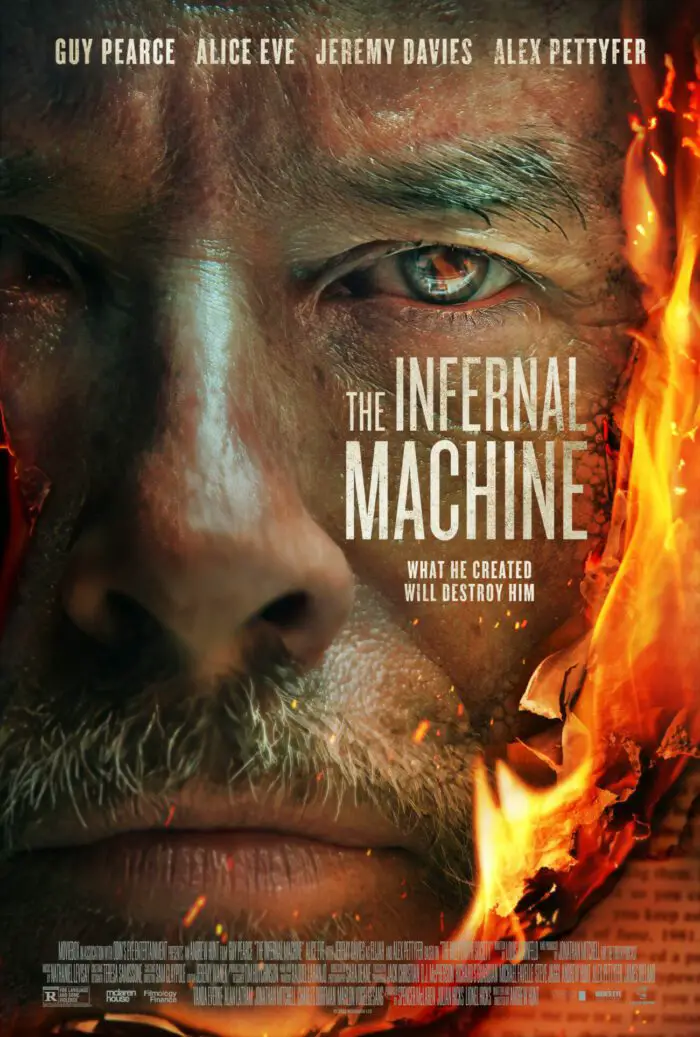 Pearce plays Bruce Cogburn, a reclusive author who has been in hiding since his bestselling book, The Infernal Machine, was cited as the inspiration for a mass shooting forty years ago that claimed the lives of thirteen people. Off the grid in the California desert, Cogburn spends his days alone, soaked in alcohol and living off the residuals from his book, until he begins receiving letters and packages from an obsessed fan which forces Cogburn to confront his past. Unwavering at first, Cogburn tells his admirer to cease and desist, but as the letters keep coming, Cogburn begins to admire the persistence put forth by the enigmatic William DuKent.
Once Cogburn starts trying to find his solicitor, things become nightmarish. Detangling connections to the ill-fated event that caused his seclusion, he finds himself the target of a conspiracy where people around him aren't who they seem. He soon discovers he's become the main character in a new novel someone else is writing. The more Cogburn uncovers, the more intricate the plot becomes, and The Infernal Machine does a terrific job of changing angles with every piece of new information.
With obvious reference to J.D. Salinger and the scrutiny cast onto The Catcher in the Rye, the book found on assassins Oswald, Hinkley, and Chapman, which caused the author to go into hiding while also theorized to trigger sleeper agents in a Manchurian Candidate context. The Infernal Machine follows a similar conspiratorial setup but veers off the path from the outlandish insinuation to embroil its protagonist in a targeted thriller that remains feasible. The film is also based on The Truth podcast episode "The Hilly Earth Society" and uses many of the show's voicemail vignettes of Cogburn's correspondence with his mystery antagonist. With these two ideas conjoined, The Infernal Machine becomes a fascinating amalgamation of concepts that ground a film that could otherwise wildly unspool or stall out on chaotic theories.
Instead, Andrew Hunt creates a well-paced, captivating sun-soaked thriller with notes of western noir, breathing abject paranoia through a Brian De Palma-inspired lens and keeping the audience focused on the screen. Pearce is sharp and captivating as we watch him run around like a mouse in a maze, carrying scenes with near effortless precision. The supporting ensemble of The Raven's Alice Eve, The Black Phone's Jeremy Davies, and Magic Mike's Alex Pettyfer is spot on too. Each character feels exceptionally well thought out and portrayed with a great deal of calculation, meant to push the audience into reluctance about who they believe masterminded this maddening opus.
There is one line in the film that makes a surprisingly bold claim. As Cogburn finds he's the subject of his fan's fascination, he threatens to dull down his writer's ending, saying, "Nobody gives a damn about an inspired second act if your finale is a big pile of s*it." It's a fun line, but it's a caveat that comes with a promise for the viewer that doesn't exactly live up to the hype. The third act shirks off a rewarding revelation by inserting a secondary story about the pressures writers face. In the end, through various twists and countless turns, we arrive at an ending that's both unexpected and uninspired, depleting a rousing hour and forty-five minutes down to the morality tale that develops during the last fifteen minutes of the film. One could argue Cogburn's actions are redemptive, but I felt it fell a little flat.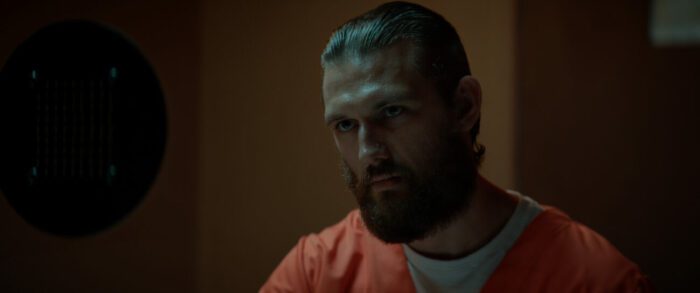 Fans of John Carpenter's In the Mouth of Madness will find easy comparisons between Sam Neill's John Trent and Guy Pearce's Bruce Cogburn as he becomes entangled in his puppet master's plot. Though The Infernal Machine never reaches the Lovecraftian heights of Carpenter's psychological saga, there is similar terror in the idea of being manipulated by a string-pulling creator, which happens to be the plot of Cogburn's diegetic book. Just don't expect any Carpenter-esque style effects. The Infernal Machine is much more of a realistic effort hinged on payback and vengeance from an unseen tormenter.  
The production itself relies heavily on Pearce, and it's right to. Pearce is excellent. He adds anxiety and unease to scenes with a look, a tremble, and genuine authenticity that seems shockingly rare in new-age horror and suspense thrillers. Combined with a nerve-shattering score by Nathaniel Levisay, fantastic makeup work, and great direction by Hunt, The Infernal Machine is a tense white-knuckler that sucks you in and doesn't let up. While I believe it also writes a check that its ass can't cash at the end of the second act, it's still a generally satisfying watch overall. I think some will like the ending more than I do, but watching Pearce untangle the web of intrigue Cogburn becomes caught up in is worth any quarrels I may have.  
The Infernal Machine releases to VOD this Friday, September 23.