Stephen King is known for setting different stories within the same timeline and having elements of one novel pop up in another. A prime example is the fact that Dolores Claiborne and Gerald's Game share the same solar eclipse at one point. Given the fact that Mike Flanagan is a huge fan of King's, it isn't strange that he would pull inspiration from him to create his own Flanaganverse accumulating in his newest project, Netflix's Midnight Mass.
The plot of Midnight Mass remains a mystery for the most part. What is known is that it centers around the small island community of Crockett Island and how miraculous events coincide with the return of Riley Flynn (Zach Gilford) and the arrival of a new priest, Father Paul (Hamish Linklater). Even with so little known, it's not the first time we've heard of this little Flanagan project. If you have been a fan of Mike Flanagan and his work, chances are that you have seen Midnight Mass mentioned throughout his other projects. In Hush it was the book protagonist, Maggie (played by Mike Flanagan regular, Kate Siegel, who will also be appearing in the series) had written which lead to her stardom as an author. A few years later Flanagan would also put the book on the shelf above Jessie's (Carla Gugino) bed in Gerald's Game where she would use it to get a stray dog away from eating her recently deceased husband.
Thanks to Netflix finally dropping a trailer for the series we have been given a little glimpse into what Midnight Mass will be offering us and my first thoughts were, "Holy Stephen King's Storm of the Century, Batman!" Do you remember that little miniseries from 1999 that was written by Stephen King for television? Where a small community on an island has to prepare for a blizzard while an unwelcoming guest commits murder saying, "Give me what I want, and I'll go away"?
Well, it feels as though there are elements of this miniseries that Flanagan might have been inspired by. Storm of the Century and Midnight Mass takes place on an island as a big storm is rolling in which will cause the inhabitants to become isolated from the mainland. They also contain a stranger that brings with them strange occurrences around town. Both have elements of the supernatural while also focusing on a mystery. Even the color schemes of their trailers are looking pretty similar which makes me wonder if this is another love letter to King's works from Flanagan. I have no issue with this because I absolutely love when his passion for the horror genre shines through in these ways.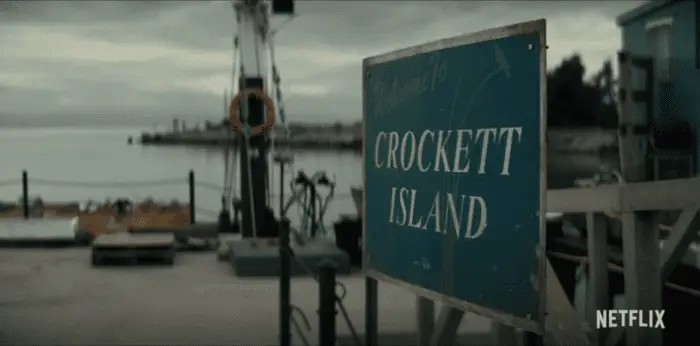 Midnight Mass's opening trailer moments are of Crockett Island preparing for a storm while Hamish Linklater provides a voice-over on how people don't like mysteries. If you have been familiar with Mike Flanagan's The Haunting series then you know that he enjoys taking genres and crossing them into horror. The Haunting of Bly Manor managed to provide viewers with a romance with horror elements. The Haunting of Hill House was a family drama intensified using horror. My guess is that even though Midnight Mass isn't based in The Haunting franchise, Flanagan will probably be taking this chance to cross the mystery drama with horror.
There is also a moment in the trailer when Riley is staring at the haunting image of someone missing half a face. Could this be another case that was similar to Dani's in The Haunting of Bly Manor where his guilt is manifesting itself physically? If so, then how many other elements from past projects will Mike Flanagan pull from for his ultimate collaboration with himself? Will we also find ourselves getting a glimpse of the Oculus mirror again? 
The trailer offers up many familiar faces of the Flanaganverse even if we don't catch a glimpse of his famous mirror. As I said above, Kate Seigel who is known to most as Theo from Hill House will be in the series as Erin Greene. Erin is actually the same character that Sarah (Samantha Sloyan, who was also in Hill House) mentions in Hush when talking to Siegel's Maddy about the book Midnight Mass. Other familiar faces that people might recognize are Annabeth Gish (The Haunting of Hill House), Rahul Kohli (The Haunting of Bly Manor), Robert Longstreet (The Haunting of Hill House, Doctor Sleep), and Henry Thomas (Ouija: Origin of Evil, The Haunting series, Gerald's Game).
Mike Flanagan isn't stopping here. He is currently in production of Christopher Pike's The Midnight Club which will also be for Netflix and featuring Scream Queen herself, Heather Langenkamp. So sorry The Haunting fans, we might have to wait a little longer for another ghost story. While you wait though, I highly recommend checking out Mike Flanagan's other works streaming on Netflix leading up to its September 24th release of Midnight Mass.
So what do you think of the trailer for Midnight Mass? Do you find yourself wanting to go back like Katie does and rewatch Mike Flanagan's previous works?  Let us know in the comments! And if you're looking for more trailers we've got you covered!