Between 1989 and 1990, the bodies of seven middle-aged men were found dumped in wooded areas off major highways in Florida. The bodies were spread out across multiple counties. Their vehicles were found abandoned miles away from their remains. They all had gunshot wounds from a .22 caliber handgun. Investigators had no leads until a 1988 silver-grey Pontiac Sunbird went off State Road 415 near Orange Springs, Florida on July 4, 1990.
Rhonda and Jim Bailey were sitting on their porch when they witnessed the car careen off the road. Rhonda said that two women got out of the car. The car's windshield was smashed and steam poured out of the radiator. The more vocal of the two was described as a short, stocky blonde (later identified as Aileen Wuornos) who was yelling and swearing at a tall brunette (later identified as Tyria Moore) who was described as silent. The two removed the vehicle's license plate and threw it into the woods along with some beer cans. The two also retrieved a red and white cooler from the back seat. Rhonda noticed that Wuornos's arm was bleeding. She went over to the women to offer assistance. Wuornos pleaded with Rhonda not to call the police and said that her father lived up the road. The two got back in the car and attempted to drive away but didn't get far before the car conked out.
The two got out and began walking up the road. A male motorist stopped to offer assistance. He noticed that Wuornos's arm was bleeding and that she was intoxicated. When she asked for a ride, he refused. Wuornos became angry and abusive. The man called the Orange Springs Fire Department and reported the injured woman. According to Christopher Berry-Dee's book, Talking With Serial Killers (2003), when the emergency vehicles arrived, Wuornos told them, "I don't know anything about any accident. I want people to stop telling lies and leave us alone." [1]
Investigators found bloody latent fingerprints and bloodstains on the seats and door handles. Other items in the vehicle included Budweiser and Busch beer cans, two beverage cozies, and a bottle of Windex spray cleaner. The vehicle was traced through the Vehicle Identification Number (VIN) to Peter Siems of Jupiter, Florida. The seemingly insignificant bottle of Windex proved to be a valuable piece of evidence. The item still had an Eckerd Drug price label which was traced to a store on Gordon Street in Atlanta. Police interviewed witnesses and put together a composite sketch of both women. Investigators went to the Eckerd Drug store where the Windex was purchased and interviewed the manager. He remembered the women and recalled that they bought cosmetics and a black box of Trojan condoms. One of the beverage cozies was traced to a Speedway store near the entrance/exit ramps of I-75 in Wildwood, Florida. [2]
Investigators found out that the vehicle's owner, Peter Siems, had been reported missing. They also found out that Siems and his wife were missionaries who didn't drink or smoke and that they never traveled to Atlanta. John Wisnieski, of the Jupiter Police Department, had been working the Siems case. Wisnieski sent descriptions of the two women to be distributed nationwide. He contacted the Florida Criminal Activity Bulletin and submitted descriptions of the two women along with the composite sketches and a summary of the case. Siems's body hadn't been found, and his credit card and bank account remained untouched.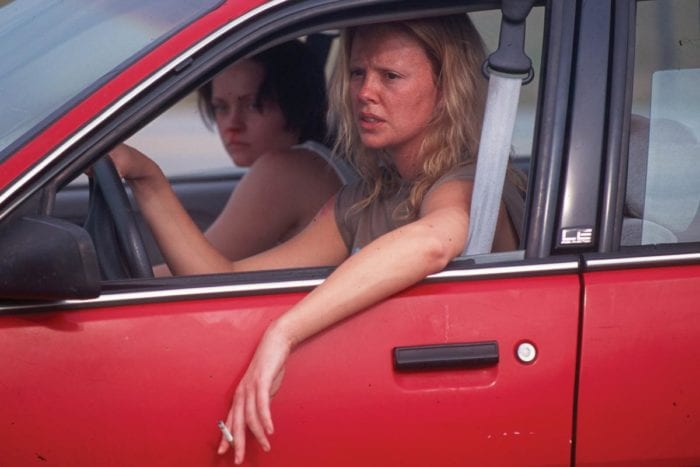 Peter Siems, age 65, was last seen on June 7, 1990. The merchant seaman and part-time missionary was packing up his car with luggage and a stack of Bibles. Siems was leaving on a trip for the "Christ is the answer" crusade. He also was planning to stop off in Arkansas to visit relatives. [3]
Siems was one of four men that had mysteriously disappeared while traveling alone along Florida's highways. The other three men had gone missing in and been found dead in other counties: Richard Mallory, age 51, of Clearwater, Florida, found in Volusia County; David Spears, age 47, of Winter Garden, Florida, found in Citrus County and Charles Carskaddon, age 40, found in Pasco County. Siems would never be found, and three more men would disappear: Troy Burress, age 50, of Ocala, Florida, found in Marion County; Charles Richard "Dick" Humphreys, age 56, of Crystal River, Florida, also found in Marion County, and Walter Antonio, age 62, of Cocoa, Florida, found in Dixie County.
Richard Mallory of Clearwater, Florida, was last seen on Nov. 30, 1989. Mallory owned a business, Mallory Electronics, a TV and video repair shop. According to the documentary, Aileen Wuornos: The Killer Prostitute (2020), Mallory was known to close up shop and disappear for a few days. When he returned, he would hire temporary employees to help him catch up on his work. Mallory reportedly drank heavily and it's speculated that his absences were drinking binges. Strippers, go-go dancers, and sex workers in the Tampa and Clearwater area all knew Mallory. Because of his frequent disappearances, no one thought it was unusual that the shop was closed. He had no close friends or relatives to notice when he didn't return.
A Volusia County deputy sheriff out on a routine patrol found Mallory's 1977 light beige Cadillac Coupe de Ville on John Anderson Drive in Ormond Beach. Police found bloodstains on the front seat and a wallet near the car which contained Mallory's driver's license and two expired credit cards. Two plastic tumbler-type glasses and a half-empty bottle of vodka also were found near the car. Investigators noted that the driver's seat was pulled up close to the steering wheel. Mallory was 6-feet tall so this wouldn't be a comfortable position for a man his height. Someone else had to be driving his car. From the glasses and bottle of vodka, it looked like Mallory had company.
On Dec. 13, five miles from where the car was found, two young men searching for scrap metal found Mallory's body. Volusia County deputies responded. They found Mallory lying under a piece of cardboard still wearing jeans and a pullover. His jean pockets were turned inside out and his dentures were on the ground beside him. The body was in an advanced state of decomposition. Mallory's hands had to be removed and sent to a crime lab for a latent print examination for identification purposes. Four bullets were recovered from his torso during the autopsy.
Investigators found only one lead among Mallory's acquaintances—a stripper called Chastity. The documentary, Aileen Wuornos: The Killer Prostitute (2020), refers to Sue Russell, author of the book Lethal Intent (2002). According to Russell, Chastity had told her boyfriend that she was with Mallory for a few days and that she had killed him. She was arrested but police found out that Chastity only said she ran off with Mallory and killed him because she was angry with her boyfriend. Mallory's case went cold.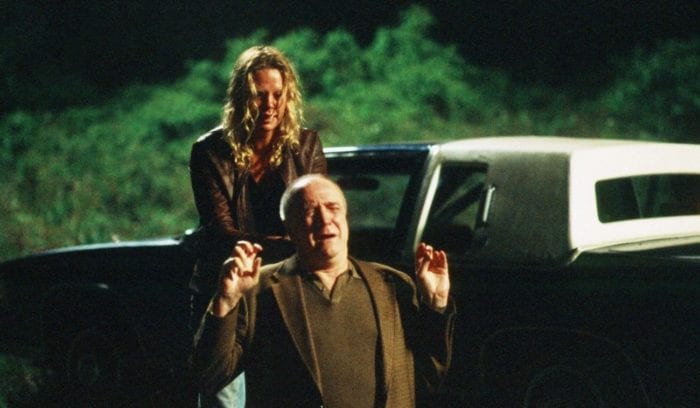 Construction worker David Spears, 47, of Winter Garden, Florida, was last seen on May 19, 1990, when he left work at 2:10 p.m. Described as a soft-spoken man, he last spoke to his ex-wife Dee at lunchtime the day before. Although they were divorced, he and Dee had an amicable relationship. Spears even split his paycheck with her. He was supposed to stop by to see her after work the day he disappeared. Spears's truck was found abandoned near County Road 318 and I-75 in Marion County on May 20. The doors were unlocked and the license plate was missing. Police found a blonde hair on the steering wheel and a ripped condom packet on the floor. Some personal belongings were missing including his tools, clothing, plus $600 cash and a one-of-a-kind ceramic panther statue which he bought as a gift for Dee. As with Mallory's car, the driver's seat was pulled up too close to the steering wheel to accommodate Spear's 6-foot, 4-inch height. [4]
According to Berry-Dee, Spears was found on June 1. His body was lying in a clearing near U.S. Route 19 in Citrus County, Florida. His body was in an advanced state of decomposition which made it difficult for police to determine sex, age, or cause of death at the scene. The body was described as naked except for a camouflage baseball cap. Empty Budweiser and Busch beer cans and a used condom were found near his body. His autopsy determined that he was shot six times by a .22 caliber handgun.
Charles Carskaddon, 40, a road digger and rodeo driver, was found on June 6, 1990, off State Route 52 and I-75 in Pasco County. His body was covered with grass, foliage, and a green electric blanket. He was shot nine times in the chest with a .22 caliber handgun. The next day, Carskaddon's 1975 Cadillac was found near I-75 and County Road 484 in Marion County. The license plate was missing but investigators were able to determine who the owner of the vehicle was through the VIN. Police spoke to Carskaddon's mother, Florence, who said that he left home with a .45 caliber pistol with a pearl handle, a Mexican blanket, a stun gun, a flip-top lighter, watch, tan suitcase, black T-shirt, and grey snakeskin cowboy boots—none of which were found in the car. His mother said that he took the firing pin from the gun because he was afraid to use it. [5]
Peter Siems, 65, of Jupiter, Florida, owner of the vehicle that Wuornos and her partner, Tyria Moore crashed on July 4, was never found.
Troy Burress, 50, a part-time salesman for the Gilchrist Sausage Company in Ocala, Florida, and the owner of Troy's Pools in Boca Raton, was last seen July 30, 1990. He left the Gilchrist office in the afternoon to go on sales calls. Burress's boss, Johnnie Mae Thompson, was concerned when he didn't report back to the office. She called customers on his sales route. No one had seen Burress that day. At 2:00 a.m. on July 31, Burress's wife called the police to report him missing.
Marion County detectives found the Gilchrist delivery truck at 4:00 a.m. on the shoulder of State Road 19, 20 miles east of Ocala. The vehicle was locked and the keys were missing. Burress's body was found five days later, eight miles away, off Highway 19 near Ocala National Forest. A family looking for a spot to picnic found his remains. Due to the extreme heat, he was badly decomposed. His wife was able to identify him by his wedding ring. It was determined that he was killed by two shots from a .22 caliber handgun to the chest and back. A clipboard with a list of deliveries and receipts was found near the body. [6]
According to Sue Russell's book, Lethal Intent (2002), Dick Humphreys, 56, of Crystal River, Florida, disappeared Sept. 11, 1990. It had been his last day of work at the Sumterville office of Florida's Department of Health and Rehabilitation Services. Humphreys worked as an investigator specializing in protecting abused and injured children. He was set to transfer to the department's office in Ocala.
Humphreys once served as police chief in Alabama. He had been married to his wife, Shirley, a cancer survivor, for 35 years. The Humphreys had three adult children: Elizabeth, age 32 at the time, and Terry Ann, 25. Both daughters were married and lived out of state, one in Pennsylvania and the other in Georgia. The Humphreys' son, Charles Michael "Mike," 22, lived nearby. Dick was a member of the local Moose Lodge and past commander of the local VFW Post. [7]
Humphreys was found on Sept. 12 off County Road 484 near I-75 in Marion County. Humphreys had been shot seven times. Six .22 caliber bullets were recovered from his body. One had passed through his wrist and was never found. His money and wallet were missing. Berry-Dee said that Humphreys's Firenza car was found on Sept. 19, 70 miles north parked behind an abandoned Banner Service Station at the intersection of I-10 and State Route 90, near Live Oak, Suwannee County. The license plate, keys, and a bright yellow Highway Patrol Association bumper sticker were missing, along with all of his personal papers and favorite pipe. All that was left behind was an empty can of Budweiser under the passenger seat. Also found was a cash register receipt for beer or wine from EMRO store number 8237, a Speedway truck stop and convenience store located at State Route 44 and I-75 in Wildwood. The receipt was time-stamped at 4:19 p.m. on Sept. 11, 1990, the day Humphreys disappeared.
Investigators went to the truck stop and interviewed the clerk who was on duty at the time stamped on the receipt. She didn't recognize Humphreys but did recognize the two women from the composite sketches. The clerk added that she thought that the two were sex workers from their demeanor. She said that she was obligated to call the police if sex workers were hanging around the truck stop. She would've called if the women decided to linger around the store but they drove away. Humphreys's personal effects were recovered one month later in a field off Boggy Marsh Road in southern Lake County near US 27. [8]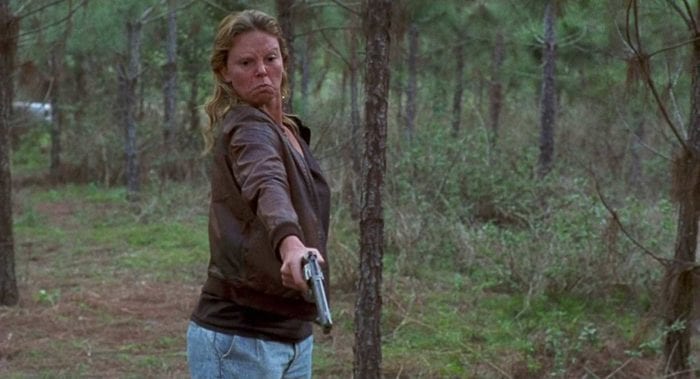 Walter Antonio, age 60, of Cocoa, Florida, was found on Nov. 18, 1990, by a police officer who was on a hunting trip, near US 19 and US 27. He was found naked except for a pair of tube socks. He had been shot four times (three times in the torso and once in the head) with a .22-caliber handgun. Antonio was headed to Alabama in search of a job. He had recently become engaged and wore a gold and diamond ring that his fiancée gave him.
Antonio's car, a maroon Pontiac Grand Prix, was found on Nov. 24. in a wooded area near I-95 and US 1 in northern Brevard County. The doors were locked and the license plate and keys were missing, a bumper sticker had been removed and a piece of paper was pasted over the VIN. The car was wiped clean of fingerprints and empty Budweiser cans were found near the car. Antonio's fiancée gave police a list of possessions, all of which were missing: handcuffs, reserve deputy badge, police billy club, flashlight, a Timex wristwatch, a suitcase, a toolbox, and a baseball cap. Antonio's identification and clothing were found in a wooded area in Taylor County, about 38 miles north of where his body was found. [9]
Detectives working the Burress and Spears cases in Marion and Citrus Counties decided to compare notes. After reading in the Florida Department Law Enforcement (FDLE) bulletin that a Pasco County case could be linked to Spears. The detectives contacted Tom Muck who was working on the Pasco County case. It was becoming clear that a serial killer active along Florida's highways. There were many similarities between the crimes: All were older men, 40-60s, all were robbed (two had their pockets turned inside out). The bullets retrieved from all of the victims came from the same small caliber.22 handgun. The detectives also exchanged the composite sketches made by their witnesses. They noted the similarities and concluded that they were all looking for the same woman—the blonde woman described as the one to do all the talking. They surmised that if the short blonde woman was working alone and not with a man she might use a small-caliber handgun as an "equalizer." [10]
Captain Steve Binegar, of the Marion County Sheriff's Criminal Investigation Division, knew about the Pasco and Citrus murders. Noting the similarities between the murders, he formed a multi-agency task force with representatives from counties where the bodies were found. Binegar thought that the perpetrator had to be a non-threatening individual because most motorists weren't likely to pick up hitchhikers. He also made note of the condoms found at some of the crime scenes and the truck stop clerk who said that she thought that the women were sex workers. He concluded that the perpetrator was most likely a sex worker plying their trade along the highway.
Berry-Dee says that, at this point, Binegar decided to enlist the help of the press. Reuter's ran a story about the killings in late November. The article said that investigators were looking for two women. Newspapers throughout Florida picked up the story and included the composite sketches of the women. Due to the exposure in the press, investigators had several leads regarding the two female suspects by mid-December. A man in Homosassa Springs recognized the two women in the sketches. He said that one year earlier, the two had rented an RV mobile home from him. He found their names in his records—"Tyria Moore and Lee." A woman from Tampa said that two women, named Tyria Moore and Susan Blahovec, worked at her motel near Ocala where Troy Burress was murdered. She said both said that they bought an RV in Homosassa Springs. The woman described Blahovec as the dominant of the two and added that she thought that Blahovec was a sex worker. [11]
Local police in Port Orange near Daytona were able to provide details on the women's movements from September to mid-December. The two stayed mostly in and around the Fairview Motel in Harbor Oaks where Blahovec was registered as Cammie Marsh Greene. The two rented an apartment behind a restaurant near the motel but later returned to the motel. Wuornos returned to the motel by herself and stayed until Dec. 10. Police ran a check on the names Tyria Moore, Susan Blahovec, and Cammie Marsh Greene.
According to Berry-Dee, Moore has no significant criminal charges just a breaking and entering charge from 1983 that was dropped. Blahovec has one trespassing arrest while Greene had none at all. The photo on the Blahovec license didn't match the one for Greene. It was the Greene ID that led to a breakthrough in the case. Cammie Marsh Greene had pawned a .35 mm Minolta Freedom camera and a Minolta Road Patrol radar detector bought at Radio Shack (both were the same type owned by Richard Mallory) at the OK Pawn Shop in Daytona Beach. Cammie got $30 for the trade, showed her driver's license, and left an obligatory thumbprint on the collection receipt. The items sparked the investigators' interest because few people would own a Minolta radar detector let alone associated with a Minolta .35 mm camera. Greene also pawned a set of tools that matched the description of the ones taken from David Spear's truck. The tools weren't recovered by police.
Jenny Ahearn, of the Florida Department of Law Enforcement's Automated Fingerprint Identification System, ran the Greene fingerprint. A computer search yielded no results. Ahearn decided to do a manual search of Volusia County's records and found a match to a weapons charge and outstanding warrants against a Lori K. Grody. Grody's fingerprints matched those found in Peter Siems's Sunbird. All of this information was sent to the National Crime Information Center. They received responses from Michigan, Colorado, and Florida that confirmed that Lori K. Grody, Susan Blahovec, and Cammie Marsh Greene were all aliases for Aileen Carol Wuornos.[12]
Now that they had the names of both women, along with evidence connecting specifically Wuornos to the victims. Items matching those taken from the victims were pawned under Wuornos's Greene alias and the fingerprints found in Siems's car matched her Grody alias. Who was Aileen Carol Wuornos?
Works Cited
[1] Berry-Dee, Christopher. (2003). Talking with Serial Killers : The most evil men in the world tell their own stories. John Blake Publishing Ltd. London. p. 207.
[2] Berry-Dee, p. 207-208
[3]Berry-Dee, p. 205-206
[4]Berry-Dee, p. 203-204
[5]Berry-Dee, p. 205
[6]Berry-Dee, p. 208-209
[7]Russell, Sue (2002). Lethal Intent. Kensington Pub.Corp. New York, N.Y. p. 13-14.
[8]Berry-Dee, p. 210
[9] Berry-Dee, p. 212-213
[10] Berry-Dee, p. 211
[11[ Berry-Dee, p. 211-213
[12] Berry-Dee, p. 214-215