The crawling chaos of the coronavirus could not stop the H. P. Lovecraft Film Festival's "130 Years of H. P. Lovecraft." This latest installment of the showcase for films adapting, inspired by, or otherwise connected to foundational weird fiction author Howard Phillips Lovecraft, was going to be held in the writer's hometown of Providence, R.I., the weekend after August 20, Lovecraft's birthday. However, because of quarantines and other measures to curtail the spread of COVID–19, festival directors Gwen and Brian Callahan, who run HPLFF in Portland, OR, announced that it would instead be a streaming event hosted by Portland's Hollywood Theatre.
As 2020 marks not only Lovecraft's 130th birthday but also HPLFF's silver jubilee, the films chosen for the festival were a mix of new works and past favorites that highlighted how interpretations of Lovecraft have evolved in the past quarter century. This ongoing re–evaluation is reflected in a statement that the Callahans read at the start of the festival stream and posted on the Hollywood Theatre website. It runs in part:
We acknowledge that H. P. Lovecraft is a problematic literary figure. We embrace his contributions to the genre, the bleakness of his horror, the coolness of his monsters, but we firmly reject his racist ideologies. We celebrate his literary legacy through film, particularly the genres of cosmic horror and the Weird tale that he helped create. However, we do not condone or espouse his racist beliefs and while fully acknowledging that he was racist, we study his vast body of correspondence to better understand the kind of racism prevalent in America in the 1920s and 30s which allowed Jim Crow laws to continue for several more decades.
They also noted that the festival could do better when it came to diversity, a point demonstrated by the Q&A session which served as an intermission between the two blocks of programming. The Callahans' conversation with HPLFF founder Andrew Migliore and filmmakers Christian Mazke, Rick Tillman, John Strysik, Aaron Vanek, and Robert Cappalletto was edifying and entertaining — but it was also two hours spent listening to seven white guys, plus Gwen. The Callahans have pledged to diversify the festival, stating that "an integral part of our programming this year will be to highlight the works of cosmic horror by modern BIPOC [black, indigenous, and people of color] creators."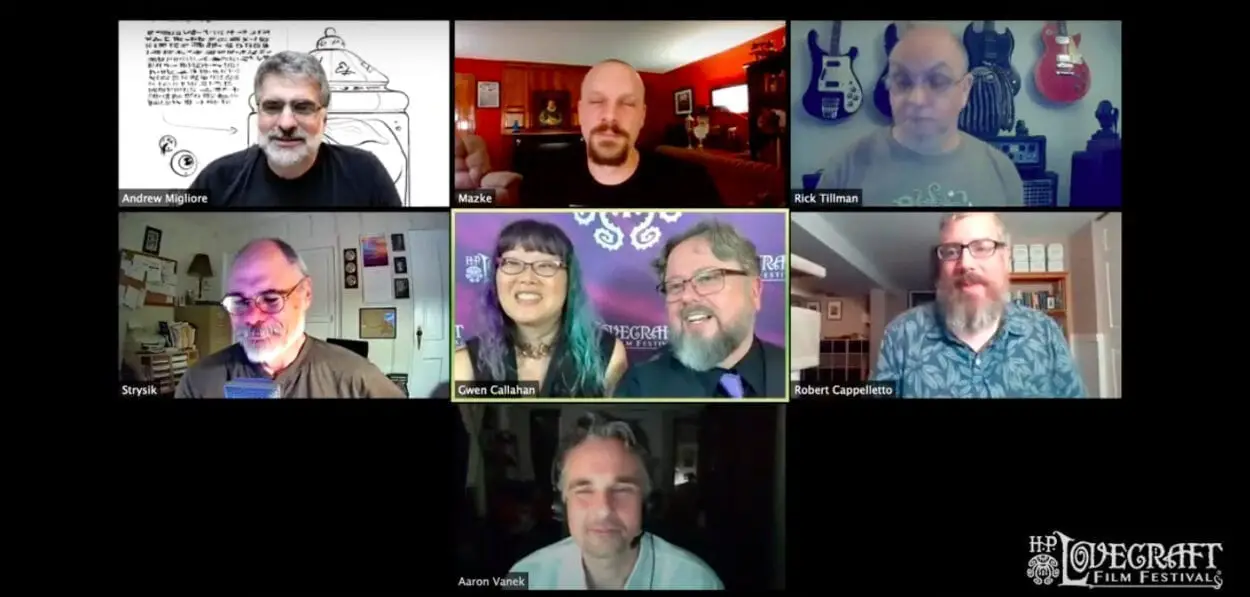 This policy paid immediate dividends in the form of "Clearwater," by Taiwanese filmmaker Rob Jabbaz, a bit of body horror that will have viewers reaching for the insect repellent. There were also two excellent entries by female directors: from Poland came Marianna Atlas's charmingly anachronistic stop–motion take on "Faust," while Amy Coop used Edgar Allan Poe's "Annabel Lee" as inspiration for a suspenseful period piece about two lovers hiding out in Devon during the Anglo-Irish War. 
Another standout was Alexandre Singh's "The Appointment," an original story of obsession and lost time with creepily colorful production design; very M. R. James meets Tim Burton. It had some thematic overlap with "The Last Incantation" by Woodruff Laputka, an adaptation of a Clark Ashton Smith story set in a necromancer's tower, which was more conventionally conceived but beautifully realized, particularly the demon in a bottle voiced by Nic Costa.
Two shorts straddled the line between action and horror. Travis Bain's "Starspawn: Overture," set in the bushland of Australia, involves a running battle between a bereaved father and the Min Min lights (think will–o'–the–wisps or foo fighters) pursuing him and his teenage daughter. I found the CGI creatures a little goofy, but the puppet version was a great practical effect. Brian Otting's "It Came Nameless in Spring" could be a segment from Fear the Walking Dead, with a briefly glimpsed abomination filling in for the zombies; I must confess, it reminded me of the Flying Spaghetti Monster.
There is no tangible threat in Ryan Graff's "Black Moon," just camerawork and cutting to convey the Lovecraftian notion that time and space may slip out of joint "when the stars are right." Similarly, the dreamy menace of "Beyond" by Gav Chuckie Steel, a riff on Lovecraft's "From Beyond" that also borrows from Robert W. Chambers, is largely a matter of tinting, multiple exposures and dissolves.
A recurring Lovecraft trope, the dangerous book, turned up in two films. The older, Rick Tillman's "The Summoning" (2004), is a live action Lovecraft pastiche that invokes German Expressionism and F. W. Murnau's Faust. The newer work, an Argentinian short having its U.S. premier, was Alan Slavutzky's "The Black Tome of Alsophocus," an animated version of an unfinished Lovecraft story completed by Martin S. Warnes. I loved the look of the film, which is reminiscent of the Van Gogh biopic Loving Vincent, but was disappointed that it didn't take advantage of the medium to depict Nyarlathotep and his cohort as inhumanly monstrous. 
Speaking of Nyarlathotep, he's the title character of Christian Matzke's newly restored 2001 black–and–white short. It deserves its reputation among Lovecraftian film cognoscenti, as do John Strysik's "The Music of Erich Zann" (1980), a faithful adaptation that owes much of its effect to the beautiful practical lighting (inspired, according to Strysik, by the cinematography in Terence Malick's Days of Heaven), and Aaron Vanek's "The Outsider" (1994), a near perfect demonstration of what draws amateur and student filmmakers to Lovecraft. As Vanek explained in the Q&A, "We had very little, very little budget, experience, crew, talent, et cetera, and so Lovecraft stories fit this, I think, because it was very much hidden, and shadows, and suggestion, and then one effect — and we only, oftentimes, had money for one effect."
Robert Cappelletto leaned into the low–budget aesthetic for his 1988 student film "To Oblivion" (it premiered in 1991), which owes as much to the John Carpenter–Dan O'Bannon sci–fi comedy Dark Star as it does to the Lovecraft stories listed in the credits, "Ex Oblivione," "Beyond the Wall of Sleep," and "The Silver Key." It has what I think was the funniest moment of the festival: the unnamed protagonist's realization that even the outskirts of the solar system aren't far enough to spare him from his parents' insistence that he start applying to college. 
Rounding out the slate was Rupert Morris's music video for "The Call of Cthulhu," a track off the album ALTER NATURE by BATS. It's a four–minute speedrun through Lovecraftian motifs set to post–punk metal and it goes hard as hell. 
Currently, HPLFF's next event, the 25th Annual H. P. Lovecraft Film Festival is scheduled for October 2–4, 2020, at the Hollywood Theatre. Tickets have not yet gone on sale, and depending on conditions it may also be a wholly streamed event. Hopefully, HPLFF will survive the undeath of social distancing until that happy day when sell–out crowds can once again scream together in the dark.
Shana Carter would like to remind everyone that the Dweller on the Threshold is not to be confused with the Lurker at the Threshold or the Thing on the Doorstep. She lives in New York City and really misses going to the movies.