2021 was a great year for horror games with titles like Resident Evil Village, Back 4 Blood, House of Ashes, and the wildly popular (on YouTube) Five Nights At Freddy's: Security Breach. But even though you may still be writing 2021 on your checks, we are deep into the new year. 2022 hasn't seen the release of too many horror games yet, but one of the ones that have been on the receiving end of a ton of buzz is the highly anticipated and talked about games Martha is Dead. Besides its wildly creepy, yet restrained trailer, Martha is Dead has been the topic of some controversy in the gaming world. When it was announced that PlayStation would be censoring the game, which would cause a delay in PlayStation's physical release, audiences were torn.
Before we get into the actual review I think it is necessary to dive into the subject its censorship, and the responsibilities studios and platforms have. The fact that this game was being censored really bothered me for a few reasons. The first is that it is a video game; the second is that it caused a delay in the physical release, which rightfully peeved off quite a few people; the third is that PlayStation apparently doesn't trust their audience enough to know what they are getting into, and are worried about offending people. Now, this is all fine and dandy, but to cause people who have spent money to have to wait even longer because you didn't do enough R&D into a game is pure laziness. This is nothing against the developer LKA or the publisher Wired Productions, this falls solely onto PlayStation.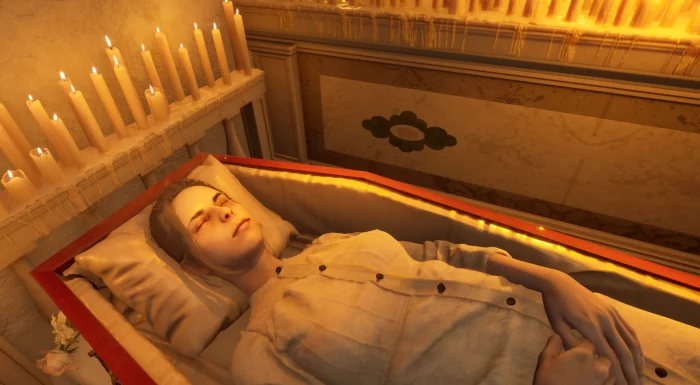 All of what was previously said leads up to my main gripe with this game: PlayStation kind of ruined my experience. When I get and play a horror game, just like watching a horror movie, I know that I will most likely be in for some disturbing scenes or bombarded with horrific elements and themes. There's no warning before Grand Theft Auto that says, "Hey, don't go kill sex workers and steal cars." When you load into the game you are met with a warning and then information on where to go for a mental health hotline; where the PlayStation copy differs from all the other versions is that you are then asked if you would like to play the censored version of the game. The other big difference for the PlayStation version is when you arrive at the multiple grotesque scenes you are: a) not able to do the actions, and are forced to watch it as a cutscene rather than participating, and b) there is a giant skip button at the bottom of the screen. You know, usually, during a cut scene, a skip button will appear for three to four seconds, whereas the skip button here stays on screen the entire time, and completely drags you out of the experience.
What about the actual game though? Simply put, the game itself is fantastic. It is an experience and is currently my frontrunner for the best horror game of 2022 so far. In the vein of games like Heavy Rain and the Dark Picture games, Martha is Dead is more like a movie that lets you make decisions. The gameplay is beyond cinematic, though unlike those games mentioned, this is way more like a movie.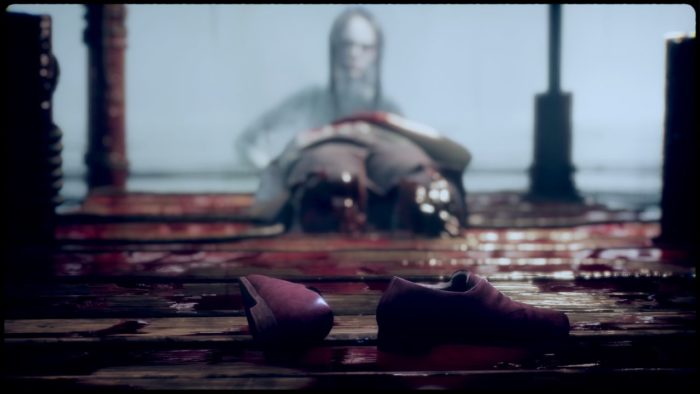 What starts out as a terrifying journey through the mind of a young woman in mourning, slowly turns into a dark and emotional psychological drama. Set in 1944 Italy, during the tail end of World War 2, the game starts with the death of our sister Martha, though for reasons we may not be fully aware of yet, our parents believe it is the other sister, Giulia, who has died. This initially seemed odd for the game to go in this direction, but all will make sense in due time. Reality blurs into what Giulia thinks is the true reality, though nothing may really be what it seems. The game brings supernatural elements as a way to throw the player off from what is actually happening, and once you know, you're even more disturbed.
It should be stated that this game is supremely graphic. There are multiple cutscenes where you will witness some truly horrific and grotesque moments; though in the XBOX and PC versions you will have to play these moments, in the PlayStation version you will simply be resigned to watching the scenes play out. The brutality of these scenes gives you a deep look into the psyche of Giulia, and once all the pieces are put together it all makes a little more sense. I don't think I have ever played a game like this, and I'm not sure if there will ever be a horror game as effective as Martha is Dead.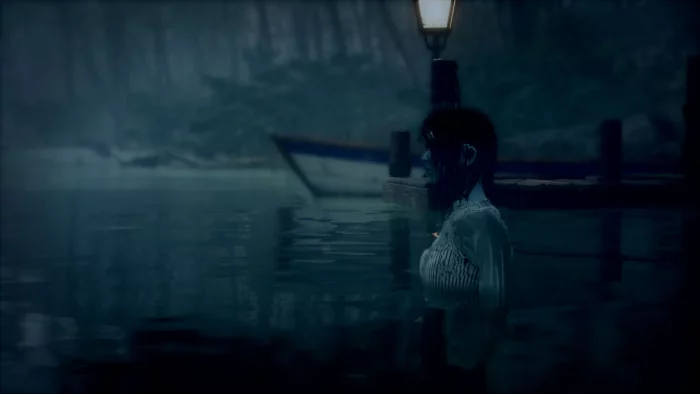 A lot of the horrific beauty of this game comes from writer and director Luca Dalcò. The item interactions that turn into mini cinematic scenes are so wonderfully directed and bring a certain joy to the storytelling of the game. The way Dalcò handles the grotesque scenes makes them feel artistic and purposeful, rather than being gross and mean-spirited for the sake of the scare. Luca Dalcò's script really does a fantastic job of engrossing us in psychological horror, while still giving us deep moments of cerebral horror.
One of my favorite aspects of this game is the camera. You are given a [dope looking] camera and have to take pictures of specific things to advance the story. We get different lenses for different types of shots, a flashbulb for the camera, and a tripod. One of the coolest mechanics I have ever seen in a game is how you can adjust the focus, exposure, and aperture, which made a camera nerd like me go absolutely crazy! There's also a dark room that you have to use to develop the photos, which adds a really fun layer to the game; at points, this is a really good tool to ease a bit of the tension of the game…that is until you have to develop few certain photos that progress the story.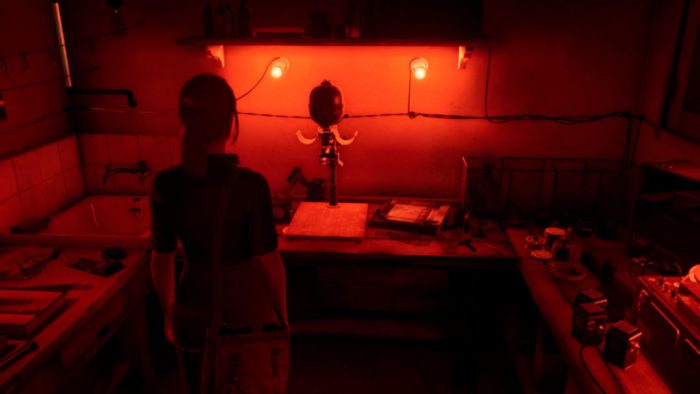 Besides PlayStation's interference, there are a couple of issues with the game. While it's nowhere near as buggy as the gameday release of Cyberpunk, there are quite a few bugs. Now, I was playing this on PlayStation 4, and have been told that the PlayStation 5 has a lot less of these issues, but if you're paying for a game that is released on a platform, it shouldn't really matter which platform you are playing it on. One of the things you can do to move around the map faster is by riding a bike, and if you hit a barrier block at just the right angle it can easily brick your game. Within my four-and-a-half-hour playthrough, my game crashed 31 times, each time was on the bike. You'd think I should have just stopped riding the bike at that point, but it was a mechanic in the game, and I wanted to use it! There was also a minor issue with assets loading in, but that's really not the biggest issue in the world.
Bugs, quirks, and PlayStation interference aside, Martha is Dead is an experience of psychological terror with an interesting setting, great characters, and beautiful direction. There is no doubt in my mind that this is one of the most disturbing games I have ever played, and left me feeling hollow…and optimistic. This made me feel that cookie-cutter horror games don't have to be the end-all when it comes to games. When smaller studios take the time and care to craft a genuine piece of art, it shows that they still care about the genre and the gaming community. Luca Dalcò created one damn fine game, and I really hope he continues down this path.