Casey Fletcher is a hot mess. Her acting career is a flop after washing out of a Broadway play due to her excessive bourbon habit. She is an embarrassment to her A-list mother who has banished her to the family's lakeside cottage in Vermont. And her devoted screenwriter husband slipped out of the house to fish and drowned in that lake earlier in the year.
At least she has binoculars and neighbors across the lake who don't bother closing their window shades. Tech innovator Tom Royce and his trophy wife Katherine's volatile marriage makes for good night-time spying. But after Casey saves the former supermodel from nearly drowning in the lake (which may or may not be haunted), the two become friendly and the model and tech mogul spend an evening at Casey's, giving her an up-close idea of what being married to Tom is really like. When Katherine suddenly vanishes, Casey launches into an all-out obsession to find where she is and if Tom may have had something to do with it.
Enter a handsome handyman with a questionable past who is willing to be the Holmes to Casey's Sherlock and Riley Sager is back in business with his latest thriller, The House Across the Lake.
A Tangled Thriller
In The House Across the Lake, Sager relies on nosey neighbors to tell a tale of bad spouses, voyeurism, and murder reminiscent of Hitchcock's Rear Window. If you've read my last review of Sager's work, Home Before Dark, you already understand all the reasons I love his writing. He has a way of creating female characters that are both Buffy the Vampire Slayer and Elizabeth Bennett. He also harkens back to classic horror films without making the reader feel that they have heard it all before. I find myself reading his work and feeling a bit uneasy, like, "I know I've read/seen something like this but what was it? Oh! It's kind of like…"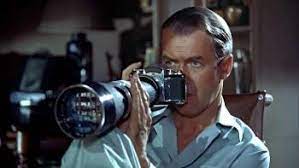 While most of his heroines tend to be eccentric, few are quite as messy as Casey, and for me, that makes the story all the more relatable. I've been known to walk the neighborhood at night and maybe peek into a living room window that has been left open to see how the other half live. Many of us can relate to her waking up with a bummer of a hangover and yet making the same mistake again (although, I hope it isn't as often). And who hasn't had a day/month/year where everything in the world seems to be falling around us?
Casey is a little off-putting, a little disenfranchised, a little mad, and greatly in need of rehab and a new publicist. There are many times in the story where you're unsure if what is happening is really happening or if it is another of her alcohol-induced delusions. She is an unreliable protagonist and that adds to the thrill of the story while making the twists even twistier. And in true Sager fashion, there are twists—many of them. Always the trickster, the author plays with his reader but the payoff is always just around the corner.
Sager writes characters that you truly care about and become invested in. Katherine is fragile and Casey wants to take care of her. She makes it her mission to find out more about the Royce's lifestyle and if Tom has taken advantage of her for her money and/or killed her to inherit her sizeable fortune. You want to cheer Casey on even when she's breaking into the Royce home and making other questionable decisions in her search for answers. Her heart is in the right place and she needs a distraction from her verbally abusive mother and grief over the tragic loss of her husband. I caught myself making faces in disgust while reading about Tom and his philandering (possibly multi-murderous) ways. I even bought into the romance portion of the novel and found myself overly concerned about whether Casey would find love again with the handyman hottie.
At the core of The House Across the Lake is a solid tale with plenty to keep you up late at night devouring just one more chapter.
And here comes the movie
It was recently announced that Netflix made a deal to create a film based on the novel with Paul Feig (Ghostbusters, A Simple Favor, Bridesmaids) as director.
Sager's next novel, The Only One Left, is scheduled to hit stores on June 20.