Themed restaurants are all over the place. Chicago and its suburbs are loaded with restaurants whose themes range from fully immersive to a few pictures on the wall. But unless you snag a spot at a pop-up bar or a Halloween seasonal attraction, horror fans don't have too many places to go that embrace their particular interest. However, starting in March 2022, if you wander up Milwaukee Avenue, you'll find a horror-themed coffee shop. Since opening, "The Brewed" has been welcoming horror fans, coffee fans, and all other curious patrons.
I went to visit and was greeted with a bright, colorful atmosphere and a fun, retro feel. Posters, shelves of merchandise, and artwork line the entire interior. Many horror-themed attractions stick with dark, shadowy color schemes, and for some places, that works. Having a horror-themed location go in the opposite direction, however, is refreshing. If you use coffee to wake or perk yourself up, the atmosphere here won't deter that.
According to Jen Lemasters, one of three owners of the shop (along with Nick Mayor and Jason Deuchler), this environment is intentional. Whether people are coming in for horror, coffee, or even the cereal bar, the colorful interior and comfortable seating, including a couch and booths, won't be scaring anyone off.
As a horror fan, I had the horror part covered; so, I brought coffee fans with me to cover the coffee part. One coffee came in a fun Godzilla-themed mug. You can also purchase one of The Brewed-branded coffee mugs. One coffee fan ordered The Brewed's signature drink, 'The Firestarter', a spicy blend named after the 1984 film.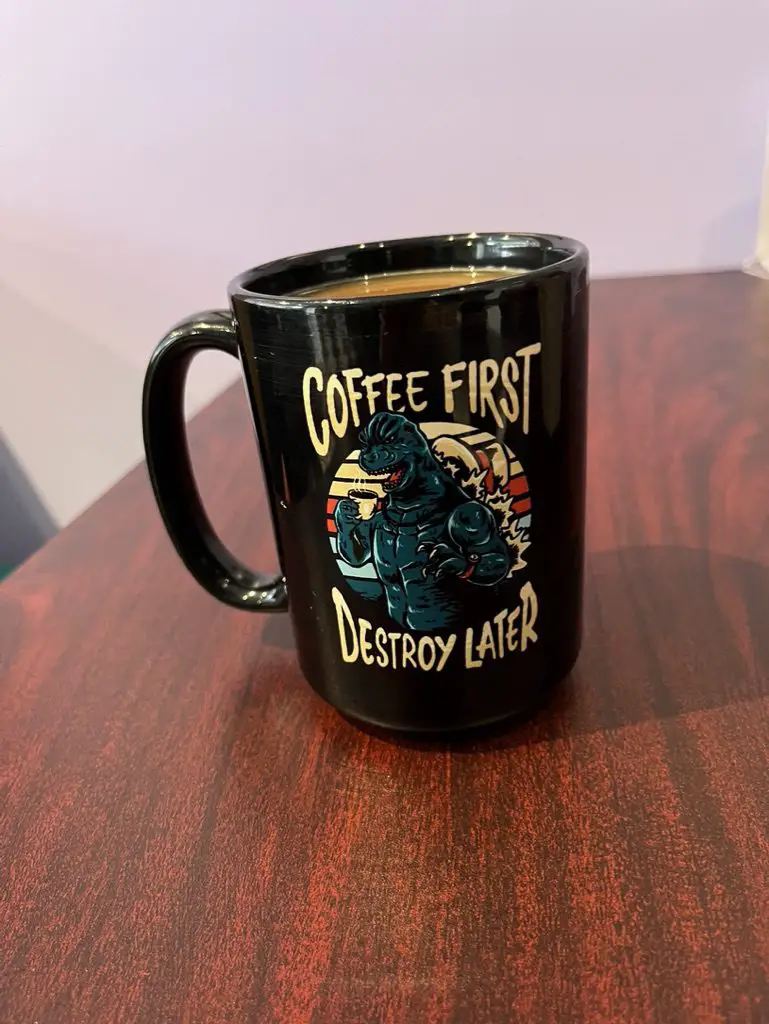 The coffee fan did enjoy the Firestarter. If you're not a coffee fan, there's still plenty on The Brewed's menu. If you just want to grab breakfast without the coffee, you can get a bowl of cereal from their 'cereal bar'. Pick a cereal from the ones they have available, and you'll get a bowl of it to eat anywhere in the shop, whether at the bar-style area
If you're a horror fan, you'll enjoy the art and merchandise featured all around the shop. From toys, to decorations, to movie posters, and even to postage stamps, creepy commodities are all over the walls and shelves.
Lemasters noted that The Brewed has many events in the planning stages or already scheduled, and the shop has hosted events, including movie screenings, and joined events at venues such as the Music Box Theater.
While you're at The Brewed, don't forget to stop by Bric-A-Brac Records next door, also owned by Lemasters and Mayor. In fact, Lemasters shares that The Brewed came from how they would "daydream about a coffee shop being next door, mostly 'cause [they] were lazy" while they worked at Bric-A-Brac, and "a lot of free time" in the early days of the COVID-19 pandemic while the record store was closed for in-store shopping. Lemasters used to work with Deuchler for a horror-themed merchandise company, so when Mayor and Lemasters decided to make their daydream a reality, they asked Deuchler to come on board.
The Brewed does have elements that Chicago-area horror fans in particular will find welcoming. Of course, there are many, many references to the Halloween franchise. A back corner of the shop has a "sweet" Candyman mouth-agape mural.
Much of the artwork that adorns the inside of The Brewed comes from Lemasters, including a mural of the Universal Monsters and other monstrous characters from other studios that this monster kid particularly enjoyed.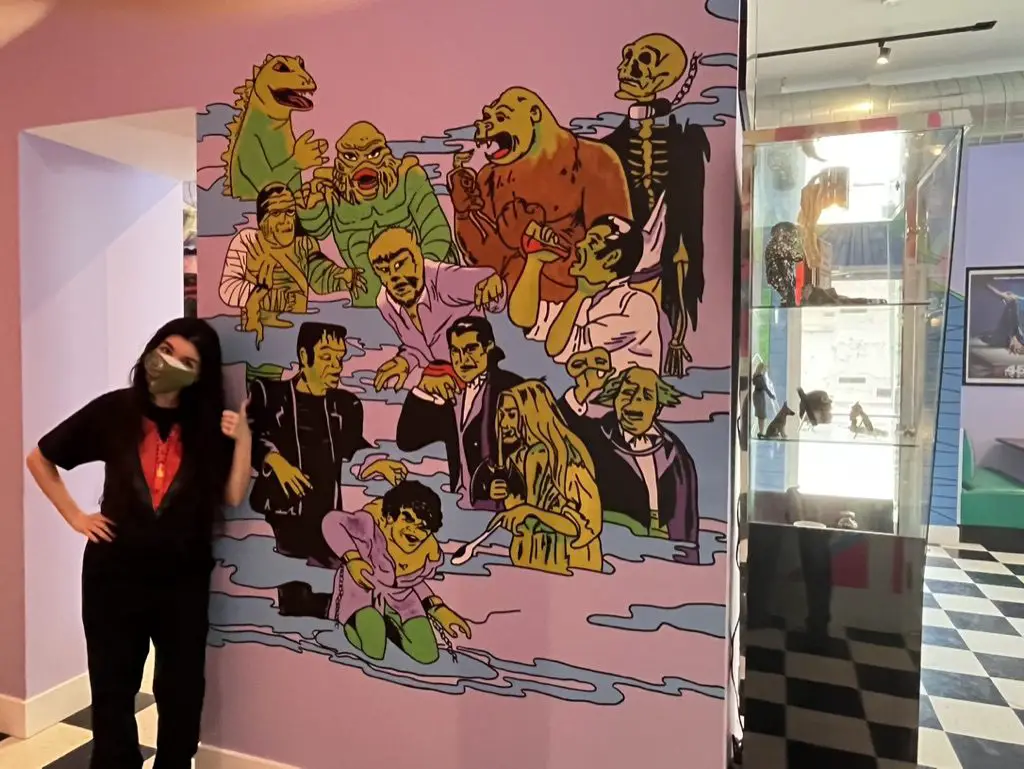 Horror has so many different subgenres: supernatural horror, sci-fi horror, monster movies, slashers, horror musicals, horror comedy… The list goes on, as do the many combinations of those subgenres. Many horror-themed attractions focus on one specific subgenre, or even one specific era. The Brewed smartly spans every subgenre and era: from the painted silent film version of the Hunchback of Notre Dame in the Universal Monsters mural, to The Munsters TV family clan painted on the wall above the bar, to the framed poster for It Follows hanging on the wall above a booth, and more. If you have more time to spare, it can feel like a scavenger hunt looking up and down the walls and across all the shelves to find all the hidden horror gems.
Further connecting The Brewed to Chicago, during my conversation with Lemasters, the topic turned to Svengoolie, a nationally-syndicated horror host who broadcasts from Chicago. Trumaine Hardy, an employee, happily chimed in that one of Rich Koz's previous shows, The Koz Zone, got him into The Three Stooges. Svengoolie is one of the main reasons I was able to get into the horror genre in the first place; his show being on broadcast TV every week makes it easy for me, and many others, to see all sorts of horror and horror-adjacent films. So, of course, I wore a very appropriate Svengoolie T-shirt for my visit. While Svengoolie can be watched across the U.S. and some areas outside the U.S. (and you absolutely should watch him), he's always filmed out of Chicago.
It looks like The Brewed is already being embraced as part of the Chicago horror community. In fact, The Brewed was recently featured on Svengoolie's one-hour primetime special, Svengoolie Uncrypted, on MeTV.
If you're in the Chicagoland area and want a bright, colorful, fun place to stop by, especially as we get into the spooky season, The Brewed is a great place to unwind and enjoy horror history in a light-hearted way. If you want to warm up during the long Chicago winter, cool off over the summer, or have some extra fun during spooky season, The Brewed has all sorts of coffee, drinks, and snacks to satiate you, a fun environment to brighten your mood, enough representation of all sorts of horror subgenres to ensure you get excited about at least one of them, and fun events to keep you coming back again and again.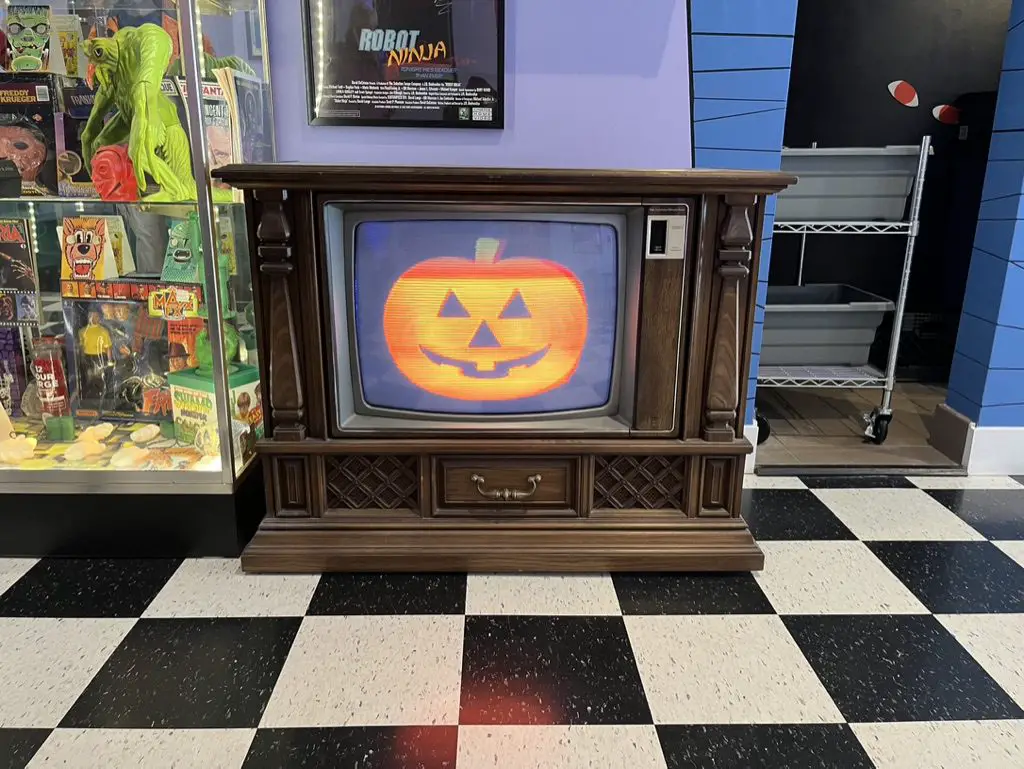 Thank you to Jen Lemasters (she/her), Nick Mayor (he/him), and Trumaine Hardy (he/him) for chatting with me during my visit to The Brewed!