Werewolves, cryptids, and goblins, oh my! It wouldn't be a genre festival without some good ole creature features, would it? This block of short films brings creatures from all around the globe, from 'jealousy' goblins to comedic cockroaches. While creature features aren't necessarily my go, one thing I can appreciate about this block is seeing the different creatures from different communities. Some are funny, some are serious, and some are pretty damn brutal. Without any delay let's jump right into the creature [short] feature block!
Sucker – Written/Directed by Alix Austin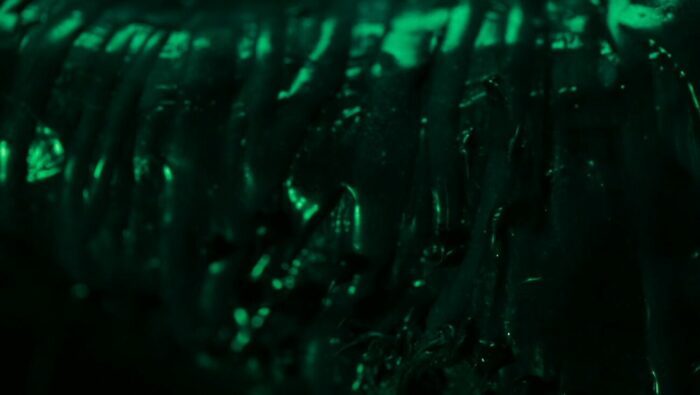 Sam (Sophia Capasso) goes to visit her sister Caitlin (Annie Knox) at her apartment. After finding the apartment in complete disarray, Sam finds out there is something more sinister at the heart of her sister's apartment.
What a hell of a short film to start this block with. Sucker is a dark, goopy, and wonderfully macabre creature feature. Alix Austin's short succeeds at creating a terrifying story, which is only enhanced by Sammm Agnew's excellent prosthetics and creature effects. You will feel this short film slither deep into your soul, and make you think twice about what really lies beneath the clutter on your next binge of Hoarders.
7/10
Hell Gig – Written/Directed by Ella Gale
So, funny story… Maeve (Bruce Bundy) travels around the desert trying to find her best friend Eli (Jamie Loftus) after she disappeared on the standup comedy circuit. After they reunite, Eli appears to be with some company. Sometimes jealousy kills.
Hell Gig is a short I have seen at quite a few festivals, and for good reason. Obviously, since this is the creature block of short films, you know there's a creature; but I don't want to give anything regarding this one away. Why? Because the creature is so damn cute! The introduction of the creature is fairly out of left field, but I think it works fairly well. While the short surrounds standup comedians, it's not very funny, and that's fine. It succeeds as an entertaining piece, with some interesting lore behind it.
Also shoutout to Ashley Kron who was the puppet fabricator and puppeteer. Excellent work.
6.5/10
You're My Best Friend – Written/Directed by Chell Stephen
Some say diamonds are a girl's best friend, who knew that cockroaches could be too? One night Romina D'Ugo finds an uninvited guest in her bathroom, Livvie (Blair Socci), and this guest has no intention of going away. But when it turns out this guest can talk, Romina decides maybe she wants to keep her around after all.
Okay, this one was hysterical. While it may not directly fit under the description of creature feature, You're My Best Friend is a very original and funny short about the true meaning of friendship. Also hearing Blair Socci call some dude a "p*ssy" made me spit-take with coffee. It may not be a traditional idea of horror, but it succeeds in a horror comedy way. Full of laughs and heart, this short was enough to brighten my day and stand out amongst the rest.
6.5/10
Fishwife – Written/Directed by Beth Park
Cedany (Scarlett Brookes) lives alone in a location that looks right off the set of The Banshees of Inisherin, near the water. One night she is visited by Lir (Charles Beaven), asking for help getting to the next town. When Lir reveals insidious intentions everything changes for Cedany.
So, Fishwife looks absolutely great. Whether you like the content of the short or not, there is no way to get around that fact. This short didn't really work for me, and I think naming the antagonist Lir was a bit too on the nose. With that set-aside, there is a really excellent creature moment that I don't want to spoil (unless you know what Lir is, then sorry). The dark themes of Fishwife are wonderfully juxtaposed with the muted tones and visual style. For me, this short is a style over substance issue, but at least it is stylistically it succeeds. Park's script is fine, I just wish there was more for us to chew on substance-wise.
5.5/10
Kid Free Weekend – Written/Directed by Rozalyn Mattocks
What would you do if you had the first weekend to yourself in a year? Well, for Vivian (Erin Day) the answer is: drink some brown liquor, smoke a joint, and eat from that new takeout place down the street. Although Vivian should have checked out that Yelp review when the meal gives her more than she bargained for.
As an idea Kid Free Weekend works really well. Now in execution, maybe not so much. There is nothing bad or terrible about this short, but it does feel as if the production was a bit rushed. The creature feels lifeless and unanimated. The inception of the creature is interesting and works well in the script, I just don't know if the final product was as sharp as it could have been. Even with a few audio issues, and my previous statements, Kid Free Weekend did entertain me, which is the point.
6/10
Mantra – Written/Directed by Steph Meyer and Pascal Bourelier
After moving into a gorgeous mansion, Emma (Maud Wyler) is left to watch over her husband Paul's (Raphaël Quenard) newest project: a praying mantis. The isolation Emma feels ignites a relationship between her and the praying mantis. For Paul, this could lead to deadly consequences.
Wow. To start I am terrified of insects in general. Whether they look cute or not, I just feel my skin crawl whenever I see one. Mantra does an excellent job of creating this beautiful relationship between Emma and the praying mantis. It did so well that I almost forgot I was repulsed by the insect. This dark and dreary story takes turns I was sort of expecting but leads you down this strange road of self-exploration. Even if I had anticipated the direction the story was heading, Meyer and Bourelier handled this subject matter with such class and elegance that I enjoyed every singular second of it.
8/10
Appendage  – Written/Directed by Anna Zlokovic
An up-and-coming fashion designer, Rachel Sennott, channels her inner struggles through some unhealthy means. Under the hammer of her perfectionist boss, Eric Roberts, she must come up with a new design or risk even more bodily harm.
Seeing both Rachel Sennott and Eric Roberts together is surprisingly heartwarming. Appendage is darkly comedic in the best ways possible, but also finds a way to inject social commentary into the story. While the stigma around mental health has slowly gone away over the past few years, it is still a huge issue. Zlokovic's short takes a new and fresh way to look at mental health and the truly negative effects it can have on someone and their body. Throw in great creature design from Amber Mari and Jim Ojala, and you have one fresh and original short film.
8/10