In the first quarter of 2022, I learned of Brandon Cronenberg's Infinity Pool. It sounds weird now in the past tense. I've spent nearly a year looking for news, updates, and whatever else I could find about the Possessor director's follow-up film. I'm just like anyone out there reading this piece. I collect movies, speculate on the arrival of new movies, and absolutely love discussing movies. When I first saw the plot synopsis for Infinity Pool a year ago, I read it far more conspiratorially than realistically. After witnessing what I consider the best horror film of 2020, Possessor, I allowed my imagination to run wild. Now having emerged from a theater with a head full of combative thoughts about what is a genuinely challenging film, it seems surreal. I was so far off from what I had imagined, and yet Infinity Pool is so much more than I could have anticipated.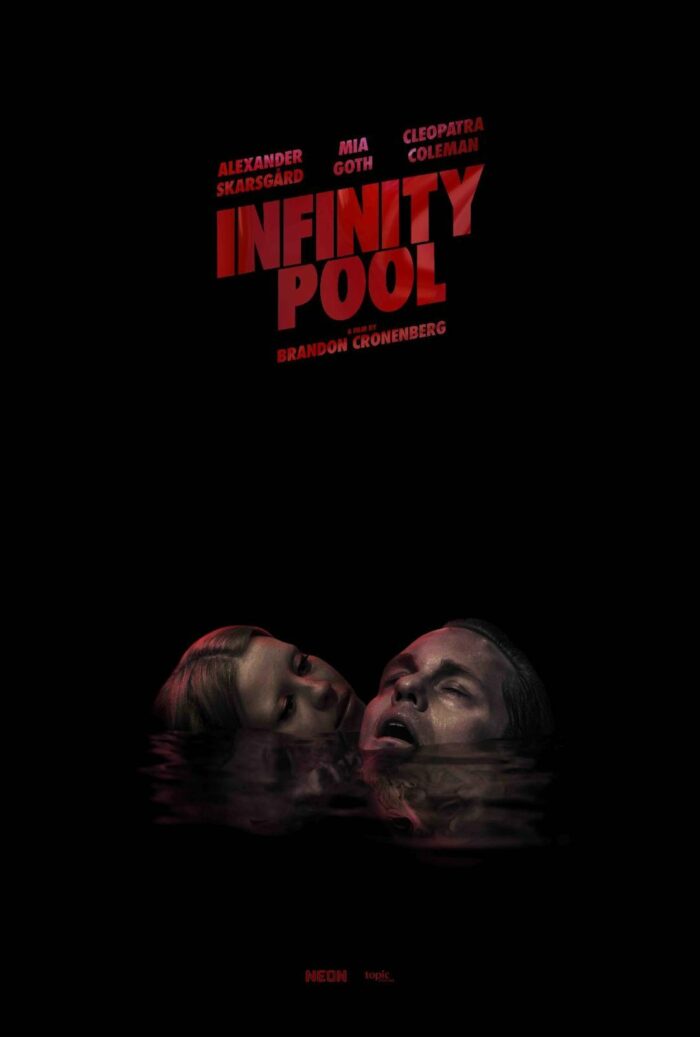 If F. Scott Fitzgerald wrote The Great Gatsby in the age of cloning, it might look something like Infinity Pool. The film concerns a washed-up writer, James Foster (The Northman's Alexander Skarsgård), and his affluent wife Em (Dopesick's Cleopatra Coleman) as they vacation in a gorgeous resort on the fictional island of La Tolqa. Meeting what would appear to be the only fan of his book, James and Em sneak away from the resort property for a night of local dining with Gabi (Pearl's Mia Goth) and her husband Alban (Jalil Lespert). This may be the most generic part of the film. Vacation friends go out and have too much to drink, make a few sexual advances, and then I Know What you Did Last Summer a guy in a foreign country. After facing the implications of their actions, the police present them with an option they reserve for their wealthy tourist visitors: clone themselves and sacrifice the replica to swift corporal justice.  
From the start, there is a lot to process. James' ego remains rarely fed, and there seems to be a nepotist quality to the indebtedness he feels toward his wife and her father, though it's seldom mentioned. Goth's stroking, both literal and figuratively, ignites a change in James and offers him a chance for exploratory change, but at the cost of life as he knows it. When he chooses to face his mortality as a voyeur, it's a reawakening. Yet, a conversation develops, first in the audience's mind and then on the screen, pertaining to whether or not the clone was actually the clone. I mean, morally speaking, who deserves to suffer in this situation? 
The ethical dilemma of man v clone becomes irrelevant, as Cronenberg uses the incident instead to deliver a story about the limitless extent of unchecked privilege. While I tend to think the clone is the one sacrificed, given the nature of the film, Skarsgård's character ends up in a sort of gang with other high societal members who repeatedly partake in morally reprehensible situations that results in them watching their deaths in a combination execution chamber and theater bizarre circus space. Since there aren't any consequences, it only becomes an issue of funding their amusement instead of being scared for one's life. Essentially, the wealthy view themselves as gods.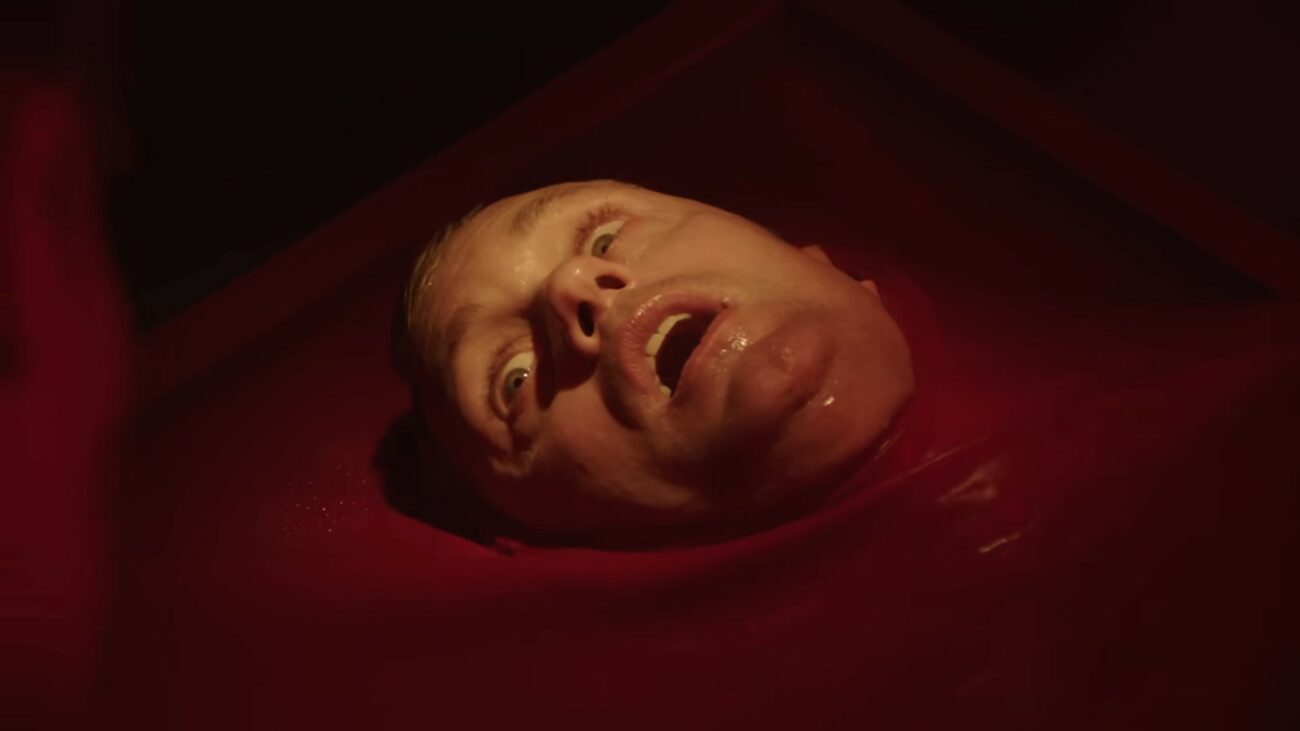 For all of the film's sinister coolness, I had to wrap my head around why the police would allow the cloning and subsequent death penalty of the criminals because there isn't a good explanation for why they never Multiplicitied the victims. Maybe there are reasons, and I just failed to absorb them during the showing, but the idea may have been equally f*cked up if James saw his victim walking around again. Then again, James' induction into the Gatsby club is supposed to instill the contrast between upper-class wealth and their hedonistic bankrupt consciences. 
Furthermore, there is a moment in the story where Cronenberg calls out his critics. The scene is disguised in a poor review of James' book and the resulting stain it leaves on his father-in-law's name, yet it reeks of critical expectation for the son of the great David Cronenberg. There's another moment, as James is body scanned for his clone, where the face on the 3D image also resembles Brandon's father. It's undeniable that David Cronenberg has undoubtedly made a mark on the genre, but regardless of the nepotism, comparing their works is crass commentary akin to ignorantly saying something like, "they don't make movies like that anymore!" Of course they don't. That's evolution. While Brandon's film style and subject material may be similar to his father's, Brandon is forging his own path in Hollywood and, in my opinion, has had more success in his last two films than David has in his Crimes of the Future or Maps to the Stars. Skarsgård proves an excellent leading man in Infinity Pool despite the designation of "nepo-baby" himself. 
Finally, I remember an old co-worker telling me about their home in the Dominican Republic, passionately describing the landscape and romantically reminiscing about home. He offered me a place to stay should I ever decide to come for a visit, the way I figure most people do out of genuine kindness but never expect you to actually take them up on. Still, my then-girlfriend and I considered the option. What ultimately turned us away from exploring the area were several online articles by resort travelers stating heavily armed guards were prominent around the property. Neither of us was comfortable with the reported postings of men with assault weapons lingering at the pool, and neither of us enjoyed the documentation on the sites telling us not to venture away from the property. Neither of us saw any point in going if we could not enjoy the local culture. Since then, much of what was written has been debunked about the area from the time we had considered the trip.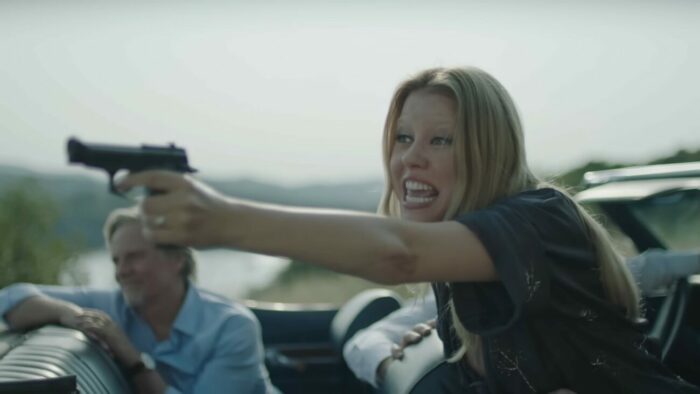 Scenes at the start of Infinity Pool reminded me of these internet articles when James, Em, Gabi, and Alban were stuck behind their resort's gate after the accident, begging to get back to the safety of their hotel rooms. It also speaks to the apprehensive behavior of opulent vacationers. There's an idea here that suggests the culture should be afraid of its tourists and not the other way around. Between the widespread violence, these Gatsbies cause to Goth going gun-happy in later scenes. There is almost a political impetus and deeper moral meaning to be discussed here about how our behavior is perceived in other countries. Essentially, Infinity Pool is a gruesome, blood-soaked version of The White Lotus. 
Infinity Pool will likely divide audiences. Those looking for a bonkers follow-up to Possessor will likely be satiated by the violence and gore, though the experience isn't as perverse as Cronenberg's last film. The cast is excellent, but Mia Goth steals the show. Goth provides a wild performance of delicious sociopathic delinquency brandished with an impeccable softness, seemingly going from doe-eyed to dangerous with the flip of a switch. Infinity Pool doesn't quite hit the Possesser level for me, but it is a fun and f*cked-up time. Considering it's only January and horror is crushing it, 2023 is off to a fantastic start. 
Infinity Pool is now playing in theaters.