Very few films have affected me the way K/XI's have. Last year K/XI unleashed Maya, the first movie she made but the second one she released. In my review of the film, I called it "wickedly creepy" and "[an] intense film from start to finish," and even praised it for possibly being better than her first released film, Black Lake, which I hold in very high regard. When Black Lake was released in 2020, it caught me so incredibly off guard. I wasn't prepared for something so raw, deep, and profound, especially from the first film I watched at Salem Horror Fest that year. My jaw was almost literally on the floor at the end, and I couldn't keep names like Peckinpah, Raimi, and Lynch from exiting my mouth when describing it to film-loving coworkers and friends. As you'll see in the brand-new Black Lake: Director's Cut trailer, there is no shortage of words critics and fans have used to describe this one-of-a-kind horror experience.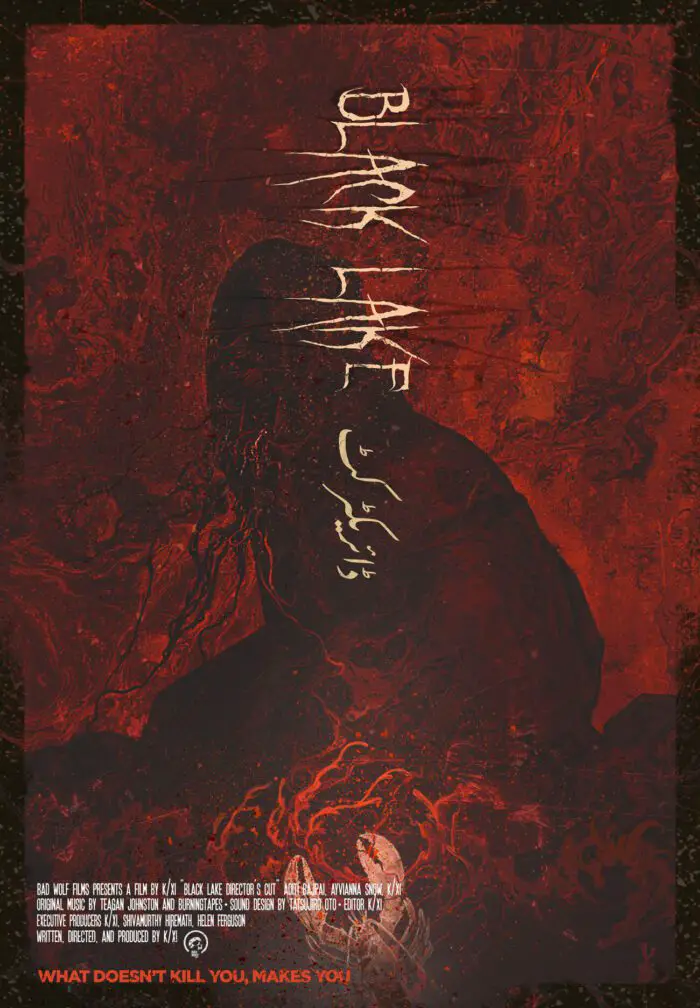 The film concerns Aarya (K/XI), an expressionist painter in need of a few days away from the pressures of the city, arriving at her aunt's countryside estate. After receiving a scarf as a gift from her aunt, Aarya begins to experience a whirlwind of strange phenomena and an onslaught of vicious, unforgivable violence. She soon discovers she is being haunted by a churail, a demonic revenant of a brutal past act from which there is no escape. Seamlessly blending South Asian folk horror and shocking true-life events, K/XI's Black Lake was already an incredible vision that took the elements of a nightmare and brought them into a challenging reality.
The film is dedicated to Jyoti Singh, a university student forced to endure the most reprehensible cruelty and viciousness man is capable of simply for traveling to a Delhi cinema with her male friend. The two were hospitalized, but Singh would succumb to her injuries in the hospital eleven days later. Black Lake serves as a powerful tale forged from a tragedy that it vows to avenge.
The Black Lake: Director's Cut trailer shows off quite a few little changes to the original film in some of the trailer's images but a brand new blended score with the help of The Strings' Teagan Johnston. K/XI says of the split score, "The aim was to have a much more balanced sound in the film as the story is female-centered. It was equally as important to bring on board a composer who understood the core message of the film and work with those difficult emotions." K/XI continues, "I pushed for a more art-house feel through the editing, stripping down a lot of the original synth-heavy score and having a completely new sound design by Tatsujiro Oto. This director's cut is far closer to my original vision of the film."
People who want to compare the versions of the film will have until February 26th, when the Black Lake: Director's Cut replaces K/XI's original film on Vimeo, just ahead of its theatrical showing in Atlanta following the end of the Renegade Film Festival. K/XI will be presenting the new cut of the film, and tickets to the March 5th event are currently on sale.