My nephew just turned three years old this week. I love this kid. He's so much fun and constantly surprises me with his young view of the world. I try to be a good uncle, spoiling him rotten and watching Blippi episodes on repeat, playing with toys, and coloring, and yet there are days when this kid I love with all of my being can be a baffling, moody terror. After preparing myself to leave the house this morning, after watching There's Something Wrong with the Children the night prior, my gaze met this amazingly talented child's (and the world's biggest Freddie Mercury fan), standing in my living room singing his Queen songs. Somehow my mere presence upset his act. The little diva pointed at me from across the room, told me he didn't want to see me, started to well up with tears, and walked into another room. All of this before I even said "hello," or made my first cup of coffee.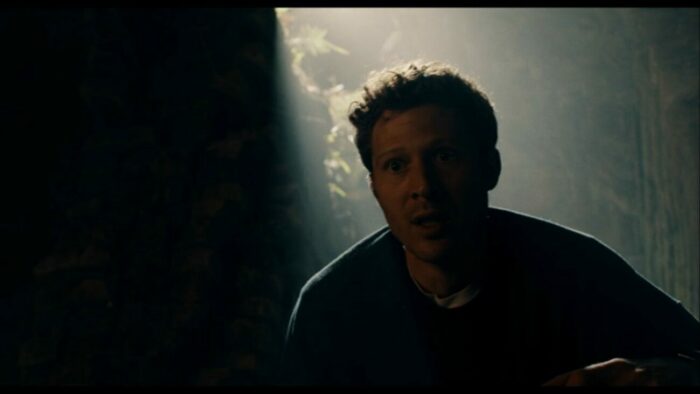 I chuckled to myself as I walked to the kitchen and saw my brother making my nephew's breakfast. This kid had left two years old and headed straight for his attitude-addled teens, hating me for just walking into a room. I'm not going to lie; it hurt a little. That's the power children have over adults, they will hurt us, scare us, and push us away a thousand times and the only recourse we have is to let them know how much we love them. After all, they're not monsters, though director Roxanne Benjamin (Southbound) presents them a little differently. Proposing the creepy kid concept in her devilishly fun new horror film, There's Something Wrong with the Children, where Changeling children begin playing mind games with Midnight Mass' Zach Gilford.  
Gilford plays Ben, one-quarter of the two couples renting adjoining woodsy bungalows for a weekend getaway. Ben and his significant other, Margaret (Raising Dion's Alisha Wainwright), are joined by Ellie (Final Destination 3's Amanda Crew), her husband Thomas (Vacation Friends' Carlos Santos), and their children, Lucy (Briella Guiza) and Spencer (David Mattie). From the start, Ben is short with Ellie, tossing little passive aggressions her way every chance he gets and letting the audience know their romance is in trouble. The following day, after a rigorous hike to an abandoned fort, leaves the children in a state of wonderous awe (and nosebleeds) over a mysterious pit. The children pine for "the place that shines," begging Ben to bring them back.
Meanwhile, Margaret offers to give Ellie and Thomas a night away from their children in order to repair their rocky relationship. The next morning, Ben and Margaret awake to find the children missing, and Ben finds them on the edge of the bottomless crevasse. However, when he returns to the house, the children are there playing like nothing ever happened, and, as its title suggests, There's Something Wrong with the Children.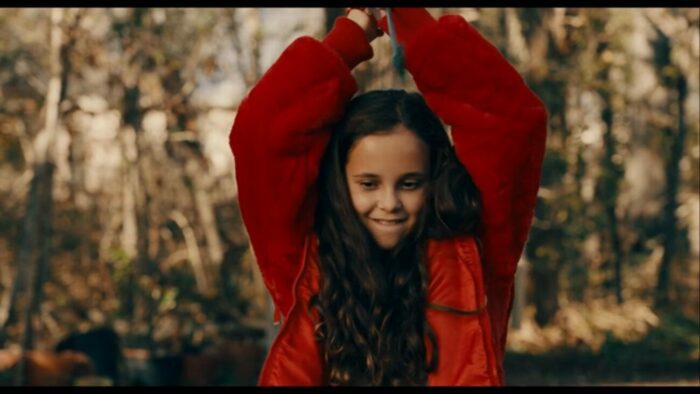 Now, if you've ever seen a movie with killer kids or changelings, you have an idea of what you're in for. Benjamin seems to have taken the bulk of her inspiration from Lee Cronin's 2019 Irish horror film The Hole in the Ground, which boasts the obvious similarity of a child returning changed after discovering a strange hole in the ground. However, There's Something Wrong with the Children deviates in commentary. Cronin's film relies on a mother's intuition and singular ability to distinguish between a perfect doppelganger and the child she carried in her womb. Benjamin's There's Something Wrong with the Children aligns more with the upcoming Huesera and 1976's Who Can Kill a Child? meaning kids are seen as a burden by their parents and are used as a warning for those without children. 
Conversations early on in There's Something Wrong with the Children between Margaret and Ellie and separately between Thomas and Ben supply many nuances. Margaret's hesitance toward children, Ben's want to be a father, and the push and pull of friends with kids who want the childless couple to join the club while simultaneously jealous of Ben and Margaret's freedom. As Ben and Margaret begin to project their what-ifs onto the situation during the children's sleepover, the charge of domesticity suggests the fear and panic that comes from being unable to protect the children when the circumstances turn morbid.  
There's Something Wrong with the Children delivers more than a few shocking moments though its story unfolds in a slightly unorthodox manner. The introduction is short and provides limited character development over establishing central plot points to the how and why of the story. The first scene, the night before the hike, doesn't do much but provides a snapshot of the relationships between the couples and the singular relationships between partners. The following trek to the fort does more of the same, though it establishes the fulcrum of the plot before we've gotten to know or care about the people in its story. Sure, we have some kids, and seeing them in situations of a f*cked up nature will always raise our heart rates, but the conduit in these situations is always the relatable plight of the adults trying to save them.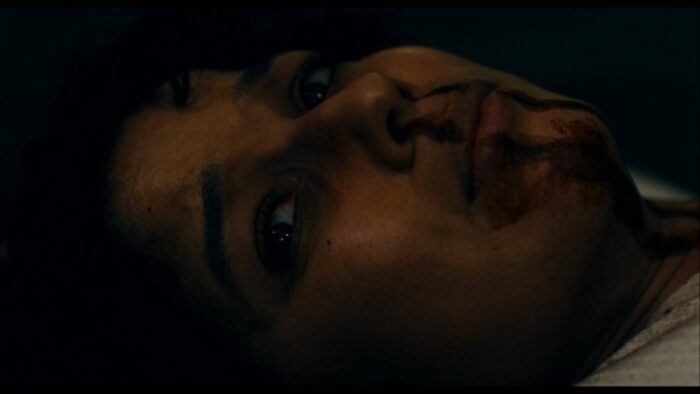 The unusual start to the film pigeonholes the close relationship Ben is supposed to share with Spencer., containing it to a single scene along the way where Ben buys him "devil sticks." Ben's desire for kids is clear but not as apparent as it could be despite having bonding opportunities to create a much more dramatic scene later in the film when Spencer and Lucy begin to prey on his fears. There's Something Wrong with the Children also feels slightly disconnected being cut up into perspectives, the first Ben's and the second Margaret's. When we shift focus to Margaret and the feeling of domestication being pressured, the movie comes alive and becomes a lot of fun, more in the vein of Tom Shankland's 2008 film The Children. 
All in all, There's Something Wrong with the Children is entertaining and a worthwhile watch, but beware that it employs a dynamic story tactic that makes it feels a bit improvisational at times, with bits of information being introduced over the course of the film rather than as a litany of upfront information that gets called back throughout. Knowing that going in may help you have a better time. The synth score will engross you in places, as will the delightfully unexpected gory moments. There's Something Wrong with the Children fits the B-movie schema from the wild ending right down to its memorable title and unique approach, but I think audiences will be split on whether or not they like the movie. If nothing else, There's Something Wrong with the Children will definitely prompt more than a couple of discussions.  
There's Something Wrong with the Children is now available on iTunes, Vudu, Prime, and other digital VOD retailers.