In a time where misinformation spreads at the speed of a retweet, having a reliable source giving you the news is more important than ever. The image of perfection is everything when promoting the persona of a news network's trustworthy brand, and a likable presence is required despite what imperfections may tremble inside. Ji-Yeon Jung's debut feature, The Anchor (Aengkeo), begins with this mind. Introducing the audience to Se-Ra (The Wailing's Woo-hee Chun), it's easy to see the invisible target she has on her back as News Nine's top female anchor. Shady executives deciding her fate and up-and-coming field reporters talking trash about their co-worker while gunning for her position help create an internal atmosphere of treading lightly in a vicious, conspiring workplace. So, when Se-Ra receives a chilling phone call of murder from a fan requesting she report her imminent death, it becomes easy to dismiss the caller as an attention-seeking fan or someone trying to derail her right before her nightly broadcast. 
Terror sets in immediately through the haunting nature of the phone call that supernaturally begins affecting Se-Ra, causing her to slip up during the broadcast. The whole ordeal remains unsettling, and she decides to check the woman's address only to find an unspeakable house of horrors. Yet, having the reporter on the scene helps the network promote exclusivity, skyrocketing Se-Ra's worth to the company, despite more than a few markers of PTSD for the anchor following the shock of what she witnessed. Her big story loses its thunder when the coroner reports the deaths as a double suicide, leaving Se-Ra back at the start of trying to prove herself at work and further exploring the victim's life. 
Adding to all her work stress, Se-Ra's home life is a pervasive nightly report card provided by her rigid and controlling alcoholic mother (Lee Hye-yeong), who intends to keep Se-Ra as the top news anchor at her network by denigrating any of her outside activities. She had even driven a wedge between Se-Ra and her now-separated husband and continuously patronizes her daughter about the prospect of family over career. Writer-director Ji-Yeon Jung tows a fine line crafting The Anchor. The film casts compelling themes surrounding the difficulties working women face when they choose their career ambitions over starting a family, as well as the cultural backlash of wanting that more. 
Jung casts many shadows of inspiration over The Anchor. The provocation of paranormal forces, such as in The Grudge, become hauntingly focused, then the celebrity fandom and control aspects of Perfect Blue shine. But as the puzzle shifts, so do Jung's inspirations. As Se-Ra begins to suspect the victim's therapist In-ho (Thirst's Shin Ha-kyun), a specialist in the field of hypnotism who has a complicated past involving other dead patients, aspects of Jordan Peele's Get Out come through when she senses he may be messing with her head and could have manipulated the actions of his past victims. There are also additional references from Psycho, The Babadook, and Pulse. Still, it's how Jung weaves all of these separate entities into a singular story that is quite masterful, especially given the themes she's portraying.  
South Korea has been pumping out exceptional horror titles for years, and I would now count The Anchor among them. Jung roots us into a formidable psychological horror picture that kept me guessing for far longer than most Hollywood thrillers by blending nuance into the tightly woven story and palpable paranoia. A dynamic shift in the viewer's perception of the characters helps mask a sinister twist while keeping the audience from committing to their knee-jerk feelings until the story is ready to spill its guts. Movies that can do that, and do it well, are worth their weight in gold to me. The Anchor's twist may not be spectacularly blindsiding, but Jung does a fine job of not showing her hand and allowing it to reveal itself slowly.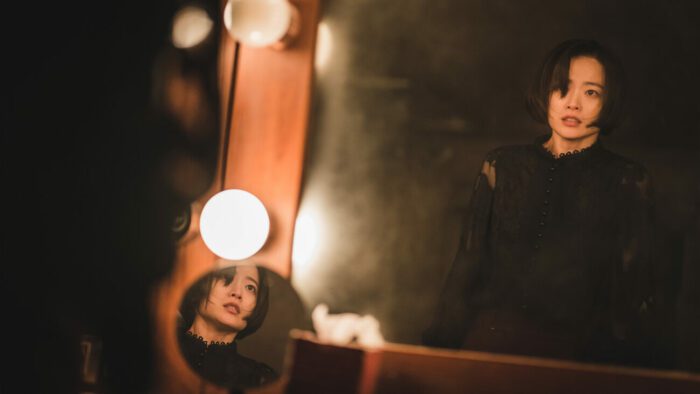 Overall, The Anchor is an engrossing motion picture that showcases a captivating performance from Woo-hee Chun. Chun is gripping as the titular tormented anchorwoman who grows more engaging as she goes toe-to-toe with the therapist, and while there's this taut feeling of cat-and-mouse permeating from their part in this storyline, that feeling of unease begins with the phone call Se-Ra receives and, like an itch you can't scratch, persists until the very end. 
However, The Anchor may be even more notable as Ji-Yeon Jung's feature debut. Jung has a knack for crafting tension in this medium, as morbid visions of ghostly terror haunt Se-Ra and the audience alike. Yet, the viewer denotes a bewitching duality when the film entrenches itself in Se-Ra's personal and professional life. The perfection Se-Ra pursues in her professional persona versus the inadequacy she faces through her mother's constant criticisms. Societal taboos about having children outside of marriage, a woman's loss of identity when she gets married and has children, as well as the suggestion that a woman could find something more fulfilling beyond biological imperatives are faced. Se-Ra finds herself in the middle, looking over her shoulder at work, explaining her daily failures to the single mother who raised her, and exploiting a traumatizing story surrounding another mother and her daughter's tragedy. There's enough drama to make for a riveting film, but it's much more fun through a horror filter.
The Anchor is now streaming exclusively on Screambox.