Are you up on the latest Tik Tok challenges? Last week the internet was buzzing over a NyQuil chicken challenge. Apparently, adolescents were cooking chickens after soaking them in the nighttime, sniffling, sneezing, coughing, aching, fever, so you can rest medicine. Now, maybe I'm not as dialed in as I used to be, but the kids I know at that age do not have the culinary skills to cook a chicken, let alone the wherewithal to douse it in cold medicine. At some point, I have to think maybe the outrage is drawing more attention to these challenges than the people actually enacting them. Hulu's latest original film, Grimcutty, begins in a similar fashion, where the latest online social provocation is a bit more intense.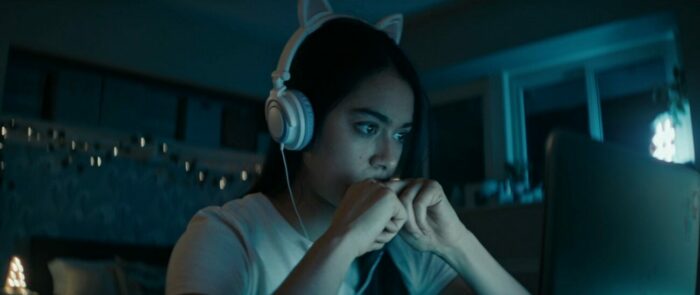 After abruptly quitting the track team, Asha's (Sara Wolfkind) parents (Veep's Usman Ally and One Missed Call's Shannyn Sossamon) have become super strict. After their research indicates that screen time leads to debilitating depression in teenagers, they've decided to detox their children and cut down on screen time. While at a phone-free outing, they hear about a new challenge where kids cut themselves, one even stabbing his mother, saying that a demonic entity named Grimcutty told them to do it. Asha's parents end up introducing Asha and her brother Kamran (Callan Farris) to the idea of Grimcutty, and Asha soon has a run-in with the being. 
Things move fast from the start of Grimcutty, and there's this weird air in the story where the parents, who are more than forthcoming on the information regarding Grimcutty lore, almost seem as though they're hiding something whenever their children have questions. It's extremely reminiscent of the parents in A Nightmare on Elm Street, who clam up and refrain from telling their children anything about the horrors they're about to face. And, like Elm Street, it deals with a supernatural hunter coming after them. 
The comparison seems more than appropriate, given cultural changes. In the '80s, the face of the suburbs was changing, and more and more families began locking their doors, the lyrics for heavy metal, punk, and rap music inciting moral panic, and parents not knowing how to talk to their kids about these considerable threats. In Grimcutty, it's a new generation with new problems, but the implication is that helicopter parents are doing more harm than good. Furthermore, the lack of communication serves as a catalyst, pushing the kids in both films to seek answers through their own investigations.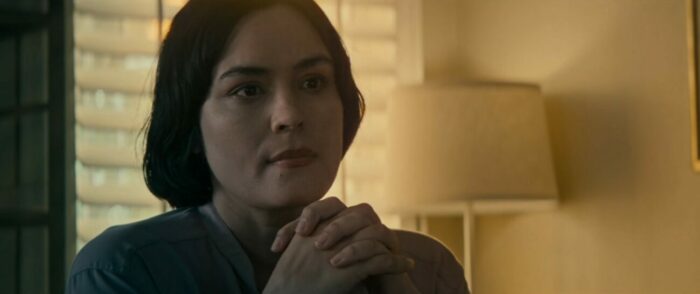 The Grimcutty monster who's unmistakably based on the Momo challenge creature that was falsely reported as a suicide challenge that caused a 12-year-old girl to kill herself. The whole uproar was proven to be a hoax, but the cause for moral outrage and panic continues. We've also seen some of that moral panic spill over this past week as a mother in Texas took to warn parents about Hocus Pocus 2, saying that the spells in the film are cursing children. 
Watching Asha stumble down the Grimcutty rabbit hole, I found myself in the strange predicament of recalling my own teenage experience and feeling the projected warnings of the latest terror on local news play into my parents' paranoia. I, and my siblings, were accused of being addicted to everything. We were all exceptionally well-behaved kids, but any act of rebellion became associated with alcohol, drugs, or television being the root cause despite the means, funds, or will to acquire them. This generation's scapegoat, "Tik Tok made me do it," is no different. As The Fresh Prince and DJ Jazzy Jeff would say, "parents just don't understand." 
Assessing Grimcutty is strange. The allegory behind the film is a terrific idea, but the truth is, it's more schlock than shock. First, the pacing of the film is all over the place. Starting with a cold open that truly gets your attention, the film then moves to our introductory characters, who are tossed at us in a whirlwind haze of exposition, only to amount to the vapidity of a vlogger girl, gamer boy, and over-reactive parents. The monster himself looks a little like if Ryuk, the wide-eyed death god from Death Note, played a goth Gru from Despicable Me. When we see him, he's a little more laughable than terrifying. And, like the aforementioned knock-off character, Grimcutty has the feel of a Japanese horror film though it lacks the depth as if it were already an American remake.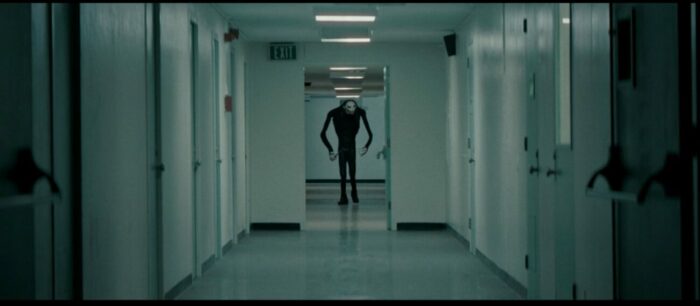 Finally, with many edits, questionable angles, and poor lighting throughout the film, I had to question Grimcutty's overall direction. Director John Ross isn't new to feature-length films, and I'm sure my silly little review of his supernatural monster film won't and shouldn't deter him from making more. There is some enjoyment in Grimcutty, but it's limited to brief moments in an altogether frantic film. It was also fantastic to see Shannyn Sossamon in something again. I've long been a fan, and I believe she and her accompanying supporting actor Usman Ally do their best with the characters they're portraying.  
I think this indie horror picture missed its audience. Grimcutty feels like an After Dark Horrorfest title that belongs as an 8-Films To Die For horror title, a bit of watchable fun but with minimal expectations. This is a grab some friends for beers kind of movie because you might get a laugh or a quick jolt rather than find a terrifying horror picture. Honestly, it does feel like there's a void to fill without Amazon's Welcome to the Blumhouse series this year, which, despite its inconsistency, is somehow sorely missed. Maybe the film's distributor, 20th Digital Studio, should try shooting for something like that on Hulu next year. 20th Digital Studios will also release Matriarch to the platform on October 21.  
Grimcutty is now streaming on Hulu.