Besides knowing it shared the same name as a Judy Greer horror film about a murderous rescue dog, I knew very little about Beyond Fest's World Premiere of Good Boy. I was told exactly what you can find online: a millionaire bachelor with a live-in companion who pretends to be a dog finds love online and has trouble explaining the situation as she grows closer to him. The synopsis feels like an eccentric Quentin Dupieux film, brimming with situational awkwardness through an off-center approach. However, as the credits appeared on screen, I saw Viljar Bøe's name pop up and became much more excited. A couple of years have passed since I caught Bøe's To Freddy as part of another film festival. Still, I remember its similar well-designed quirky scenario fondly enough to cement Bøe as a director to keep my eye on. Now, with Good Boy, he'll be hard to forget.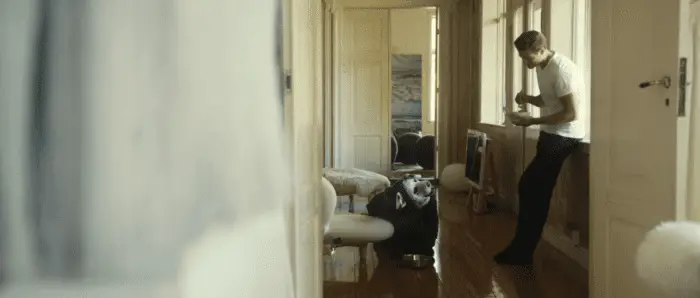 Swerving between genres, Good Boy begins as a kind of feel-good romantic comedy where Sigrid (Katrine Lovise Øpstad Fredriksen) thinks she's found the man of her dreams in Christian (Gard Løkke). He's gorgeous, attentive, well-mannered, and sweet, a prince charming incarnate save for one small eccentricity: his dog Frank. A strange breed indeed, Frank (Nicolai Narvesen Lied) is actually a man who dresses and acts like a dog who resides in Christian's house. At first, put off by the atypical nature of the arrangement, Sigrid starts to come around as Christian explains the nature of his relationship with Frank is non-sexual and just the way Frank identifies and wants to live his life. Sigrid attempts to be more progressive about the situation before discovering something sinister about the whole affair and sending the film into much darker territory.  
My initial reaction to the film's tinder meetup and subsequent rom-com stylings led me to assume Good Boy may be more of a cult movie that rests on the fringes of horror. You know, like those movies that build to one big violent scene and call themselves horror because there's no other way to label it. Thankfully, that wasn't the case. The film does build to some violence, but it isn't sudden, becoming dense with tension and horrific intentions once revelations are made about halfway through the film's brisk 76-minutes. If you want to see the movie (and you should), I'd suggest refraining from any further knowledge about Good Boy. Let it surprise you until its shocking final frames, which are gloriously twisted. 
Stop reading if Good Boy sounds like a movie you'll want to see. Don't watch a trailer, don't try to learn its intricacies. The film was an absolute trip, but I think my experience was better, having not known anything about it. If you'd like to know more, I can't stop you, but I believe it's a lot more fun this way. Good Boy is a refreshing surprise. It's a straightforward story that doesn't need or utilize any big special effects and yet becomes so engaging that your eyes remain glued to the screen throughout the second half of the film. It's not that the twist is super-shocking, gory, or anything like that, but it's enough for the audience to be thrown for a loop, turning in a direction away from where it seemed to be heading.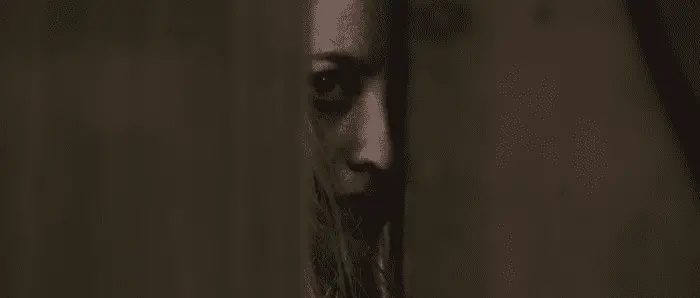 Good Boy presents itself with a WTF mentality and then plays its seemingly abnormal plot as more of a misunderstanding. Viljar Bøe sets the scene well, having the audience want to believe Christian's story about helping his best friend Frank live his alternative lifestyle. In that, Bøe creates likable characters. Is it a weird situation? Sure. But when presented as Christian using his riches to let Frank live his dream, it makes Christian look like an incredibly caring individual. More to the point, the audience becomes vested in Christian and Sigrid's relationship and wants it to succeed. Then Bøe pulls the rug out from under us.  
When Sigrid goes away for the weekend with Christian and Frank, it's nearly immediate that she realizes how little she actually knows about them. The tone of Good Boy flips like a switch, catching both Sigrid and the audience off-guard. The light atmosphere grows thick with tension, and suddenly, themes of dominance, privilege, and control come into play, causing the audience to re-evaluate earlier situations and their initial perceptions. Sigrid's willingness to adapt to the circumstances, given her initial apprehension, has been masterfully manipulated.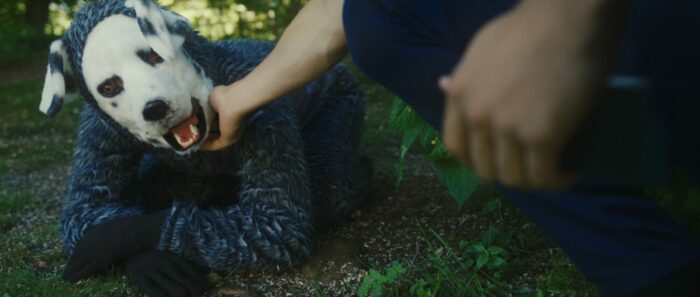 After having seen two films from Bøe, I'm beginning to see a pattern of traditional patriarchal associations emerge. First, the bro-hanging boys' trip in the woods becomes rife with paranoia and mistrust in To Freddy, but there's also the idea that the titular Freddy is no longer in control of his own decisions as the letters he finds. That film uses compliance to strain his relationships with friends, as Freddy psychologically believes he trusts himself more than others. There are similar trends in Good Boy with comparisons to how some men treat their significant others, having Sigrid being gaslit from the start, not knowing that her decisions have been accounted for and undermined through the illusion of choice. It's as if she's being groomed and trained for the role of Christian's girlfriend rather than naturally obtaining the role.
To say I've enjoyed Bøe's work up to this point is an understatement. Indie horror can be difficult to persevere in, but after two films (and another on the way), Bøe has found favorable footing. The ideas in Good Boy come together so well, but you have to wonder if the production could have been taken to different lengths if it had the funding to do so. Going by the name Me, You, & Frank, Good Boy started as a crowdfunding film that didn't achieve its goal. Luckily Blue Finch sees what I see in the Norwegian director, and it shouldn't be too long before Good Boy gets a wider release. While I attain that Good Boy is gleefully f*cked up, I would also love to see what kind of messed up sh*t Bøe could conjure up if he had a sizeable budget to match his ideas. 
Good Boy played as a part of Beyond Fest last week, and it will continue to tour as part of the festival circuit.