One of the joys and tough challenges of being an adult fan of horror is sharing the love of spooky stories and cold chills with the young folks in our lives, from relatives to students and more. Some younger readers have strong capacities, but the horror books they can read are gruesome beyond their maturities. Other young folks are more drawn to visual media than to print fiction. It's a struggle to find great horror books that can entangle readers across generations and invite them to explore together.
As a parent and teacher, I feel this dilemma all the time. So, when I find a book that I can't put down and that can keep the young readers in my life glued to the pages, I want to share that with fellow horror fans hoping to connect with their young readers. This fall, one such remarkable book is set to publish: Spirit Week by Ira Marcks will drop on October 25th, just in time for Halloween thrills.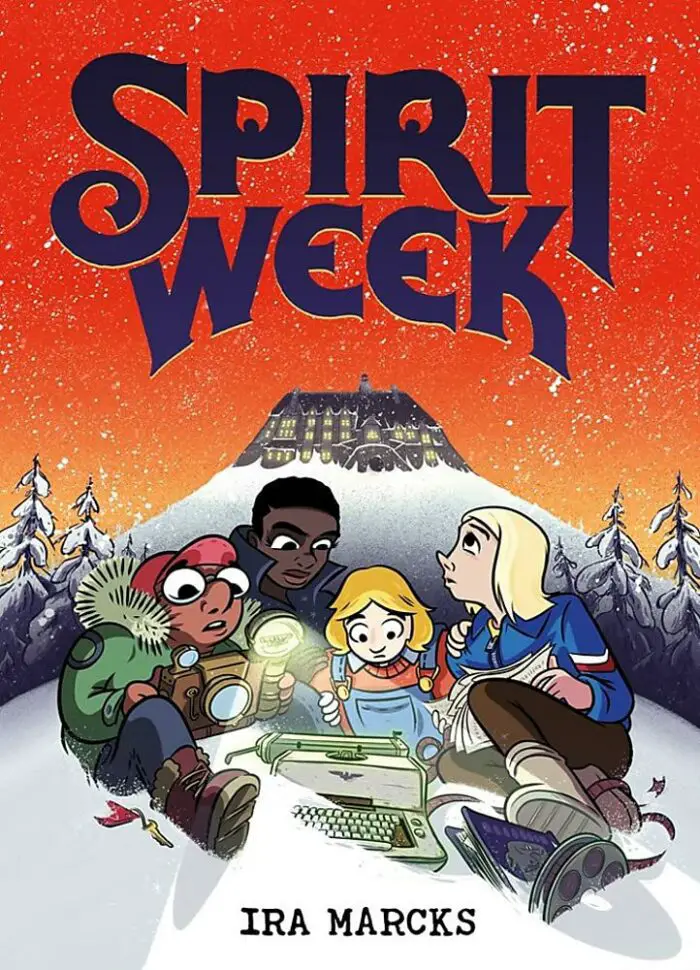 If you're not already familiar, Marcks already has one graphic novel with the transgenerational, transmedia vibe: Shark Summer. In Shark Summer, Marcks imagines a spooky set of events that unfold involving several young protagonists on Martha's Vineyard at the very time that Spielberg and his team were filming Jaws. Essentially, that book is driven by a film that Marcks, and loads of horror fans with him, loves. Since the film can be too intense/graphic/etc. for some tweens and teens, Shark Summer centers the narrative not on the film but on kids living there and visiting. For them, the film is a temporary excitement at the margins of their lives. Any reader can connect quickly and deeply with the cast of characters, and adult readers, in particular, can savor both an expansion to the Jaws universe and satisfaction in laying the groundwork for eventually screening Spielberg's film with their younger counterparts and/or discussing the film with them.
The forthcoming Spirit Week takes the Shark Summer model and builds it out in wild ways. First and foremost, Spirit Week takes Stanley Kubrick's The Shining as its cinematic kernel and is set in Estes Park, Colorado, where the real-life hotel, The Stanley, is located. Imagining a graphic novel for young readers with The Shining as its horror narrative fabric is a bold move, and Marcks brings nuanced intention to the endeavor. After all, King's novel and Kubrick's film adaptation revolve around an abusive father/partner, several frighteningly haunting events and entities, and a child traumatized by his "shining" visions. Talk to King fans about what they have started or recommend starting kids on within his oeuvre, and The Shining is pretty darn low on that list.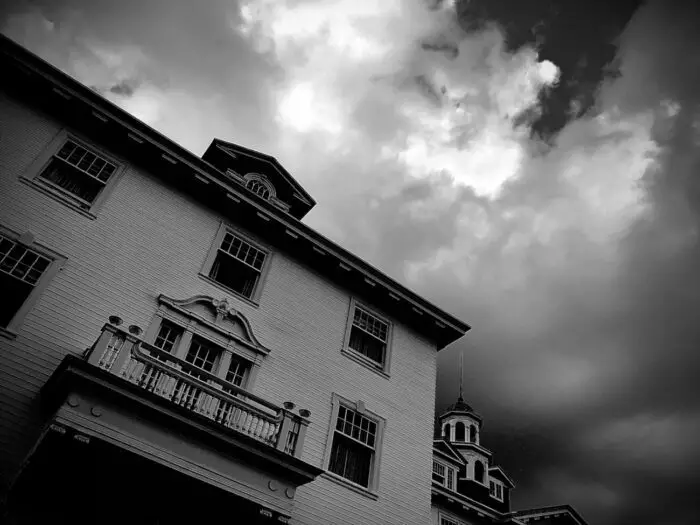 What's cool about Spirit Week is that Marcks manages to sustain a lot of the film's spooky aspects. A gothic hotel, goofily named The Underlook, dominates the landscape of Estes Park across the book. And the interior shots riff at times recognizably on Kubrick's version of The Overlook while also adding lots of architectural and design elements. Marcks is both an illustrator and writer, and the mood and ambience of images and words hum as unsettlingly as the Great Northern Hotel in Twin Peaks: The Return. In addition, the story takes place during a heavy snowstorm in an isolated mountain town with a haunted past, and the folks living at The Underlook bear striking resemblances to Jack and Danny Torrance as they were cast in the Kubrick film.
This story, however, follows several children protagonists who navigate friendships, senses of self-identity in their formative years of youth, and how to work together in a time of terrors. Even more specifically, one of the protags is Elijah, who was also in the central cast of Shark Summer. It's largely Elijah and Suzy, a local youngster whose inclination towards math, sciences, and what Poe referred to as ratiocination distinguish her from her mother, who runs a shop in downtown Estes Park that caters to tourists hoping to experience specters during their stays.
A cold open to Spirit Week folds together engineering, mountains, stormy weather, and storytelling at the levels of form and content, image and word. These pull you into the tale, and for readers versed a little or a lot in King's and Kubrick's versions, the rest of the book is a provocative parade of objects and themes: the threatening boiler that heats The Underlook, the bigger picture context of real estate speculations and transactions, and even an apparent baddy named Barlow.
Many if not all plot pieces of Spirit Week revolve around the complex question of how a small town continues to survive when multiple economic pressures threaten it in diverse ways. Marcks's Estes Park is a tourist town, and its supposedly-supernatural aspect is the single main driver of its economy. The future of those who live and work there hinges on The Underlook and its magnetic capacities to attract tourists. At the same time, the weird goings-on are also a challenge to local identities even as they are what sustains livelihoods. Marcks's decision to feature the socioeconomic and grounded identity matters textures the story wonderfully. And, frankly, I found it inciting me to keep thinking, and desiring more Marcks books, about analogous real-to-reel places like the North Bend and Snoqualmie behind Twin Peaks, the Tallinn behind Tarkovsky's Stalker, and on and on.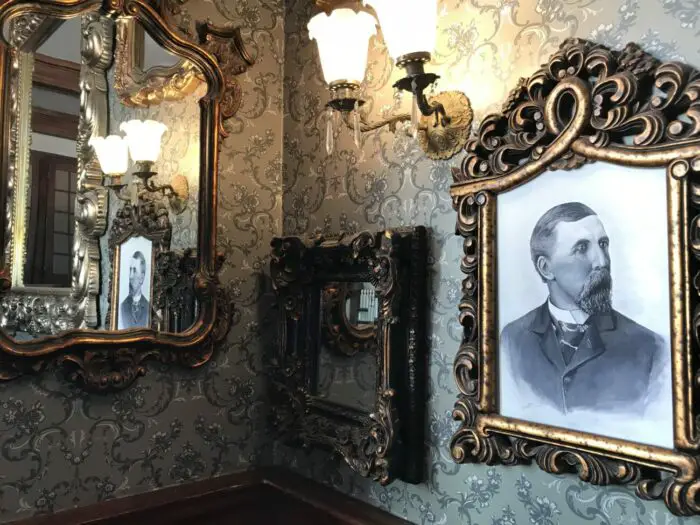 The scalability of allusions in Spirit Week are formidable. William Blake's works play a role that speaks to folks who've never encountered this poetry before and those who've cogitated on it in academic realms. I would even wager that Marcks included a nod to the philosopher Jacques Derrida via close proximity uses of the word "hauntology" and the phrase "out of joint." In other words, there's a lot on offer to the wonky depths of nerdery we each bring to Spirit Week.
Finally, the artwork is popping. Spirit Week is visual fanfic of both SKs (Stephen King and Stanley Kubrick). Page after page, Marcks delivers intertextual callbacks that will doubly serve as their own callback originals when young readers eventually delve into The Shining novel and film.
And if this review feels opaque on character and plot details, I wanted to leave lots to discover on your own, whether that's individually or shared with younger readers. Spirit Week, like the blood in the elevator of The Overlook, is going to spill beyond its frame and become more like Spirit Year.