I first learned of The Retaliators about a year ago when Alix Turner reviewed the film as part of FrightFest 2021. The haunting image of an almost unrecognizable Michael Lombardi, probie Mike Silletti from FX's Rescue Me, covered in blood and gazing into my soul in a distressing image that graced our website's front page for a week and made it impossible to avoid eye contact with. Regardless, it only made me want to see the film more. Now that The Retaliators is finally coming to theaters on September 14, I jumped at the opportunity to let the movie disturb me further.
It's probably no big shocker that a guy from the outskirts of Boston was a fan of a Denis Leary show, but it is strange that within the span of a month, I've now written on two films featuring three former stars of the series, Robert John Burke also has a brief appearance in The Retaliators and last month I made some bold claims about Steven Pasquale's Aliens Vs. Predator: Requiem. Maybe my subconscious is suggesting a rewatch of the firefighter series. 
Regardless, this is Michael Lombardi's big on-screen moment, and honestly, it's about damn time. Lombardi has been a bit player for a long time, with Rescue Me being his longest gig, and I don't know why. His character was always relatable, even if he was playing a loveable, if not immature, character. In The Retaliators, Lombardi plays a pastor grieving the loss of his eldest daughter, Sarah (Katie Kelly), after a vicious psychopath, Ram Kady (Joseph Gatt), murders her on Christmas Eve. Having always been level-headed and the turn-the-other-cheek type of father his girls could look up to, Pastor Bishop is at a loss for what to do next. The police detective working the case, Jed Sawyer (Ozark's Marc Menchaca), may have the solution, but it goes against everything the Pastor stands for.  
The Retaliators offers differentiating views of the world, pitting a lawfully good personality into chaotic neutral territory when chaotic evil enters his life. While a message of non-violence is preached, it somehow, by the end, settles into a cringeworthy area of "do unto others" that suggests a punch might be necessary, no matter your moral principles. To explain that, you'd have to understand that the film also has a soft spot for '80s action film heroes, referencing Die Hard, The Terminator, and Rambo. Thematically, it's a confusing metaphor that frankly doesn't work. However, I don't think anyone goes looking to enjoy a film called The Retaliators without expecting violence.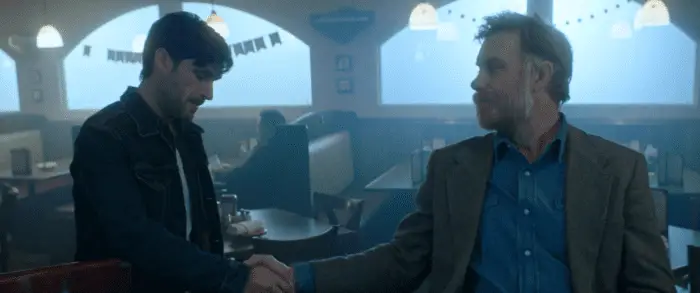 One aspect I loved about The Retaliators was that it brings back the kick-ass soundtrack. The story unfolds with the help of hardcore metal bands like Mötley Crüe, Ice Nine Kills, Five Finger Death Punch, and Papa Roach, with members of those bands appearing in the film at various points. It becomes pure nostalgia-driven enjoyment thanks to the film's incredible soundtrack, reminding us of the similar ones action and horror films had back in the '80s and '90s. Don't get me wrong. I'm all for a great music score, and Dixon & Stein, Kyle Dixon, and Michael Stein of Stranger Things fame provide an excellent score here. Yet it is occasionally overshadowed by power chords, heavy drums, and screaming choruses during the film's gore-filled and adrenaline-pumping action scenes. Best of all, it fits with what the film is going for by throwing it back to that same era of heroes. 
Setting out to accomplish vengeance Death Wish, Walking Tall, and Punisher style, you have to love a plot that tortures a preacher with a moral dilemma. It's what makes the film so captivating and why so many were drawn to similar characters like Damien Karras in The Exorcist or, more recently, Father Paul in Midnight Mass. When Bishop is offered to dole out justice on his daughter's murderer via a Hostel display of tools, that's the kind of messed up sh*t the audience is ready for. When faced with a human justification for revenge, "a way to heal," as the film puts it, how far is too far? Luckily, we never have to know because the film decides to go off the rails instead.
Alternatively, the first hour of the film is convoluted. All the pieces are there, and plenty of vivid, visceral scenes keep the viewer's attention. But the plot is presented muddied by frequently shifting to characters we have no reference for, like Prison Break's Robert Knepper for his whole minute of screen time. Most of Knepper's plotline in The Retaliators refers to the cannibalizing of an underground drug ring, in the gangster sense, as they search for Ram, who they believe has taken off with their operations' drugs and funds. It's somewhat overdone considering the rest of the film's plot, providing a slight bit of extra mayhem at the end of the film. This, along with Sawyer's backstory, both feature some fantastic bits of horror, but both feel extensively drawn out. Especially when all we're waiting for is to see how Bishop ends up with that bloodied machete we see on the poster.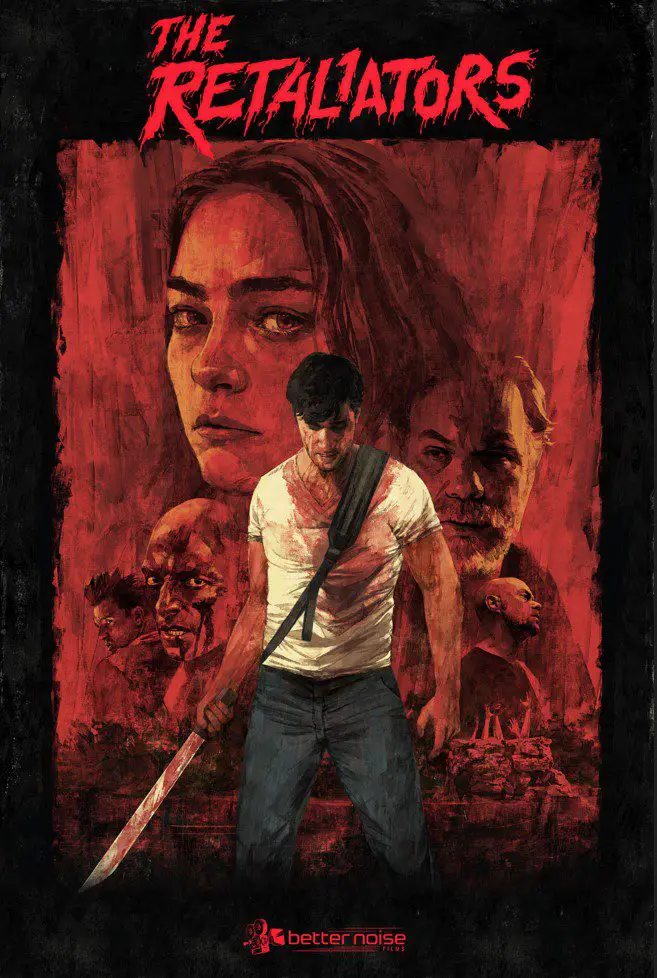 Adding to both the 80's movie side of things and the general disorderly nature of the film, some of the dialogue is absolutely absurd. One that notably stuck out, "So this usually where I'd ask you a question. See, I don't like questions, I like answers!" is then followed by multiple questions. Luckily, we're going into the over-the-top portion of the film, where it's best to embrace the chaos simply. The film may be a mess, but at least it's a fun mess. The film's hardcore, the blood-spattered finale will have horror fans grinning from ear to ear.  
I keep going back and forth on this one. I think the wait is worth it, but the "retaliating" could have started sooner for a more level experience. I thought the acting was terrific. Gatt succeeds in creating a menacing villain, reminiscent of a Michael Berryman character, with Ram Gady. Meanwhile, Lombardi and Menchaca are pitch-perfect in their roles. The overall direction (by Samuel Gonzalez Jr., Bridget Smith, and Michael Lombardi) is good, too, though the film leans a bit serious at the start and changes style in the final act. I think The Retaliators lands right in the middle. Some will love it, and some will hate it, but there are moments where it will rock your f*cking face off.  
The Retaliators hits theaters for one night only on September 14, and the soundtrack hits retailers on September 16. If you're like me, you'll hold out for the limited-edition vinyl pressing that releases in January.