When you first see a title like Who Invited Them, you can't help but consider privilege and entitlement. It doesn't even matter if you mean it inquisitively. Just thinking about saying it induces a distinctive inflection that imbues a sense of elitism. So, no wonder director Duncan Birmingham sets his film of the same name in the swanky hills of Los Angeles, at a house where couple Margo (The Kominsky Method's Melissa Tang) and Adam (The Friday the 13th reboot's Ryan Hansen) are throwing a housewarming party. Their mingling friends and co-workers throw shade on the lavish get-together, feeling the couple is showing off and throwing their new good fortune in their faces. Rumors circulate about how the couple could afford the home, teasing that it must be under an airplane route, but the pretentious atmosphere grants their acquiescence.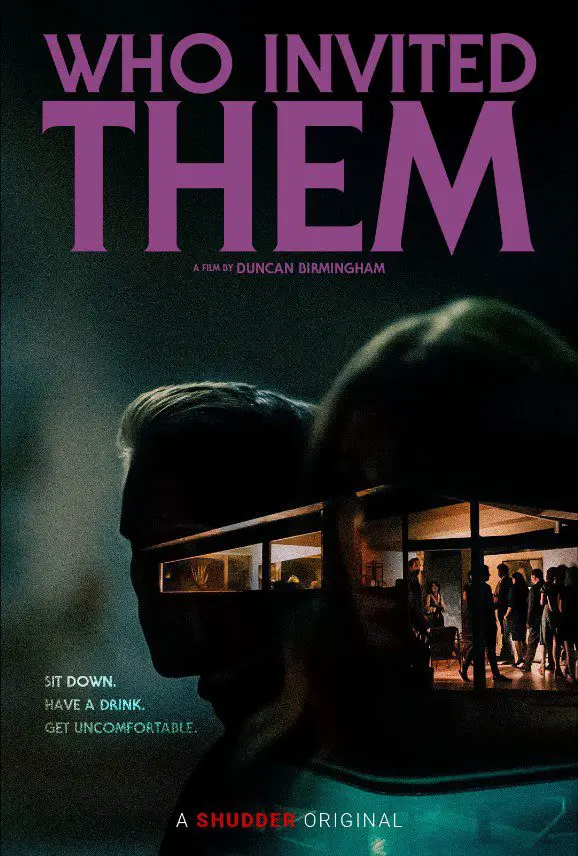 There's a lot to consider in the film's opening moments, before alternative band Crocodiles' "Foolin Around" ushers us into the party. There's the foreboding of Margo and Adam's son's nightmares, Margo's uncertainty about the couple's decision to move, and Adam's concern for appearances. Brushing aside his son's persistent bad dreams and dismissing Margo's concern for the multiple times she's seen a car parked outside watching them, Adam wonders about sexier toiletries. This introduces the film's theme of excess and status as a right, especially as the housewarming party introduces two unknown guests, but also suggests who Adam is and where his family ranks.
Certain people can sell you on anything and, sometimes, even make it seem like it was your idea. Noticing a couple out of the corner of his eye while thanking his guests for attending, Adam later asks Margo the question, "Who Invited Them?" Seconds later, the two come tripping out of the bathroom, though everyone at the party has already left. Tom (13 Reasons Why's Timothy Granaderos) and Sasha (Shameless' Perry Mattfeld) tell their hosts they're their neighbors who only came over to complain about a parked car on their property and got wrapped up in the party scene. Making their way to the door with a hesitant couple, trying to maintain composure and manners over this awkward exchange, Tom and Sasha convince Adam and Margo to get to know them better over a nightcap.  
One drink leads to a few more, and the two couples split up in various parts of the house, with Sasha and Tom pushing conversational boundaries outside acceptable lines of polite chatter, getting the new homeowners into awkward positions and fights with one another. The viewers see a pattern emerge as they watch the neighbors antagonize their hosts but remain uncertain about the endgame. Whenever calling it a night is considered, the neighbors find various angles to extend their stay.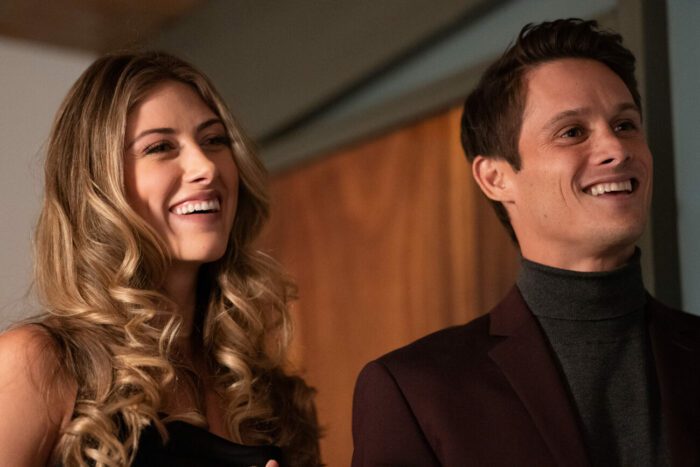 The film's title pops up as a philosophical question, plaguing the viewer's mind with a dexterous tone throughout the film, morphing from that sense of entitlement to the horrifying conclusion of desperately wanting to know who is standing in your living room. Who Invited Them documents two parties boasting unwelcomed guests, the natural one Adam and Margo are hosting and the one that Tom and Sasha begin hosting for Adam and Margo when theirs ends.  
Birmingham uses a delicate balance of cringeworthy moments that play on the host's issues of embarrassment that play darkly comedic as if they're out of John G. Avildsen's Neighbors while also digging into '90s home invasion thrillers like Pacific Heights and Unlawful Entry. While I've been on board with bringing them back, they don't seem to play as well in 2022. The film retains an air of Karyn Kusama's The Invitation in setting, style, and mood, but Who Invited Them never tries for its foreboding dread. Recent films like Paradise Cove and The Leech are part of a similar resurgence, reliant on those '90s thrillers where the attacker is familiar, and confrontation is inevitable. The Leech stands out as a different monster altogether, but Who Invited Them and Paradise Cove share a similar lens of being particularly stuck in that era.  
Home invasion horror films have evolved, and honestly, they needed to. If we consider Scream (2022) as a partial home invasion film, specifically at the start, the filmmakers incorporate technology via cell-phone-based door locks and show convenience as false security that comes from our faith in technology to keep us safe in our homes. That's the fun of home invasion thrillers. While Who Invited Them doesn't need a technological angle because the invaders are already in the house, I think it's missing a modern element of being lulled into a false sense of security. A comfort factor that Tom and Sasha don't instill beyond an overabundance of flattery and a multitude of impositions.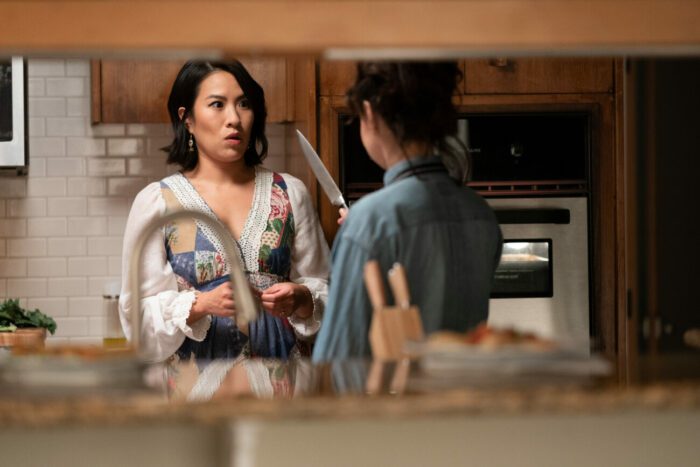 Furthermore, as these outside manipulators continually press Adam and Margo's buttons, there's little believability in their marriage in the first place. Putting their trust in Tom and Sasha only allows the couple to chip away at the cracks in Adam and Margo's relationship, enabling the other couple to influence Adam and Margo's actions. Though the characters are separated, I think both would have caught on more quickly, causing Tom and Sasha to vacate sooner, not later. I have a fundamental issue with the film's believability in some of these instances because it makes their marriage seem much thinner than it should be and stretches the setup a little too long. Also, if I'm suspicious of these characters that have shown up in their house, shouldn't they be more considerably wary of Tom and Sasha?
The cat and mouse game goes on for way too long and could benefit from more nuance at times and less reliance on the dry delivery of awkward jokes. However, when Who Invited Them progresses into its inevitable craziness, with stories concerning how Adam bought the house for as cheap as he did and the eventual standoffishness of homeowners and neighbors, that's where the film shines. There's a lot of fun when Birmingham arrives at the film's climax, but I was honestly ready for its conclusion. Besides the film's lingering last shot, I was rarely surprised. Though I didn't feel bored, I was so far ahead of the film that it held no intrigue. Sure, it had some moments, a distinguished atmosphere, and great performances (particularly by Granaderos and Mattfeld), but I don't think I'll be asking it back over again anytime soon.
Who Invited Them begins streaming September 1 on Shudder.