It's hard to believe it's been six years since we got Damien Leone's stand-alone slasher-clown gore spectacle Terrifier, and yet it somehow feels like we've been waiting so much longer than that for its sequel. Finally, there's a Terrifier 2 trailer with Art the Clown back, ready to wreak bloody havoc just in time for Halloween. Terrifier 2 won't just be available as a Screambox exclusive, though. Fans of Art's brutal killing style will have the chance to see the new-age maniac on the big screen beginning October 6 before making its in-home debut as yet unspecified later date.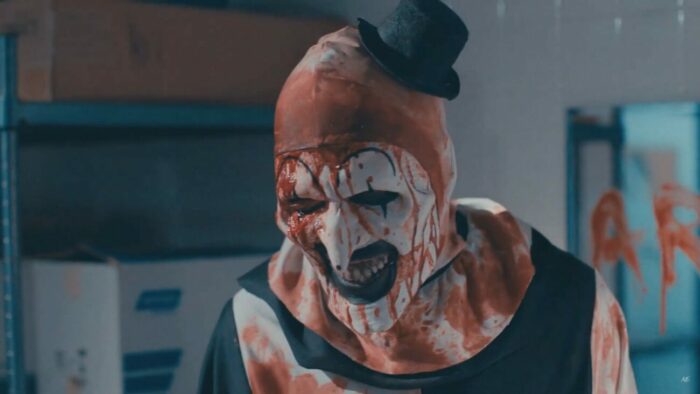 The first trailer is brief but doesn't skimp on the playful sadistic debauchery of Art's foibles. Beginning with a child wanting to dress up as the murdering monochrome clown, the trailer makes sure to add a heavy dose of red to Art's wardrobe by the end. Along the way, we see a Mandy-esque Cheddar Goblin advertisement for Art Crispies cereal with a very possessed-looking child dripping blood from his mouth, people being set on fire, an attack on a girl in a blood-splattered bathroom, someone trapped in a Houdini water torture box, and much more. The Terrifier 2 trailer further shows off Art's arsenal of blow torches, meat cleavers, a cat o' nine tales, good old-fashioned knives, and I think I even spotted a morning star. 
Samantha Scaffidi from the first Terrifier entry is among the sequel's cast, but for how long is anyone's guess as she appears in the trailer in a very compromising state. Casey Hartnett leads a beefed-up ensemble in this entry with the talents of Sleepaway Camp's Felissa Rose, Cobra Kai's Griffin Santopietro, Iron Fist's Lauren LaVera, and WWE superstar Chris Jericho.  
Fans of Terrifier who want more Art the clown while they wait for his gory-ous return may want to check out the All Hallows' Eve films. Director Damien Leone created the two anthologies featuring the beloved maniac and are a low-budget treat for fans of all things horror. Both All Hallows' Eve films, as well as the first Terrifier movie, are currently free to stream on Tubi.  
Terrifier 2 hits theaters on October 6.