Tales of the Walking Dead Episode 2, titled "Blair; Gina," was a more than worthy follow-up to a tremendous premiere episode, which set the tone for how strong the stories and performances in these stand-alone episodes can be. Here in Tales of the Walking Dead Episode 2, the show goes full-on Twilight Zone, all while giving long-time The Walking Dead viewers a full dose of nostalgia and incredibly strong performances from Parker Posey and Jillian Bill. We're about to get into spoiler territory here so proceed with caution.
Circle of Trust
The premise of Tales of the Walking Dead Episode 2 is a simple one: Blair (Parker Posey) is an annoying, demanding boss, and Gina (Jillian Bell) is a quiet and passive-aggressive employee, and the two can't stand each other. As the zombie apocalypse begins, the two enter a repetitive cycle of dying, because they can't stop fighting and then going back to the same starting point back at the office, only to enter the loop again as Atlanta begins to fall.
For starters, this episode is hysterical. Posey nails the over-the-top high-strung boss role and Bell is every bit as good as the tormented and angry Gina. I lost track of how many times the two died in this loop and while some were tragic, others were so over the top that you can't help but laugh out loud. Case in point: Blair walks up to two zombies and holds her hair up so they can bite her neck and end this loop, complaining the whole time about how slow they move.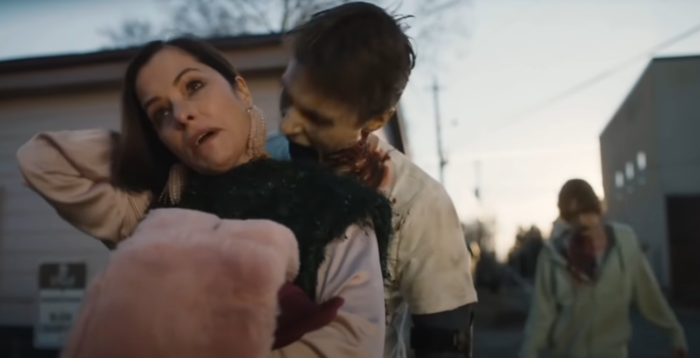 The name of the insurance company they both work at, Circle of Trust, is crucial to their narrative. The two women are constantly at odds, always meeting up at the same gas station. Blair is with her fiancé, ready to leave Atlanta for their wedding (but packed to leave forever) and Gina is there to steal a gas truck, on her way to pick up her brother and nieces. Most encounters at the gas station include everyone witnessing a zombie devour a human for the first time, a DHS agent with his young son who is constantly in life-threatening danger, and the driver of the gas truck.
While each outcome in the various loops plays out differently, the constants are there. Blair is always trying to stop Gina, being her overbearing boss even in the apocalypse. The child is always in danger, Blair's fiancé never gets out of the car to help her and the DHS agent appears to have been bitten already on his arm but is containing it.
So what do these "constants" mean? Starting with the agent, he's rendered mostly useless, foreshadowing that law enforcement won't be able to help anyone moving forward in the apocalypse. His son always being in danger also foreshadows that children aren't safe in this "new world" and symbolically, children represent the future, a future that is in danger and likely won't survive.
Blair's fiancé not helping her foreshadows the fact that we're entering a period where a lot of people will be self-serving and not interested in helping those around them, even those that they love. As far as Blair and Gina, their cycle of anger and hard feelings towards each other is the part that can and has to change. To survive this new world, you have to have people you can trust.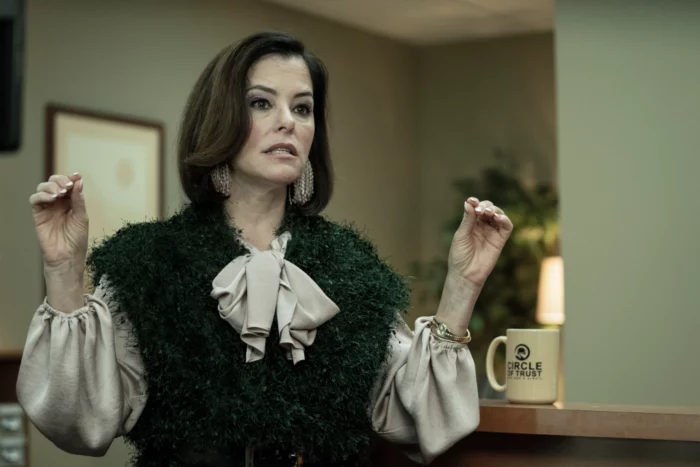 Atlanta
Using Atlanta as the location for Tales of the Walking Dead Episode 2 carried a huge amount of significance. Obviously, the pilot episode of The Walking Dead features the iconic shot of Rick riding down an empty highway on a horse, with the city in the background. Here we got to see that Blair and Gina, once they finally broke their cycle, were the ones to clear the highway and save all the humans on it with their heroic actions. Using the gas from the truck to burn the countless zombies stalking their prey allowed Rick to one day go down that same highway and kick start our story.
Heading into the final run of episodes in the flagship series, really made this dose of nostalgia feel welcome. The Walking Dead universe has covered a lot of narrative ground so getting to go back to 2010 in Atlanta and revisiting how this all started here in Tales of the Walking Dead Episode 2 gives you all the feels. Simpler times in some ways.
Overall Thoughts
Tales of the Walking Dead Episode 2 had a tough act to follow in "Evie / Joe," but is the superior hour of television. Not only was it a really well-written and performed episode, but it did also have connections to the larger narrative universe which were enough to get the mind going and strong doses of nostalgia, used in a way that was effective without going over the top.
Will we see Blair or Gina in another incarnation of The Walking Dead universe? Maybe, but doubtful. Gina's character seems like she could be one to survive and "harden" over the years, perhaps giving way to a possible meetup with our main characters down the line. Not betting on it though. For Blair, it seems less likely. But with her character embracing the "circle of trust," she had that personal growth she longed for internally for so long. If she does die, it would at least be with a sense of personal peace, which is all anyone in the apocalypse can ask for really.