An influx of horror films from Argentina in the last few years have truly invigorated the country's exports. Terrified (Aterrados), History of the Occult, the Nocturna films, and On the Third Day are just a small showing of creative ideas horrifying us from another part of the world. At Fantasia last week, another title from the South American country added another worthy title to that list: Fabian Forte's Legions.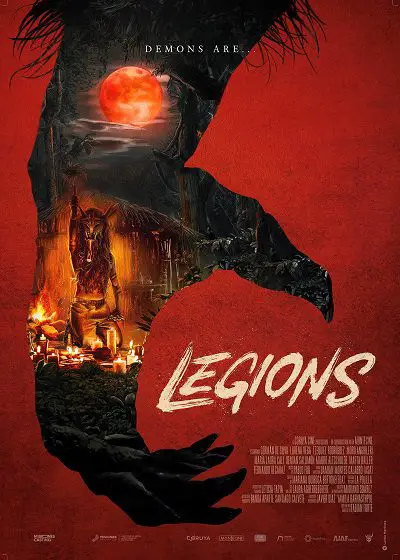 Following an old sorcerer (or brujo), Legions tells the story of Antonio Poyju. Husband. Father. Involuntary mental patient. Antonio's story is told in flashbacks to those in the institution willing to believe him, while others use his "stories" to mock him. He talks about how he was once a widely respected brujo, living in the wilderness warding off evil spirits, how his bloodline was blessed with these magical abilities, and how his daughter lost her way because of a shifty demon who stole her faith. Antonio changed his entire lifestyle to fit the normalcy Elena begged for, but practicing exorcisms in a small apartment doesn't exactly mesh with her definition of "normal." 
Moving up the corporate ladder and undergoing a name change, Elena now resides in a luxurious apartment and worries about the presentations she prepares for work. A far cry from the life in the wilderness she was born into and the three-room walkup she spent her adolescence in. Occasionally she provides a little bruja magic to her friends at work but feels slightly ashamed when asked about it. The coming of a blood-red moon could change her life entirely, and Antonio fears the demon that killed Elena's mother will use the opportunity to once again come after Elena. 
At its core, Legions is about a father-daughter bond corrupted by the hard line between fantasy and reality. It may not take on the same acclaim as Tim Burton's Big Fish, but it shares its sentiment of reconnection. Love is the heart of the film's message, and we see it repeatedly throughout. Antonio protects Elena, bowing to her needs as she becomes embarrassed by him, and abides by that not to see him until her wishes conflict with her safety. It's a rare heartfelt film in the genre that still maintains a fair amount of grisly terror.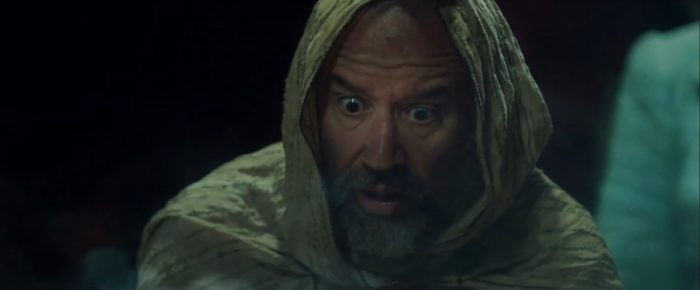 There may also be some alluding to the indigenous culture of Argentina and the generational divide in resistance and acceptance of modernization as well. A scene where Antonio favors a corded phone over a cell phone considers this. Another encapsulating Elena's urge to fit in, while her father takes no issue with being himself, does as well. That scene, in particular, leads to Elena's ultimate abandonment of her faith, choosing the allure of demonic forces. This details how shamans were once an essential part of religious customs among the native groups of Argentina, but forced colonization attempts have led many of the modernization embracing younger generation to discontinue their culture's traditional practices. 
Legions also feels like a love letter to the works of Bruce Campbell, and fans of Bubba Ho-Tep will see the parallels at the start of the film. Beginning in a mental institution, Legions uses many sight gags and slapstick material, like in Don Coscarelli's movie about Elvis and JFK fighting a mummy in a nursing home. Those similar vulnerabilities and unreliable sources translate to Legions, as an old-world brujo tells his friends at the hospital about his adventures battling demons. Of course, once he proves his magical abilities, the film becomes a bit more Evil Dead. Anyone who watched Ash vs Evil Dead is very familiar with Brujos. And later in the movie, there's even a direct deadite sighting complete with the signature Sam Raimi wind effect. 
The mythology and practices Antonio uses throughout Legions are well thought out, meshing with the story through means that make the magic look practical. Forte blends elements from our world with Antonio's, and while intrinsically capturing the imagination, it still seems to fit in the world. I've found this can be an issue in many films. Another Fantasia dark fantasy film, Vesper, built a unique dystopian world mired in science fiction but had trouble balancing the explanation of its devices to viewers while needing to use those tools to progress the story. Legions balances the fantasy very well and creates a lot of fun for the viewer along the way.  
The practical and makeup effects of Legions are really where the film shines. Still an independent movie, the movie employs the occasional cheesy costumed hand, but the only time the audience produces a groan is during the movie's CGI scenes. It's above average CGI, especially for indie genre film, but it's still noticeable. 
Fans of '80s horror films with comedic overtones and concepts like the ones previously mentioned –plus a fantastic lead-in to one through a reference to Poltergeist II's best scene—will enjoy many of Legions' setups and scenes. As a whole, the film works, though the pace staggers a bit as it interweaves the backstory into present-day events. It does a pretty good job for the most part, but occasional slower moments seem a little out of place. As the film progresses, moviegoers will enjoy how embedded they feel in this world of ancient evil and old-world magic. It's a massively entertaining horror flick with a feel-good ending covered in blood, ooze, and sulfur under a blood-red moon. 
Legions played as a part of the Fantasia International Film Festival on July 24. XYZ Films has acquired North American rights for the Argentinian film and is eyeing a late 2022 release in the US.