With a synopsis that rang out like an Argento giallo and imagery that suggested dread and bloodshed throughout, I had a magnetic curiosity toward Megalomaniac. The film about a family bound to the bloody unknown legacy of their father's horrific rampage, based on the notorious real-life killings of the Butcher of Mons, is the kind of horror story that sparks my interest. There are many routes a writer can take when the setup is based on something legitimate. As such, I eagerly anticipated how the story would liven writer-director Karim Ouelhaj's imagination as he intended to make a "Children of the Butcher" film.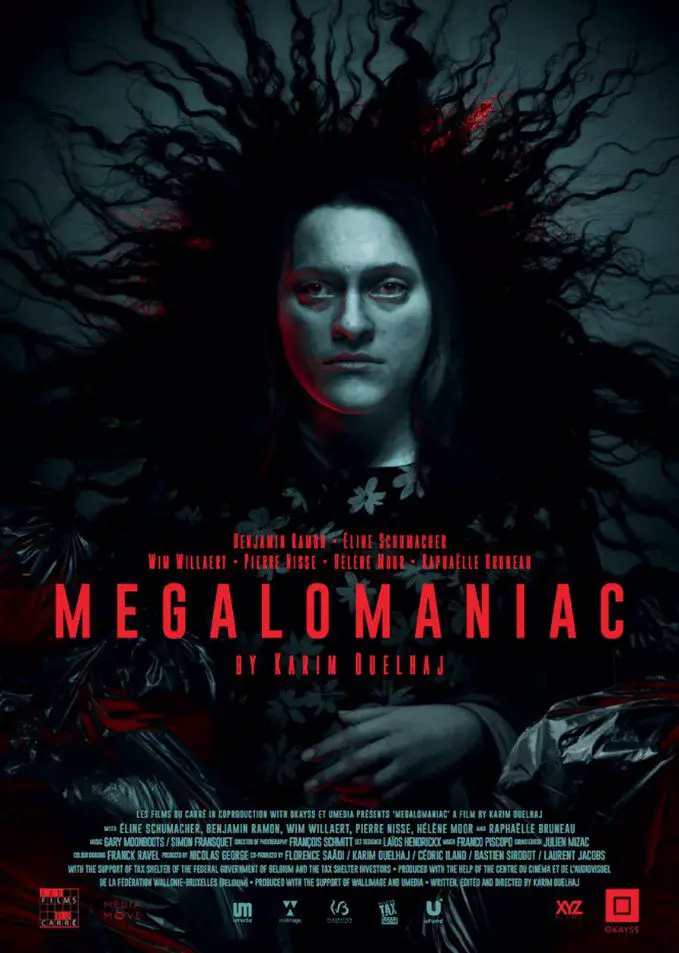 Between 1996 and 1997, five victims were dismembered, thrown into garbage bags, and left to be discovered under the Rue Emile Vandervelde, a street in Cuesmes, Belgium. While suspects were investigated, the killer was never caught. The film begins by telling us this backstory, but in terms of exposition, Megalomaniac doesn't stick to a traditional setup. It kicks the viewer off the highest diving board right into the deep end and makes it difficult to get your bearings. In an introduction filled with blood-red irises, a ritualistic birthing scene, and a transition into modern-day murders get no explanation. Still, as we go along for the ride, it becomes easier to understand.  
Felix (Benjamin Ramon) is a dominant, controlling, and manipulative force in his sister Martha's (Eline Schumacher) life and the embodiment of Ouelhaj's titular Megalomaniac. In the opening scene, we watch as Felix witnesses Martha's birth, and since watching the bloody scene, he's been both a brother and a father. Oppressively, Felix micromanages every aspect of Martha's life, when she takes her pills, goes to work, and how to do her job when she's there. When she's sexually assaulted on the job, Martha has to ask for a night off to deal with the mental ramifications, though she never tells him why out of fear her assault may anger him. The audience considers the possibility that Martha has no inkling of Felix's murderous nocturnal activities. Yet, through the shedding of her meek exterior brought on by trauma, we start to see Martha embrace her legacy as well. 
We venture through this world through Martha's eyes, watching how she navigates a life under the thumb of her brother's demands. Forced to work nights and under the extreme conditions of repeated assaults, she begins to come apart. During her days alone in the house, she hears noises and sees things that couldn't possibly be happening. She even begins calling her new social worker (Raphaëlle Lubansu) names for no reason. Viewing another version of herself strolling through the house or seeing dark creatures resembling the ghosts from We Are Still Here. On the precipice of madness, Martha asks Felix for company. Felix presents Martha with an unbecoming new pet, and Martha starts forcing the dominance of her brother's teachings as part of the pet's training.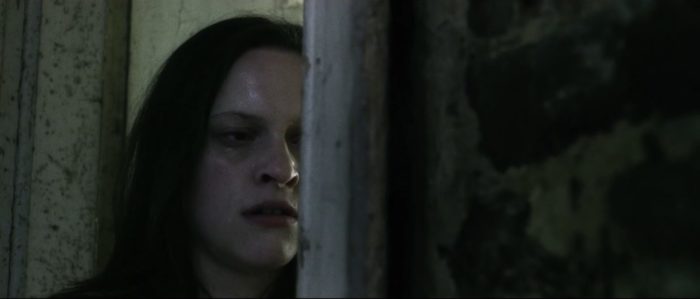 The nature versus nurture debate is in play as we witness Martha psychologically transition. We wonder if her brother's influence has helped her take the reigns and subjugate her underling, after being so vulnerable at the start of the film. Schumacher fetters in subtle acts of tenderness and care to her character along the way, to remind us that Martha may have once retained that sense of empathy, but because of recent transgressions against her, she's started to become more like him. Schumaker gives a superb, nuanced performance as Martha decides to get even with all the men hurting her in her life.
In terms of atmosphere, the gothic style of the house adds a lot to the ominousness and effortlessly instills trepidation. The visuals are unsettling and body-clenching, and the violence is incredibly brutal. Everything gets even more tense when Martha begins seeing and conversing with herself outside of her body. Psychologically something is happening to Martha, but there seems to be more going on than just her sexual assault tearing her in two. The music is also dark and foreboding, but the notable long silences allow the viewer to focus on the movie's incredible sound design. 
What I'm most impressed with in the film is how Ouelhaj uses the contrast of dark and light imagery. Ouelhaj has said this represents Manichaeism and is used to display that no person is intrinsically good or evil. While much of the film is shrouded in black, the tone reflects the hazy greyish light seeping in through the windows of the decrepit mansion.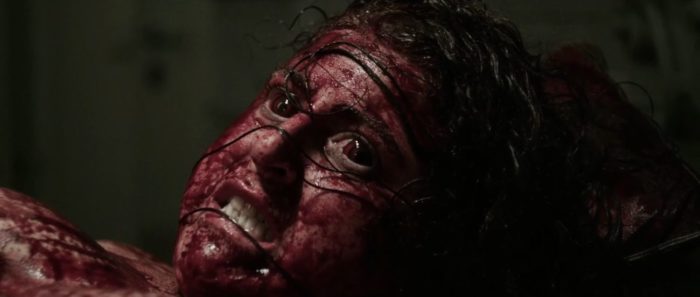 The rotting wallpaper and Martha's unraveling mind may remind viewers of Charlotte Perkins Gilman's The Yellow Wallpaper, another tome in subverting patriarchal authority. It really speaks to the film's overall artistic direction. Eyes break the fourth wall in the dark shadows within Megalomaniac, and negative space, with characters just outside the frame, often contain hints, like bloody fingerprints, that help the viewer understand that Martha knows more about what's happening with Felix than the audience supposes at the start. 
The way Martha transitions into madness is subtle, like watching two sides fight for the supremacy of a single body. Though Martha's descent isn't rooted in delusions of grandeur, Megalomaniac reminded me of another Fantasia selection from ten years ago: Richard Bates Jr's Excision. 
The film concludes in a gorgeous display of uninhibited violence, well shot and choreographed though perhaps overly metaphoric in one particular aspect. It matches the intensity and elegance of Hannibal's Season 2 finale, arguably the best episode of the series, with Felix filling the shoes of the titular serial killer's style as he maintains his calm and advocates for patience. While the blood-spilling carnage makes for a great scene, I still felt slightly unsatiated in the end. Where the psychology and brutality of the film's final moments are vastly entertaining, it never delivers a cohesive connection to the Butcher of Mons story it sets up. The true crime story inspires Megalomaniac, but the film could just as easily have worked regardless of that specific killer. The movie is about male heirs and the inherent generation and societal heritage of violent tendencies toward women, and while the Butcher works for that, it isn't necessary.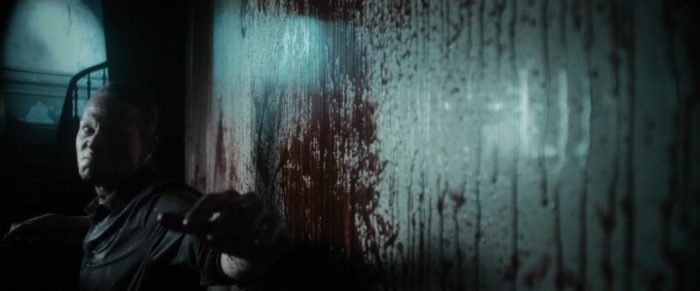 Karim Ouelhaj's film doesn't entirely work for me, though it isn't without excellence. François Schmitt's cinematography is masterful and absolutely needs to be seen. The lighting and sound design are incredible technical achievements. Some of the surrealism is utterly haunting, many of the duality aspects are exceptionally clever, and Megalomaniac's psychological and sociological elements are outstanding and worthy of conversation for a long time to come. On that aspect alone, I think Megalomaniac is worth seeing.
In contrast, Megalomaniac starts chaotically, drops to a slow roll, and uses a lot of confusing, albeit nightmarish, imagery to begin. Compounded with many of the silent scenes in the film, it's easy to experience sensory overload care of the lightning-quick juxtapositions. I can't say I was ever bored through the film because there's so much to see and consider, but Megalomaniac also left me wishing for more resolution from its conclusion.
Ouelhaj is already wrapping principal photography on his next feature film, according to Variety. Le Pont des Fiévreux (which translates to Feverish Bridge) about an antihero named Scola, lost between madness and purgatory and inspired by the 1990 film Jacob's Ladder. 
Megalomaniac screened as part of the Fantasia International Film Festival. It's expected to release later this year.