Men have one rule in the bathroom. No talking. If you enter a public restroom during a conversation, that dialogue is paused until you've exited. Nothing outside the ambient noises of running water, coughing, or comically loud sniffling should be observed. In Glorious, the horror for Ryan Kwanten's Wes begins when a stranger (the voice of J.K. Simmons) decides to spark up a conversation in the stall next to him. I'm mostly joking here, but in Wes' case, he's about to get a whole lot more than he bargained for as his newfound neighbor informs him of his status as a god, telling Wes, "The universe has a favor to ask."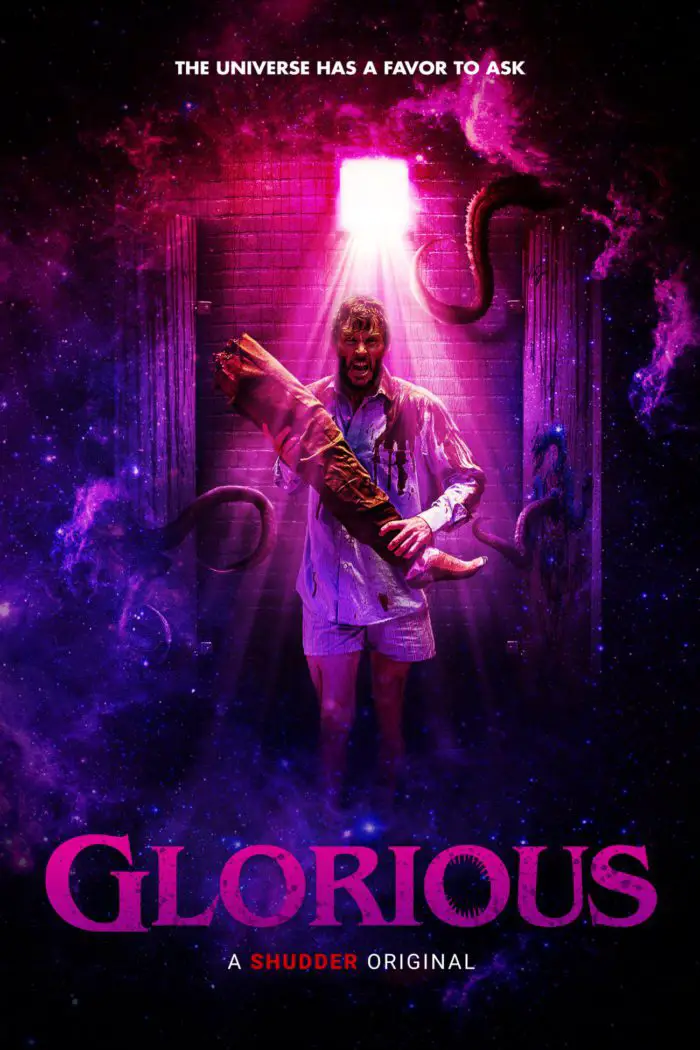 Wes winds up in this pit stop fit for a god when he pulls off the road after suffering a momentary bout of highway hypnosis. Pulling into the service station, he camps out for the night. Looking at old photos, suffering emotional mood swings, and getting blackout drunk to deaden his pain as a recently broken-hearted man. Wes passes out while burning everything that reminds him of his former lover, waking up the next day without pants and a nightmare hangover that leads him on a trip to the bathroom stall.  
This is the first thing that requires the suspension of belief. If you can imagine a film about a Lovecraftian god in a toilet stall, you need to consider what you're also likely to see in a place like this. I mean, who pukes in a rest station toilet? The trash? Yes. The side of the toilet? Also, yes. The curb? Like, 90 percent of people. So, I immediately thought it was funny that the concept I wanted to poke holes in during this cosmic horror film was the fact he'd more likely throw up in the bushes, especially when there are at least a couple of alternative options requiring a toilet after a night of heavy drinking. 
While recovering from the violent vomit spasms, the neighboring stall's friendly voice checks in on Wes and attempts to engage him in a conversation. The repartee between Wes and the interstellar being, whose name requires some strenuous annunciation, comes with the explanation of several idioms. Wes is struck with a learning curve, too, one of open-mindedness. However, accepting what this porcelain-throned god is selling makes Wes believe he's on the path to insanity. Specifically, when it asks Wes to make a sacrifice for the sake of the universe, and it wants it delivered through the glory hole between the stalls. 
Staunchly uncomfortable at times, and marvelously so, Glorious imposes an air of dread and fear into Wes before asking him to make some difficult choices. The free will bestowed onto Wes is also one of the film's best assets. The decisions he faces add to the overall arc of his character. Running away from and avoiding certain matters, arguing, bargaining, etc. Whether Wes believes in the god's abilities or thinks he's going crazy is a moot point. Something is happening, and he's been given the power to stop it, even if it comes at a heavy cost. The idea of true altruism comes into play, and some philosophical discussions are likely to occur about what genuine selflessness looks like, both in relationships and heroics. 
Quickly cluing the audience into who Wes is as a character, director Rebekah McKendry is very deliberate in how she delivers his backstory. Articles of clothing, a teddy bear, and even Wes' violent tendencies capture the viewer's attention early, helping to flesh out that puzzle. However, in the grand scheme of things, it takes a back seat to the more pressing scenario that begins when Wes enters the bathroom. The more looming concern of the precise nature of the god's request becomes the viewer's primary curiosity, which occasionally beats around the bush a little more. Glorious hides these mysteries well, particularly at the start of the film, offering escape avenues for Wes to try and distractions for him to engage with instead of fulfilling the god's request. The great thing about having these dual mysteries for the audience is that there are more ways to keep the story going before blending them together at the film's climax.  
Based on a story by Todd Rigney, Joshua Hull and David Ian McKendry deliver a screenplay full of literal bathroom humor. On concept alone, a chance encounter with a deity in a decrepit public bathroom is hilarious. But filling a single-location story with enough dark jokes, great dialogue, occasional flashbacks, and some intense moments help pull a full feature out of what looks like a five-minute short on paper. It is masterfully achieved largely thanks to the two leads, Kwanten and Simmons, who never appear on screen together but maintain top-notch chemistry throughout the film, and director McKendry's excellent use of the limited space.  
I often chuckle at the fact that magenta has been adopted as The Color Out of Space, as it were. Lovecraftian terror now expectedly comes with the purplish-pink overtones impressed upon scenes to give the film an otherworldly feel. The color technically shouldn't exist in our color spectrum and has become synonymous with cosmic horror, especially within the last decade. McKendry uses the color beneficially to show the power the god has and doesn't waste it by having the palette on display for the entire film.  
Glorious is over the top in gore and dark insinuating humor. Still, it's a satisfying and well-constructed film (despite my nitpicks about what Wes would need a toilet for) that recalls the bonkers comedy of John Dies at the End and the blood-soaked madness Ash faces in Evil Dead 2. While I overall enjoyed the movie, my major complaint is that there were times I felt Glorious was spinning me in its alternating circles too slowly. Having me ask, "why won't the god just tell Wes what he wants already?" As the viewer comes to understand that it has to be Wes that asks that question, it still has those moments of tedium. That being said, they are only moments. The crew knows what they're doing and quickly work to offset any monotony, so you stay engaged with their story. Glorious is a fun ride full of humor and captivating philosophy. 
Glorious had its world premiere at the Fantasia International Film Festival on July 21 and will head to Shudder on August 18.