Who all out there has a dad? Ok, I'm being a bit snarky, but it's about time dads get some love for this Father's Day! Honestly, I had to side with Darcy on this week's edition of The Last Drive-In (S4E8) about this and Mother's Day as a sales and marketing ploy. It makes no sense, to me at least, that we need to single out one day a year to show your love for someone. What you're telling that person is the other 364 days didn't count, but today is the day I love you. What a crock, yet having such superficial holidays as Father's Day allows someone like Joe Bob Briggs to craft an episode centered around such nonsense.
The lack of respect for fathers in entertainment goes back across the generations. From Modern Family, All in the Family, The Honeymooners, and more, dads always get the short end of the stick. Usually portrayed as oafish or sloppy, a lot of the time, our favorite sitcom fathers are always on the butt-end of a joke at their expense. In the words of Rodney Dangerfield, dads "Get no respect at all."
I grew up watching Ed O'Neill portraying everyone's favorite blue-collar shoe salesman Al Bundy on the show Married… With Children. Every week I would watch as Al Bundy would want a calm day at work, a quiet night at home, and watch some TV without any hassles—every sitcom dad's dream. And every episode, Al would never cross that low bar of standards. Instead, Al's beat-up Dodge would act up, his kids would cause trouble, or his wife Peggy decided not to cook—though always able to find enough food for herself. There was never a day that Al Bundy's daily struggles passed him by, or he was able to sit comfortably on his sofa and watch TV.
Married… With Children lasted 11 seasons on the FOX Network, spanning from 1987 to 1997, when that channel was still in its infancy. As FOX was a start-up and not one of the "Big Three" networks, that meant that viewership for Married… With Children would never reach the highs that ABC, CBS, and NBC's top shows would. While the deck was stacked against FOX and Married… With Children, both found ways to persevere, even though it was a daily struggle to maintain. And maybe not ALL because of Al Bundy, but the character helped pave the way for the next generation of television. And all Al Bundy wanted to do was watch TV. Do you recall what his favorite television program was? That's right, Psycho Dad. In every episode that Psycho Dad made an appearance, the themes would change, but for those unfamiliar, the original lyrics are below:
Who's that riding into the sun?

Who's the man with the itchy gun?

Who's the man who kills for fun?

Psycho Dad,

Psycho Dad,

Psycho Dad.

He sleeps with a gun

but he loves his son

Killed his wife 'cos she weighed a ton.

He's Psycho Dad!
That's all Al Bundy wants. A cold beer and the latest episode of Psycho Dad. Is that too much to ask?
And, speaking of Psycho Dads, that's what Joe Bob Briggs had in store for the latest episode of The Last Drive-In on Shudder! Joe Bob has already graced The Last Drive-In with Mother's Day on the premiere episode of Season Three, so this year he's shifting over the chromosomes to ensure dad gets the love and support that only Joe Bob and Darcy can provide.
The first film of the night for this Father's Day double-feature was the classic(?) 1987 slasher, The Stepfather. Showing this Terry O'Quinn minor slasher classic was a true treat for me. The Stepfather is one of the earliest memories I have of horror films. While not a great movie by any means, The Stepfather lives and dies on Terry O'Quinn's performance, who does an outstanding job at portraying a psychopath struggling to maintain the exterior frame of normalcy while hiding his homicidal urges. Not having checked the film out in many years, it was fun to revisit, even if some aspects outside of O'Quinn's portrayal of the titular role were questionable at best. Having Joe Bob guide me through The Stepfather, I agreed with much of what he detailed. 
Even if Joe Bob loves all things related to horror and the drive-in experience, he still calls out bad and questionable moments within the film; this includes the subplot involving the character of Jim trying to expose O'Quinn's character as the murderer of his family. Jim's subplot is absurd, comes out of nowhere, and only shows up when the script remembers the character. I completely forgot about it until rewatching the film on this episode of The Last Drive-In. Reasons similar to this are why I never miss an episode of The Last Drive-In. Over the years, the type of honest film criticism and analysis Joe Bob offers has become a rarity.
When thinking about Psycho Dads, The Stepfather might make the top of the list. So, what did Joe Bob have in store for this week's second feature to compete for the crown of Psycho Dad? Instead of finding a fictional dad on the brink of sanity, Joe Bob thought outside the box and found one of horror's greatest actors, Donald Pleasence, and one of his forgotten roles with 1974's The Freakmaker.
Anyone familiar with horror, or hell, film as a whole, is familiar with Donald Pleasence. From his work on the Halloween franchise to his performance as Blofeld in You Only Live Twice, his supporting work in The Great Escape, and his other collaborations with John Carpenter, Pleasence is a well-known figure in cinema. Joe Bob wanted to highlight the filmography and ethic of a man with five daughters to support.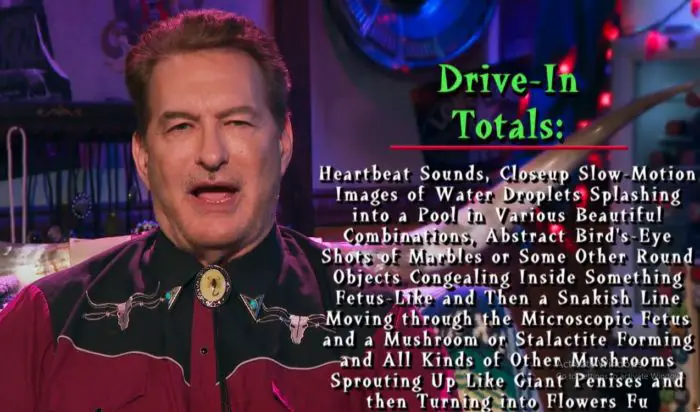 Usually, when Joe Bob digs up a forgotten classic to show on The Last Drive-In, I experience something new. For once, I was familiar with The Freakmaker, so I got more enjoyment on this half of the double-bill with Joe Bob's discussions into the life of Donald Pleasence and the world of freaks. I have to say, the time spent with Joe Bob during breaks of The Freakmaker might have been some of my favorite moments from Mr. Briggs during his tenure hosting The Last Drive-In.
While not as "father-centric" as the previous film's discussions, Joe Bob had a wail of a time diving into the history of freaks, carnivals, and attractions. Each break seemed more extended than the last (not a bad thing, by the way) as Joe Bob rattled off factoids, history, and apparent non-sequiturs about the film's production, allusions to Tod Browning's Freaks, and Joe Bob's experiences with real-life freaks. I can't truly describe how much I enjoyed Joe Bob's discussions during The Freakmaker, only to say that anyone who finds joy in what JB has to offer will find plenty to take in during this film.
Psycho Dad Week was a success for The Last Drive-In. It's better than a second bottle of Aqua Velva or another tie from Sears. We both know those will collect dust before getting off-loaded to the Goodwill. Joe Bob and Darcy allowing cinematic fathers to unleash their maniacal side, even if only for one day a year is the best gift any father could ask for. Al Bundy would approve.