WARNING: This article contains major spoilers for both House of Leaves and Inscryption. You should probably/definitely go experience them for yourself if you haven't already. Seriously. They're both fantastic.
---
On the surface, Daniel Mullins's 2021 hit indie horror/card battler video game Inscryption bears very little similarity to Mark Z. Danielewski's infamous 2000 novel House of Leaves. It appears to be a very straightforward game at first glance; you play a character who must escape from a cabin by winning a card game against an unseen force. If you fail, you die, and your spirit is trapped in a card. You'll have to play as someone else, starting the game from the very beginning, and sometimes going so far as to pull out your own teeth or eyes to tip the playing field in your favor. Meanwhile, House of Leaves wears its strangeness on its sleeve, being a book about a man who organizes a manuscript written by a blind man about a documentary that doesn't appear to exist about a house that's bigger on the inside than the outside. (If you know, you know.)
Pull back the camera ever so slightly, though (in a very literal sense), and you realize that Inscryption isn't quite what it presents itself as. The cabin card battle happens to be a game being played by a fictional character—a YouTuber named Luke Carder, in fact, who found this game on a buried floppy disk somewhere in the woods. Even though you're the one making the decisions, playing the cards, and ultimately (hopefully) escaping, you're playing as Luke, who's recording the gameplay with his own camera. You're playing a video of a man playing a game full of secrets, and as you and Luke uncover more of the truth behind Inscryption, the obsession with uncovering it all threatens to consume both the character and the player.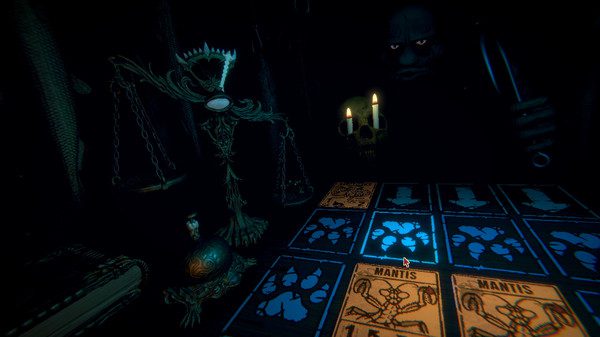 Having just read House of Leaves for the first time in my life, I see nothing but parallels here. The book, which is presented as an academic-style series of chapters full of footnotes, is told from the perspective of one Johnny Truant—an aimless tattoo shop employee who becomes obsessed with organizing and completing the story found in a bundle of papers left in his new apartment by a deceased old man. Johnny soon realizes that "The Navidson Record," the film in question, apparently never existed in the first place, despite the detail it's described in and the hundreds of sources cited about it. As he throws himself into his work, detailing his life in his own footnotes to the text, all we see is his obsession with trying to complete it tearing his mental state to shreds. And yes, the central story is frightening on its own, detailing a family discovering an impossibly large and ever-changing dark space beneath their house and how it drives anyone who encounters it to madness in their own ways.
May Leitz's excellent video on House of Leaves attempts to make sense of this complicated narrative, which features maddening textual organization to the point where you have to physically rotate the book in order to continue reading at some points, and at others, the footnotes and details threaten to consume the narrative, much like the mysterious force (the "minotaur") that consumes anything left in the labyrinth beneath the house and which haunts anyone who reads about it. The book, she believes, is a labyrinth of its own; the endless footnotes and sidebars and spirals threaten to trap you within it just as it trapped Johnny. The only way out is to keep going, and even then, you won't soon forget what's happened when you've finally escaped.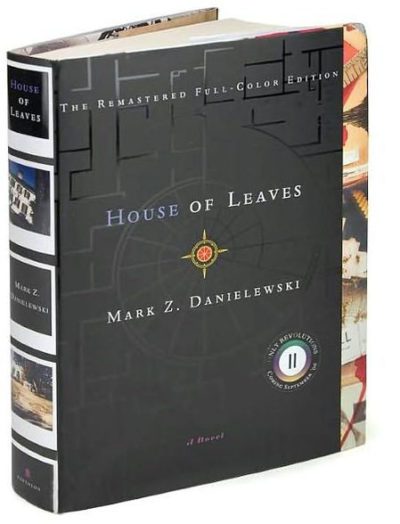 Inscryption, without even trying to, manages to make itself a labyrinth of its own. Luke, the Johnny Truant of this narrative, is directed to the game within the game buried in the forest and finds himself affected by—and obsessed with—the circumstances that led to its creation. The cabin is far from the full game; it's revealed that the dark force within is Leshy, a character in the actual Inscryption game who's taken control of the narrative. In-universe, there are four card battle masters, all of whom Leshy has trapped in their own cards, and all of whom are freed when you (Luke) finally defeat him. And then it gets weirder, as you discover the full game is an RPG where you must defeat all four masters to become a Scrybe of your own. And THEN another of the masters, P-03, takes control and traps you in a factory, forcing you to battle him to escape, then revealing that in battling him, you're completing the unfinished Inscryption game and giving him the chance to transcend into other people's computers and live forever.
There are hints upon hints that people died making this game. There's an alternate reality game surrounding it about something called the Karnoffel Code. And, of course, there's Inscryption's own minotaur: the OLD_DATA, a hidden file which P-03's plan of transcendence includes reconstructing, and which the other masters directly warn Luke is a malevolent force in itself. Like the minotaur, it haunts him as he tries to piece together all that's happened. Unlike the minotaur, it reveals itself to him in the end. When one of the masters triggers a full disc wipe to delete the full game, Luke gets the chance to see it. We never see it for ourselves, but as soon as he views it, he rips the game disc out of his computer and smashes it with a hammer, trying to destroy it, refusing to let the obsession he's become a part of out into the world.
Johnny Truant never gets the chance to break free from this himself. The minotaur haunts him. His past chases him. The last we hear of him, he's sick, out of money, and just happens to have met a band who's been reading the book he hasn't finished writing. The editors of House of Leaves, and several letters written to them, make clear that Johnny is missing, and there's no sure way to know what happened to him, but it's obvious there's no Hollywood happy ending waiting for him, wherever he is. Luke, unfortunately, meets a similar fate in Inscryption. Though he attempts to share his findings with a journalist, a representative from the company that created the game arrives at his house and shoots him in the head, and the ARG alongside the game eventually reveals that he failed to stop P-03's plan.
"Here then—the aftermath of meaning. A lifetime finished between the space of two frames," writes the blind man about a scene in the documentary in which one of the labyrinth explorers takes a bullet to the head himself, all because a fellow explorer got lost and decided he needed to kill his team. Johnny got lost, too. So did Luke. So will you, if you're not careful, though thankfully the consequences of falling into the labyrinth yourself aren't nearly as dire. You may gush to your friends about the thing you just read or the game you just played; you may even—most horribly of all—feel like you need to write an article comparing the two.
You can and should play Inscryption on PC, and House of Leaves is available wherever you get your books.