If you're into horror movies, you likely know who Marcus Dunstan is. He's the director of the 2009 indie horror cult classic, The Collector, and even more notably, he and his writing partner Patrick Melton are responsible for many of the later Saw films. Dunstan and Melton's contributions to horror always provide an original look at whatever subgenre their working in, instilling a Saw edge into home invasions in The Collector films, creating one hell of an original Thanksgiving slasher in Pilgrim, and injecting their own brand of fun on the Roger Corman-Joe Dante killer fish feature Piranha, with Piranha 3DD. The pair even worked with Guillermo Del Toro in writing the screen story for Scary Stories to Tell in the Dark. This week, you'll be able to see Dunstan and Melton venture into zombie territory with their latest, Unhuman. 
Unhuman follows a classroom of teenagers en route to a field trip when the zombie apocalypse happens. You'll see from the scene in the trailer that the windshield becomes a red sheet of blood and the sudden stop causes passenger injuries. While awaiting help, a message on the radio insists that America is dealing with a bio-weapon that has turned their town into Romero country. When a zombie attacks their teacher, they decide to head for shelter in a nearby abandoned housing complex and continue to be hunted by the dead outside. 
I was really excited for Unhuman ahead of its release because of how Dunstan and Melton can masterfully manipulate a script. If you've never seen Feast, which I highly recommend, the film is a true testament to utilizing archetypes to subvert expectations. Characters fit typical genre roles, and the film begins with a muscular action hero who comes barging in and barking orders. In an extremely cartoonish fashion, he doesn't survive longer than a few minutes. Unhuman utilizes high-school Breakfast Club personalities for jocks, cheerleaders, nerds, etc. Even their teacher (Peter Giles) has a similar personality mold he fits into, talking in swear-filled veiled threats. When he's the first to be attacked, we get those hints of Feast and understand that the cooler heads of the nerds and burnouts will do better in this new dystopia than their hotheaded, quick-to-action counterparts.   
The dynamic of Unhuman is to see if this ragtag amalgamation of unlikely friends can band together to overcome this extraordinary event or kill each other trying, which is very Dawn of the Dead. However, Teen horror films tend to rewrite the rules and give us the unlikeliest heroes. To an extent, Unhuman is that film, but it's also not. What Dunstan and Melton have done with Unhuman is subverted their own subversions. They expect you to know the usual horror twists coming and write themselves into a corner so they can pull the rug out from under you. I honestly can't say any more because Unhuman deviates from whatever you're expecting.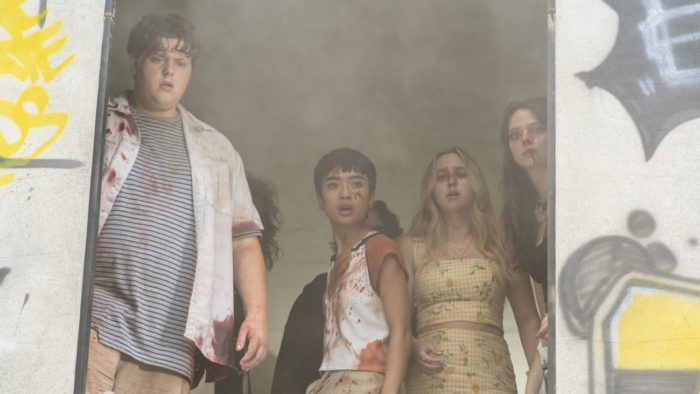 I have to tip my cap to the young cast of characters, who do a great job with the roles they're obliged to portray and break free from. The largest disconnect comes in the character arcs between Tju and co-star Ali Gallo, who play best friends that are growing apart. In the first act, their dialogue about the matter seems forced, and in the third act, the audience is made to collectively go, "oh!" when the arc awkwardly comes together. While these moments between characters are often schlocky, they work in a quirky B-movie sort of way. Brianne Tju is a force to be reckoned with, and I hope we see more kick-ass action roles in the I Know What You Did Last Summer series' star's future. Beyond Tju and Gallo, the rest of this hip and eclectic cast is also exceptional. Halloween's (2018) Drew Scheid, Teen Wolf's Benjamin Wadsworth, Freaky's Uriah Shelton, Filthy Rich's Lo Graham, and Just Mercy's C.J. LeBlanc are all names to look for in horror or anything else. This ensemble is why Unhuman stays on track and becomes a worthwhile experience.  
With that said, I found Unhuman to be a little bit better than middle-of-the-road. There are some laugh-out-loud one-liners and ridiculously over-the-top action sequences that entertain and excite. The whole scenario with kids in an abandoned building recalls 80's favorites like Prom Night, Doom Asylum, and Night of the Demons, and that nostalgia may be part of the reason I enjoyed it. Blumhouse's recent rash of neon glossed cinematography (see: Firestarter, Torn Hearts) also works for Unhuman, with the kids being attacked in dark, graffiti-heavy areas of the complex that help add some visual pizzazz to the film.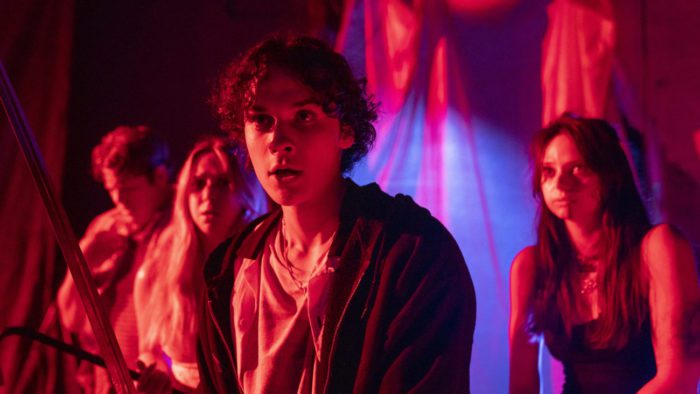 However, the first half of the film is oddly paced, with imposed meaningful exchanges awkwardly thrown in. What's more, clues to the film's conclusion aren't supplied upfront, meaning you really aren't allowed to pick up on the film's twist, and that walks a thin line with an audience who may be inclined to go with it or may instead feel deceived.
It took me some time to try and come up with words about Unhuman because I genuinely enjoy the wild ride that is its second half. The film uniquely shows how we judge books by their cover and the effects those projected attributes can have. People are so much more than what they seem, for better or worse. Given recent events and the film's depiction of school children under siege, some may find the timing of Unhuman to be indelicate. We take in a heap of grim subject matter as horror film enthusiasts, often meeting grisly situations with a quick dismissal. Unhuman's surprising schema isn't outwardly perverse, but the film may catch some people looking for a diversion from the news off guard. To those people, I issue a trigger warning. Unhuman can be a twisty-fun mindf*ck of a film, but it may not be for everyone at this particular moment in time.
Unhuman premieres this Friday in theaters, on VOD, and Epix.