Director Rhys Waterfield shared some details about his upcoming film, Winnie the Pooh: Blood and Honey. Waterfield spoke with Variety and said that the response to the stills that were released has been "absolutely crazy."
The internet has been buzzing about Waterfield's film since the stills were posted—one of which has Winnie standing with a character we can only assume is Piglet approaching a woman resting in a hot tub, obviously unaware of their approach. There's also a picture of a window with the words "Get Out" scrawled on it.
So, what's the deal with this movie? Have Pooh and Piglet become serial killers? What happened?
Waterfield told Variety that Pooh and Piglet "go on a rampage" after Christopher Robin goes off to college. "Christopher Robin is pulled away from them, and he's not [given] them food, it's made Pooh and Piglet's life quite difficult," Waterfield said. He explained that being left on their own, Pooh and Piglet revert back to their "animal roots" and "become feral." They're no longer tame: they're like a vicious bear and pig who want to go around and try and find prey."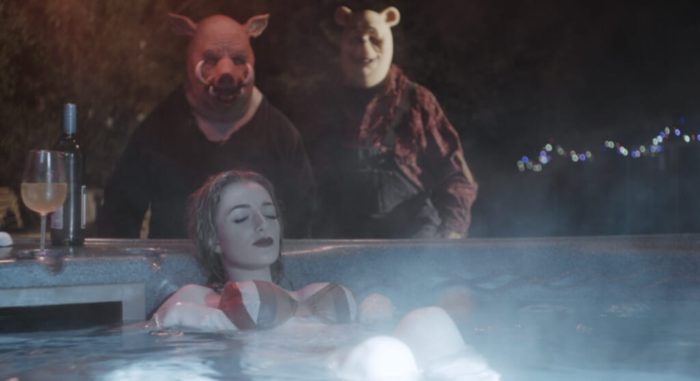 Waterfield said that blending horror and comedy presented the biggest challenge. "When you try and do a film like this, and it's a really wacky concept, it's very easy to go down a route where nothing is scary and it's just really ridiculous and really, like, stupid. And we wanted to go between the two."
Waterfield went back to the roots of Pooh creator A.A. Milne's story and shot the film in England on location in the area of Ashdown Forest, which reportedly served as Milne's inspiration for Pooh's home, Hundred Acre Wood.  He said that it took 10 days to shoot and wouldn't say what the budget was. All he said was that audiences "shouldn't be expecting this to be a Hollywood-level production." 
Winnie the Pooh: Blood and Honey was produced by Jagged Edge Productions, headed by Waterfield, with co-producer Scott Jeffrey. ITN Studios will distribute the film. No release date has been announced. Waterfield is currently in post-production on four films including Firenado and Demonic Christmas Tree.