Ti West's X is coming home in Lionsgate and A24's Blu-Ray release. Physical media enthusiasts will be happy to know that the 1.90:1 presentation is a beautiful, screen-filling transfer with a wall-rocking DTS-HD Master Audio 5.1 track that's far better than most disc presentations. The X disc is a bit bare when it comes to special features. The Blu-Ray features a featurette titled "That X Factor, "an extended scene from the filming of the diegetic porno "The Farmer's Daughters," and a time-lapsed look at the extensive makeup process that transfers Mia Goth into horror antagonist Pearl. 
If that first paragraph for the X Blu-Ray has you asking, "why would Horror Obsessive be reviewing a movie about pornography?" Well, perhaps you're unaware of Ti West. West's credits include such modern horror staples as V/H/S, The House of the Devil, and The Innkeepers. After a brief hiatus in genre film, lending his brand of unique direction to western In the Valley of Violence and a heap of television series, X marks a return for the director, which takes on '70s exploitation films through an almost Texas Chain Saw Massacre inspired lens. The result is a circus of terror from an angle you may not see coming. 
X is about a crew of six people who rent out a rural farmhouse in the middle of nowhere, Texas, intending to make a do-it-yourself X-rated porno film. The title of the diegetic film, "The Farmer's Daughters," is based on an actual 1976 film of the same name about a trio of lustful women, an unwitting farmhand, and three escaped convicts. I think you can use your imagination from there. The movie within the film doesn't follow that same take, but that particular blend of sex and violence could be the reason it was chosen. I'm not usually one for excessive nudity or sex scenes, but X isn't overly perverse and didn't go to the awkward extremities that some of those old-school exploitation films go to. 
After the crew arrives at the house, the homeowners grow increasingly strange. Where many will consider a reserved and prudish approach, that doesn't appear to be the case at all. Mia Goth handles herself in dual roles in X as one of the stars, Maxine, of the pornographic film and also as one of the unseemly elderly farm owners, Pearl. Her performances teeter between youthful carelessness and the regrets of a life that's reaching its end and provides a fantastic comparison of views for both characters. 
There are a lot of fun surprises in the film, and fans of old-school slasher horror films like Last House on The Left, Texas Chain Saw Massacre, and Eaten Alive are going to have a lot to discuss and muse on. I found the film to be unconventional of the genre and wholly original, using those aforementioned films only as inspirational nods. Many slasher films from that time period used a more reserved approach to sex, and the golden rule of horror was never to have sex. Where that seems like an easy motivation for a film referencing the era, X doesn't take the easy road, and the motive that leads the movie into horror territory is far more enjoyable. As Pearl grows envious of her youthful counterpart's exploits, her anger becomes rage, and the production turns deadly. 
In the Blu-Ray disc's featurette, West explains how he thought up the story for X by giving credit to the early heyday of independent horror films that were treated similarly to movies offered by the porn industry. Early horror directors' options were limited outside of having a Hollywood star appear in their picture. This is a very true sentiment, with some of our favorite directors of that era, such as Wes Craven (Scream), Abel Ferrara (Driller Killer), Lloyd Kaufman (The Toxic Avenger), Joe D'Amato (Anthropophagus), and William Lustig (Maniac Cop) all dipping their toes in the waters of pornography to get work.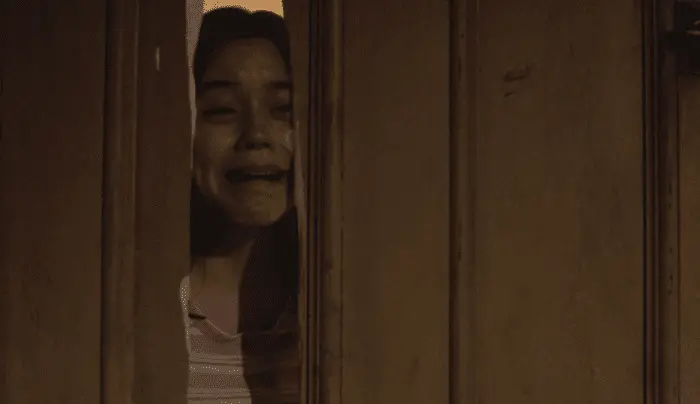 The X Blu-Ray's other special feature, "The Farmer's Daughters" extended scene, is a tastefully edited version of the events that lead to the sex scenes in the movie. There are a couple of extra lines of dialogue between Jackson (Kid Cudi) and both Bobby-Lynne (Brittany Snow) and Maxine, but none of the ramp-up between Jackson and Lorraine (Jenna Ortega) that wasn't presented. 
A X 4K Blu-Ray was initially announced as well, and a placeholder for that version of the film exists on Amazon. Rumors on the Blu-Ray.com forums suggest that the release has been momentarily scrapped. No word if A24 plans to provide a more extensive release to the critically acclaimed return to horror for Ti West. Though it's conceivable we may see one later this year before the release of the X prequel, Pearl, which is said to be in post-production currently and supposedly headed to theaters later this year. Audiences caught a preview for the Mia Goth led Pearl in a post-credit sequence during X's premiere at SXSW, but that scene does not appear after the credits on the disc or in any special features. 
Pearl was shot back-to-back with X and goes back to 1918 when Pearl is sixty-one years younger. West has since touted X as the first part of a trilogy, and if that's true, and we're exploring Pearl in, what is essentially X2, then it won't be a heavy leap for X viewers to suspect when and who the subject of X3 might be.  
X arrives on Blu-Ray on May 24.