Vampire fans have yet another movie to look forward to—especially if you're a Dracula fan. The Last Voyage of the Demeter, the latest addition to the Dracula-verse from Universal/Dreamworks, has been moved from January 27, 2023, to August 11, 2023.
According to Deadline, The Last Voyage of the Demeter is based on "The Captain's Log" from Bram Stoker's gothic horror classic, Dracula. In Stoker's novel, the Demeter is the ship that carries the immortal Count, along with 50 boxes of his native soil, from Carpathia to London.
The film depicts the strange events aboard the ship as the crew is stalked, unaware that one of the crates contains a vampire. If you're familiar with the story, the Demeter arrives in England with a missing crew and a dead captain.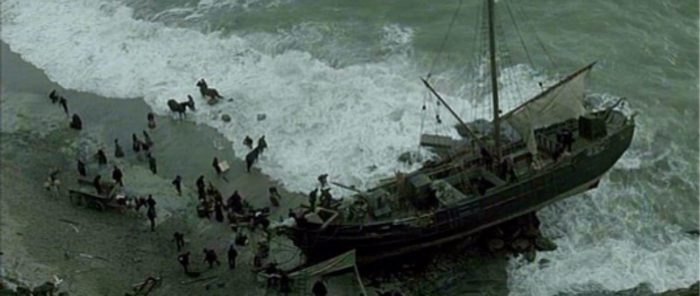 The Last Voyage of the Demeter stars Corey Hawkins (In the Heights, Straight Outta Compton), Aisling Franciosi (Game of Thrones, The Nightingale), Liam Cunningham (Game of Thrones, Clash of the Titans), and David Dastmalchian (Dune, the Ant-Man franchise). Jon Jon Briones, Stefan Kapicic, Nikolai Nikolaeff, and Javier Botet round out the cast.
André Øvredal is directing. Bragi F. Schut, Stefan Ruzowitzky, and Zak Olkewicz wrote the screenplay, based on the chapter "The Captain's Log" of Bram Stoker's Dracula.  Øvredal's previous credits include writing and directing the 2010 Norwegian dark fantasy film Trollhunter. He also penned the pilot episode of the action-horror television series Enormous for 20th Century Fox. 
Brad Fischer, Oscar-nominated producer Mike Medavoy, and Arnold Messer for Phoenix Pictures are producing with Matthew Hirsch as executive producer.  
The Last Voyage of the Demeter has been in the works since Schut wrote the screenplay back in 2002. The film changed directors and cast members many times over the years. 
The current cast and director were set in 2019. Filming started in Berlin in June 2021 and continued in Malta with the filming wrapped in October 2021.