In the traditions of Scooby-Doo, Gravity Falls, and Victor and Valentino, Netflix has released a trailer for Hamish Steele's upcoming Paranormal Park: Dead End. Based on Steele's Graphic novels DeadEndia and five-minute web short from 2014, Dead End. Netflix has ordered up a season of mischief and mystery for kids of all ages.  
Netflix says: 
Dead End: Paranormal Park follows the adventures of Barney, Norma and magical-talking-dog Pugsley (aptly named for such a macabre show), as they balance their summer jobs at the local theme park haunted house while battling the totally real supernatural forces that dwell within it. Together with their guide to the underworld multiplane, a sardonic thousand-year-old demon named Courtney, they'll face zombie mascots, demonic game show hosts, sleep-sucking witches, and the scariest thing of all: their first crushes!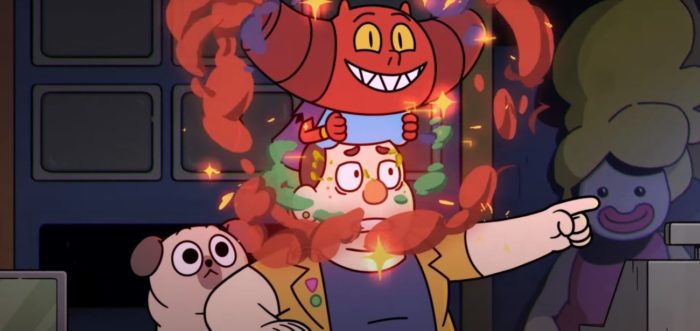 The Dead End: Paranormal Park trailer begins with a trip around Paranormal Park, with creepy broken dolls and an image of Pugsley latched to the ankle of Barney that recalls Courage the Cowardly Dog. The trailer heats up when Courtney botches an exorcism that leaves Barney's dog Pugsley with the ability to speak thanks to being possessed by the immortal spirit of demon Temeluchus, the chieftain of torment and leader of the four demon kings who serve under the Coronator (obviously). Pugsley channels magic powers as the three team up with Courtney to battle the paranormal infesting the park and may just end up saving the world… unless Courtney eats Pugsley first.  
Dead End: Paranormal Park will have an incredible array of character inclusion, with Barney being transgender and Norma being neurodiverse. Author Hamish Steele said of the comic's diversity,
"I've always dreamed of making the show I needed as a lonely, horror-obsessed closeted gay kid and thanks to Netflix and our ridiculously talented, diverse and representative writers room and crew, we have shot way past my dreams and into wildest fantasy territory!"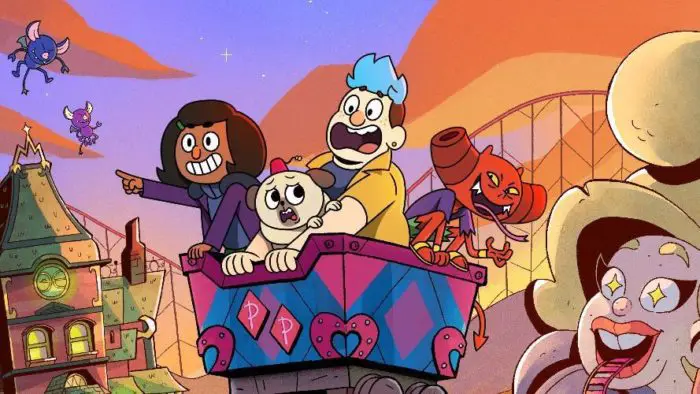 Voiceover talent for the upcoming series includes Spider-Man: Far from Home's Zach Barack, podcast series Dracula, A Comedy of Terrors' Alex Brightman, Rise of the Teenage Mutant Ninja Turtles' Kody Kavitha, Young Sheldon's Emily Osment, Big Little Lies' Kathreen Khavari, and Will & Grace's Clinton Leupp.
Dead End: Paranormal Park shares the same Gravity Falls aesthetic of a summer job in a strange place, so it's no wonder the show will be coming at the start of the summer on June 16.