I may have mentioned it before, but I am a music lover with a massive record collection of various tastes. Titles range from jazz and rock to rap and country. When I was in my early 20s, I began writing reviews for a local paper on Massachusetts' North Shore about folk acts visiting the area. The music reviews were never for big-name artists, but I love that feeling of finding something exciting and needing to tell someone about it immediately. That has since translated to my love of horror films. A few weeks ago, I spotlighted the Torn Hearts trailer, telling our readers how excited I was to see the movie. I wasn't prepared for grinning ear-to-ear from start to finish, watching the incredible melding together of horror and musical ambition as two girls get a lesson in never meeting your heroes.
Torn Hearts are the film's aspiring country music duo, Leigh (Alexxis Lemire) and Jordan (Abby Quinn), stuck in a stagnant state and desperately looking to make their mark. We meet the act crushing it at one of the dozen country music bars that line Broadway, Nashville. As they finish their set, they learn that their promoter, Richie (The Blair Witch Project's Joshua Leonard), isn't happy with their flagrant disregard of his advice to end on a different song choice. The study of the two characters begins. Jordan has a particular country music way of telling Richie to go to hell, akin to Johnny Cash giving the finger in that famous poster. Comparatively, Richie's much younger girlfriend and Jordan's bandmate, Leigh, wants to follow the laid-out, corporate-designed path toward stardom.   
Richie's method follows the archaic principles of impressing top-brass clientele like Caleb Crawford (Evil Dead's Shiloh Fernandez), a hitmaker about to go on tour. By not complying with Richie's advice, Torn Hearts may have lost a gig opening up for Caleb on his upcoming tour that needs a female act for "optics." Like any industry, the music industry has a history of making women subservient to corporate ideals, telling them what to wear, what to do, and who to be while nearby cameras roll. There was even a stint not that long ago in country music where most of the music was dominated by male anthems known informally as "Bro-Country," and new female acts were having a hard time getting airtime. To help combat that, talk show personality Bobby Bones launched a weekly Women of iHeart Country radio show dedicated to highlighting female voices in the genre in 2018.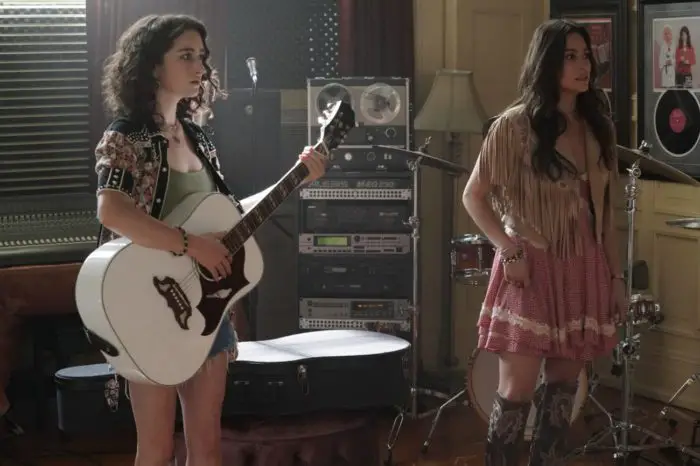 I'm sure you weren't expecting country music trivia when you started reading this article, but screenwriter Rachel Koller Croft's script fits so fantastically into every facet of the music genre's pitfalls by calling out the problematic relationship country music has with promoting female acts. She even jabs "Bro-Country" with Caleb's never-played diegetic hit song, "Boots on, Blackout."
The atmosphere in this early exposition is thick with waspy repartee, playing like an episode of a drama series like Succession, where opportunity and relationships are synonymous, intercut with stark humor and saturated in neon. Bitter truths and stinging remarks follow Jordan's excursion to Caleb's home, where she learns of his relationship with country mega-star, and Leigh and Jordan's hero, Harper Dutch (Katey Sagal). Once upon a time a part of her own duo, The Duchess Sisters, Harper Dutch has been reclusive since losing her sister to suicide. When Jordan catches wind that Harper is looking to step back into the spotlight, she convinces Caleb to give her Harper's address so that Torn Hearts can persuade Harper to chase a comeback by singing with them on their next album. 
When the girls roll up to the inscribed gates of Harper Dutch's home, there's an ambiance equivocal to that of when Pip enters Miss Havisham's house in Great Expectations. With fantastically captured hints of danger between cuts in the early exposition, director Brea Grant presents the gravity of the nightmare that approaches unconcealed from the girls. Their star-struck status blinds them to the fractured psyche of their idol, who may be hiding a shocking secret. The scene is littered with red flags, from the overgrown brush to some quick shots of the disheveled nature inside the estate that border on horrific living conditions. Where Dollywood is a museum and a theme park, Grant makes Dutchwood an unkempt mausoleum. As the veneer of the pair's initial awe wears off, Jordan and Leigh are pitted against each other in the labyrinth of Harper's mansion as they fight for a shot at making it big in a town of cutthroat opportunists.
Writing and starring in 2020's unrelentingly tense Lucky and then pulling double duty again behind the camera as writer-director on the charismatically macabre 12 Hour Shift, Brea Grant is proving to be one hell of a force in horror. Every project she takes on has been worth seriously paying attention to, and Torn Hearts is no different. Her attention to pace and detail helps keep the film fresh and ominous through the early portion of the movie as Harper sizes up the latest Nashville act to grace her doorstep. The film's momentum is carried by Croft's sharp dialogue and Sagal's sinister swagger in a world she's all too familiar with. Sagal has two country music albums under her belt and had appeared as a background singer on tours, including Bob Dylan and Tanya Tucker. Clearly, she's no tourist in the country music world and uses every ounce of her experience to embody the larger-than-life Harper Dutch. 
Diabolically clever and massively entertaining, I could not keep my eyes off the screen. It's the horror alternative to The Thing Called Love, with a mesmerizing score by Brittany Allen and original songs by Jes Marie. The film will keep its lyrics on your lips long after its shockingly perfect final twist. Torn Hearts is a movie about the power of celebrity and the lengths people are willing to go to in order to obtain it, brimming with irony and fierce dialogue under the trappings of "don't go in that house" style horror warnings from the '70s and '80s that are few and far between. I honestly can't recommend Torn Hearts enough.  
Torn Hearts premieres on Epix and VOD on May 20.