If we've got you curious about David Cronenberg's latest body horror fest, Crimes of the Future (2022), it's just been announced the film will be available on Blu-ray starting August 9th.
Crimes of the Future stars Viggo Mortensen, Léa Seydoux, Kristen Stewart, Scott Speedman, and Yorgos Pirpassopoulos. Mortensen previously worked with Cronenberg on Eastern Promises and A History of Violence.
Crimes of the Future sounds like a dystopian thriller with Cronenberg's signature body horror. In the film, celebrity performance artists Caprice (Léa Seydoux) and Saul Tenser (Viggo Mortensen) begin to display Saul's organ transformations as part of their act. They attract the attention of the National Organ Registry investigator, Timlin (Kristen Stewart), who begins to follow their every move. This leads to the revelation of a mysterious group whose mission is to reveal the "next phase of human evolution."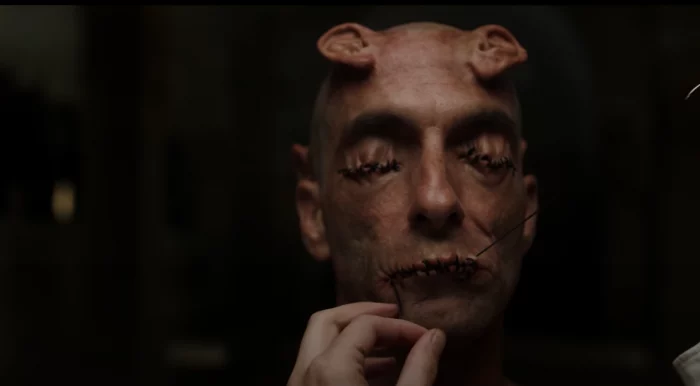 Cronenberg is known for body horror classics such as Scanners and The Fly. The filmmaker recently commented on Crimes of the Future, saying that he expects audience members to walk out due to "some very strong scenes." He also said that his current film shouldn't be confused with an older film from 1970 that he made under the same name. 
Cronenberg recently told Deadline that Crimes of the Future is "[…] going to either attract or repel people. Basically, I'm returning to a kind of filmmaking that I haven't done for a while. And the feeling is that there's a new audience for a film like Crimes of the Future that didn't exist when I was making my last three or four films. So, it's my return to the flesh."
Crimes premieres this month at Cannes. Cronenberg's last film presented at Cannes was Maps to the Stars eight years ago. MSN News reports that Crimes "[…] instantly became one of the most buzzed-about competition films after Neon dropped the trailer on April 14th, the day of Cannes' press conference." 
Crimes of the Future will be released in the U.S. on June 3rd.