Shudder, AMC's horror streaming service, is partnering with RLJE Films, a business unit of AMC Networks, on Destroy All Neighbors, a Shudder Original horror-comedy.
Destroy All Neighbors stars Alex Winter as "the neighbor from hell," Vlad, who is accidentally killed by his neighbor, prog-rock musician William Brown (Jonah Ray Rodrigues). After his death, Vlad proceeds to torture William, making his life a "living nightmare […] sending him into further madness and impending doom."
Alex Winter is known for his roles in iconic films such as The Lost Boys and the Bill and Ted franchise. Jonah Ray Rodrigues most recently starred as Jonah Heston, host of Mystery Science Theater 3000. Rodrigues is also a former host of The Nerdist Podcast and co-host of Comedy Central's The Meltdown with Jonah and Kumail.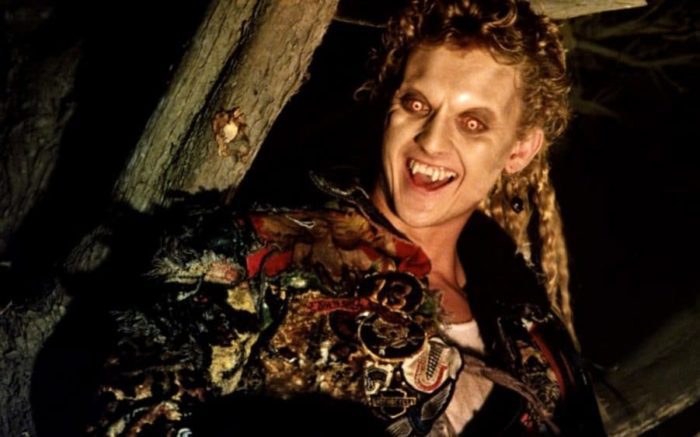 Cinema Chords quotes Shudder General Manager Craig Engler: "We're so excited for Josh, Jonah, and Alex to bring this hilariously dark take on 'the neighbor from hell' to our members. Giving this tentpole feature as big of a launchpad as possible with our partners at RLJE Films is sure to get the whole 'neighborhood' talking."

"We're thrilled to be working with Shudder and RLJE on this labor of love," added Winter. "Our film is a return to the kind of physical effects-driven genre comedy that's all too rare these days."
Josh Forbes is set to direct, with Mike Brenner, Jared Logan, and Charles Pieper writing the script. Forbes is a commercial and music video director who directed the 2015 film Contracted: Phase II, an independent zombie-body horror film, which was a sequel to the 2013 film Contracted. Brenner worked on Bob's Burgers, Logan worked on The Late Late Show with James Corden, and Pieper mostly worked in animation. Besides starring in Destroy All Neighbors, Winter will serve as producer with Russel Sanzgiri (Michael Bolton's Big Sexy Valentine's Day Special).
Casting is still underway on Destroy All Neighbors, with production set to start in July. Destroy All Neighbors will have a day-and-date release in theaters and on Shudder next year.