Filmmaker David Cronenberg expects audiences to be disturbed by his latest film, Crimes of the Future. Known for classic body horror films like Scanners, The Fly, and Videodrome, anyone familiar with Cronenberg's work should expect some extreme body horror.
In a recent interview with Deadline, Cronenberg said "I do expect walkouts in Cannes, and that's a very special thing. There are some very strong scenes […] I mean, I'm sure that we will have walkouts within the first five minutes of the movie. I'm sure of that."
Crimes of the Future is Cronenberg's first feature film in eight years. According to the trailer,  "surgery is the new sex." The story is about surgical performance artists (Viggo Mortensen, Léa Seydoux) whose act includes displaying the metamorphosis of human organs. Their performances come to the attention of a National Organ Registry investigator (Kristen Stewart) which leads to the realization that the government's mission is that "organ transplants will lead to the next phase of human evolution."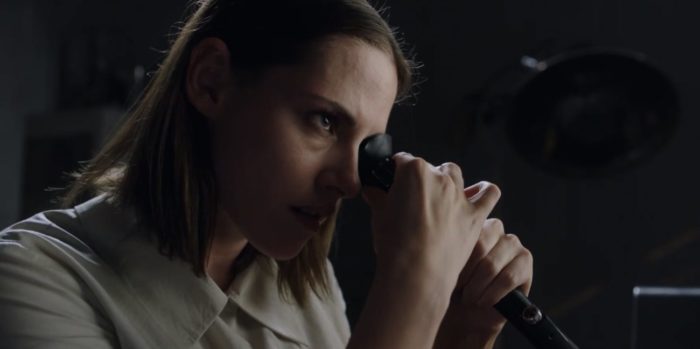 In the Deadline interview, Cronenberg said that he started writing Crimes under the title Painkiller 20 years ago. He and producer Robert Lantos decided to change the title since many books, movies, and TV shows have used the title Painkillers over the past 20 years. They decided to name it after an underground film Cronenberg made in 1970. However, he said the current Crimes is not a remake of that film.
Cronenberg told Deadline "Only a few people will know about the existence of that old film. That's the way we thought about it. We just liked the title, and we thought it would be nice to have it on a movie that will probably gather a larger audience than the original."
For those who can manage to sit through Crimes, Cronenberg gives us a little warning about the ending: "Some people who have seen the film have said that they think the last 20 minutes will be very hard on people and that there'll be a lot of walkouts. Some guy said that he almost had a panic attack […] People always walk out, and the seats notoriously clack as you get up because the seats fold back and hit the back of the seat. So, you hear clack, clack, clack."
Crimes of the Future premieres at Cannes this month before its U.S. release on June 3rd.