The sun is shining, flowers are in bloom. Spring is finally here, and with it, are a ton of new horror books. Welcome back to the monthly roundup of horror releases, from big names to self-published works. If you missed any previous months, make sure to check those out too!
May 1st
Your Body is Not Your Body: A New Weird Anthology to Benefit Trans Youth in Texas. Horror/Anthology. "Over thirty Trans and Gender Nonconforming creators unite to voice their rage, and the rules of conventional Horror go out the f$%&ing window in this collection featuring murderous pleasure-bots; proselytizing zombies; acid-filled alien cops;
science run amok; sorcerers, ghouls, cannibals…and that barely scratches the grave-dirt." (Tenebrous Press)
May 3rd
Book of Night by Holly Black. Fantasy. "#1 New York Times bestselling author Holly Black makes her stunning adult debut with Book of Night, a modern dark fantasy of shadowy thieves and secret societies in the vein of Ninth House and The Night Circus." (Tor Books)
Hidden Pictures by Jason Rekulak. Thriller. "From Jason Rekulak, Edgar-nominated author of The Impossible Fortress, comes a wildly inventive spin on the classic horror story in Hidden Pictures, a creepy and warm-hearted mystery about a woman working as a nanny for a young boy with strange and disturbing secrets." (Flatiron Books)
The Honeys by Ryan La Sala. Young Adult/LGBTQ. "Mars has always been the lesser twin, the shadow to his sister Caroline's radiance. But when Caroline dies under horrific circumstances, Mars is propelled to learn all he can about his once-inseparable sister who'd grown tragically distant." (Scholastic Books)
Not Good for Maidens by Tori Bovalino. Fantasy/LGBTQ. "Seventeen years ago, May and Laura Wickett fought their way out of the goblin market but the scars will never fade from May's heart. After all, the market was more than the sum of the bodies it left behind: it was also the home of her first love. But when the price of freedom is blood and marrow, some heartbreaks are better left buried." (Page Street Publishing)
When Other People Saw Us, They Saw The Dead: A BIPOC Gothic Anthology edited by Lauren T. Davila. Horror/Anthology. "When Other People Saw Us, They Saw the Dead is an anthology of dark, unsettling writing from some of the most exciting contemporary BIPOC writers. Blending Gothic, horror, folklore, fantasy and fairy-tale, these eerie short stories will disturb, move and humour you. Death is ever-present in the pages of They Saw the Dead, blending with notions of home, memory, grief and belonging, as well as gentrification, white supremacy and colonization." (Haunt Publishing)
We All Fall Before The Harvest by C.M Forest. Horror. "In the guts of a nameless city, career criminal Owen fights for his sanity and his life. After stealing a morbid piece of artwork at the behest of his boss, Owen discovers the original owners of the grotesque painting are part of a twisted cult known as The Family—and they'll stop at nothing to get it back." (Timber Ghost Press)
May 5th
On Stolen Land by Stephenie Rabig. Horror/Western/LGBTQ. ""When a prairie-mad settler murders Milton Allen's brother and his family, the wealthy rancher offers an enormous bounty to bring the culprit in. Ada Marshall and Pearl Beckwourth, bounty hunters with twenty years experience, assume this is yet another straightforward job. But when a fellow bounty hunter is torn to pieces not fifty feet away from their camp, their natural wariness grows, and in the tiny, isolated valley town of Woodlawn, they learn that the attacker may not even be human…"
May 7th
Your Mind Is A Terrible Thing by Hailey Piper. Horror/Sc-fi. "Communications specialist Alto's shift aboard the starship M.G. Yellowjacket turns hellish after waking from a triste to learn every crewmate has vanished. Worse, a sinister presence has crawled aboard the ship. It's violent, destructive, and it can reach into your thoughts to make you see and feel what it wants." (Off Limits Press)
May 10th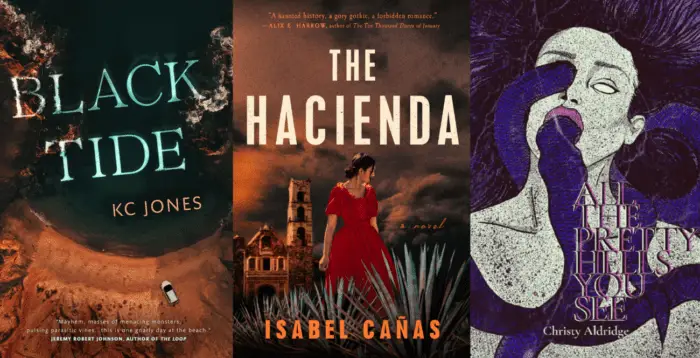 Black Tide by KC Jones. Cosmic Horror/Post-Apocalypse/Sci-Fi. " It was just another day at the beach. And then the world ended. Mike and Beth didn't know each other existed before the night of the meteor shower. Chance made them neighbours, a bottle of champagne brought them together, and a shared need for human connection sparked something more. After a drunken and desperate one-night stand, the two strangers awake to discover a surprise astronomical event has left widespread destruction in its wake. But the cosmic light show was only part of something much bigger, and far more terrifying." (Tor Nightfire)
Friend of the Devil by Stephen Lloyd. Gothic/Noir-Mystery/Thriller/Suspense. " After joining forces with plucky, epilepsy-defying school reporter Harriet, Sam ventures into increasingly dark territory, unravelling a supernatural mystery that will upend everything he thinks he knows about this school—and then shatter his own reality." (G.P Putnam's Sons)
The Hacienda by Isabel Cañas. Gothic/Paranormal/Suspense. "Mexican Gothic meets Rebecca in this debut supernatural suspense novel, set in the aftermath of the Mexican War of Independence, about a remote house, a sinister haunting, and the woman pulled into their clutches…" (Berkley)
All The Pretty Hells You See by Christy Aldridge. Horror/Short Story Collection. "Welcome to the eighteen different levels of Hell. Each one a little different than the last. Each one just as painful in a place where no one escapes unscathed. Come and look at All the Pretty Hells You See."
May 12th
Killer be Killed by William Sterling. Slasher. "Killer Be Killed takes the traditional camp serial killer formula and turns it on its head in a Splatterpunk-light homage to the slashers of the 80s with healthy doses of demonic possession and anti-cult related sub-plots cooked in for good measure."
Howls From The Dark Ages: An Anthology of Medieval Horror with a foreword by Christopher Buelhman. Horror/Anthology. "HOWL Society Press presents the first-ever anthology of medieval horror! Howls from the Dark Ages contains 18 thrilling tales of cursed castles, wild woodlands, haunted hamlets, and mysterious monasteries, with an introduction by Christopher Buelhman, the author who started it all with his novel Between Two Fires." (Howl Society)
May 13th
The Haunting of Orchard Hill by Sara Crocoll Smith. Horror/Psychological. "In the dead of night, Nina escapes her abusive husband with her baby son. She only gets as far as Orchard Hill when a swarm of bees forces her off the road and totals her car. A mysterious old woman offers to give them room and board in exchange for help around her farmhouse. But Nina begins to suspect there's a dark past hidden in the creepy, desolated orchard."
Sausages: The Making of Dog Soldiers by Janine Pipe. Non-Fiction. "The Making of Dog Soldiers is a celebration of Neil Marshall's debut soldiers versus werewolves movie released in 2002. To coincide with the 20-year anniversary, we take a deep dive, behind the scenes look at the cult classic." (Encyclopocalypse Publications)
To The Devil, A Cryptid by Hunter Shea. Horror/Monster. "TO THE DEVIL, A CRYPTID brings life to a cryptid that doesn't get a lot of love and attention." (Severed Press)
Into The Crypts Of Rays: A Black Metal Horror Anthology, Vol II. Horror/Anthology. "The first dose wasn't enough… and it only gets worse. The MOST DANGEROUS and ONLY BLACK METAL ANTHOLOGY CONTINUES ITS REIGN OF TERROR…Returning with stories from Joe Koch, Matthew Mitchell, and more!" (Castaigne Publishing)
May 16th
Hummingbird by TC Parker. Horror. "There's a storm brewing in Gallow: angry parents, protests at the school, a new priest up at the church with some very clear ideas on sin… and an unfamiliar face in the cottage on the edges of the village, carving sculptures out of skin and bone." (Hold My Beer Publishing)
May 17th
Sair Back, Sair Banes by Anthony J Engebretson. Horror/Occult. "Genevieve hoped a trip to the Scottish village of Fonniskie would help her reconnect. But her vacation turns out to be less than relaxing: the nearby loch holds a dark secret, and Genevieve finds herself haunted by a relentless pursuer whose obsession means he will do anything to possess her—even kill." (Ghost Orchid Press)
Just Like Mother by Anne Heltzel. Cults/Gothic/Psychological. "When Andrea suddenly reappears, Maeve regains the only true friend she's ever had. Soon she's spending more time at Andrea's remote Catskills estate than in her own cramped apartment. The more Maeve immerses herself in Andrea's world, the more disconnected she feels from her life back in the city; and the cousins' increasing attachment triggers memories Maeve has fought hard to bury. But confronting the terrors of her childhood may be the only way for Maeve to transcend the nightmare still to come…" (Tor Nightfire)
The Legacy of Molly Southbourne (The Molly Southbourne Trilogy Volume 3) by Tade Thompson. Horror. "Whenever Molly Southbourne bled, a murderer was born. Deadly copies, drawn to destroy their creator, bound by a legacy of death. With the original Molly Southbourne gone, her remnants drew together, seeking safety and a chance for peace. The last Molly and her sisters built a home together, and thought they could escape the murder that marked their past." (Tordotcom)
May 20th
Parachute by Holly Rae Garcia. Horror. "Angela Rodriguez and her friends aren't sure what they want out of life now that they've graduated high school, but they think there is plenty of time to figure it all out. When a trip to an abandoned elementary school leads to a break-in, they discover an old gym parachute. Raising the fabric above their heads, the group expects it to balloon out around them like it did when they were younger. But instead, the parachute reveals alternate universes and terrifying worlds."
The Haar by David Sodergren. Horror/Occult. "Muriel McAuley has lived in the Scottish fishing village of Witchaven all her life. She was born there, and she intends to die there. But when an overseas property developer threatens to evict the residents from their homes and raze Witchaven to the ground in the name of progress, all seems lost… until the day a mysterious fog bank creeps inland."
May 22nd
Dancing in the Shadows: A Tribute to Anne Rice edited by Elaine Pascale and Rebecca Rowland. Horror/Anthology. "A tribute to author Anne Rice, a scrabble of authors show their love to the Queen of Horror with a collection of Gothic tales written to honour her." (Yuriko Publishing)
May 24th
Hide by Kiersten White. Gothic/Paranormal/Suspense. "A high-stakes hide-and-seek competition turns deadly in this dark supernatural thriller from New York Times bestselling author Kiersten White." (Del Ray)
Throw Me To The Wolves by Lindy Ryan & Christopher Brooks. Gothic/Supernatural/Thriller. "When a young woman cursed to be a werewolf returns home after the ritualistic murder of her family, she'll have to accept the monster she's become in order to uncover the truth about that fateful night, while partnering with a rookie cop who harbours a dark secret." (Black Spot Books)
May 31st
Sickness In Season by Aiden Merchant. Horror/Short Story Collection. "You'll be presented danger in all forms, as well questions of bravery and foolishness. What if a doorway to another dimension were to open before you? Would you step through and see what awaits on the other side? If you came in possession of a necklace that controls a powerful demon, would you make yourself a god and conquer? If you could bring back your dead child through the sacrifice of your partner, would you commit murder?" (Crossroads Press)
Big thank yous to authors who reached out to me on Twitter and let me know about their upcoming books. I'm always blown away by the amount of amazing horror literature that releases every week! See you next month.