Director Robert Eggers recently told /Film that he wants to cast Willem Dafoe in his upcoming remake of the classic vampire film, Nosferatu. 
His choice is interesting since Dafoe played actor Max Schreck in Shadow of the Vampire (2000) which is about the making of the original 1922 silent film version of Nosferatu. However, Shadow is a fictionalized story written with an imaginative twist that Schreck is a real vampire. Directed by E. Elias Merhige and written by Steven Katz, Shadow stars Dafoe as Shreck, starred opposite John Malkovich as Nosferatu director, F.W. Murnau.
However, we shouldn't assume that Eggers wants Dafoe to play Count Orlok.
 "Nosferatu is such an incredibly important film and story for me, so it's always percolating. If Willem…if Nosferatu is made, Willem better damn well be in it because I just love working with him…but, you know, maybe he would play Ellen? Who knows," Eggers told /Film.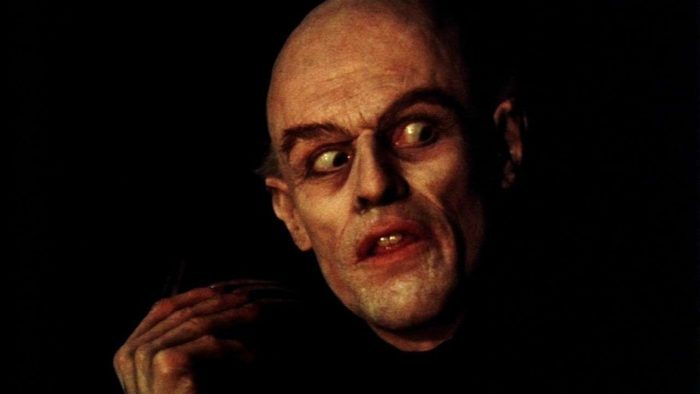 Eggers and Dafoe previously worked together on the psychological horror movie The Lighthouse (2019). Dafoe and Robert Pattinson star as lighthouse keepers stationed on a small island who find themselves stranded there when a storm erupts. Dafoe also plays the part of a court jester in Eggers' upcoming film The Northman, set for release on April 22. The Northman is described as an action-adventure revenge story based on a medieval Scandinavian legend of Amleth.
As for the rest of the cast, only Anya Taylor-Joy had been confirmed. Taylor-Joy is set to play Ellen Hutter, who is stalked by Count Orlok. Taylor-Joy has also previously worked with Eggers in the supernatural horror movie The Witch (2015) about Puritan settlers in 17th century New England. Taylor-Joy plays a young woman accused of witchcraft. Taylor-Joy also has a role in The Northman.
The 1922 film, Nosferatu, caused quite a controversy when it was released in Berlin. The plot was a thinly-disguised unauthorized adaptation of the novel Dracula by Bram Stoker. Stoker's widow, Florence, successfully sued the filmmakers in Germany. As a result, most copies of the film were destroyed. Fortunately, copies survived which eventually made it to the United States and the U.K. 
Nosferatu has achieved iconic status beside Universal's 1931 adaptation, Dracula, starring Bela Lugosi as the titular character. Another fun fact is that F.W. Murnau's silent classic is credited with creating a long-held part of vampire lore that sunlight kills vampires. In Bram Stoker's original novel, daylight weakens the Count but doesn't kill him. Just like the more famous (or perhaps I should say infamous) Count Dracula, Nosferatu's Count Orlok's likeness has his own merch including figures, t-shirts, and jewelry.
Eggers' Nosferatu remake wouldn't be the first. Director Werner Herzog's Nosferatu the Vampire (1979) has the look of Murnau's Nosferatu but uses the characters' names from Dracula. Klaus Kinski stars as Count Dracula but with the iconic pointy ears and distinct, almost rodent-like fangs of Murnau's Count Orlok. Herzog's remake is also considered a classic vampire movie.
The more current Nosferatu remake has reportedly been in the works since 2016. There isn't any further information on a possible release date.