The final features of the 22nd Boston Underground Film Festival were a powerful three titles. However, the day started with multiple groupings of short films, including one batch handled by another local festival Somerville Massachusetts' Weird Local Film Festival. Every few months, the WLFF showcases short films that are ten minutes or less and all by local talent and meet in a warehouse to screen them. This year the WLFF came to Boston Underground with a block of their favorites over the last few years. I will have a post on the shorts I was able to see at the festival soon. For now, I'm going to focus on the last three features: Neptune Frost, Medusa, and Hatching. 
Neptune Frost
Last year, the Criterion Channel programmed an Afrofuturism block of films that I got heavily into. The films in the collection were unbelievably imaginative and different, and I instantly found myself buying records from Sun Ra and Ornette Coleman after seeing a couple of the movies. Neptune Frost would have been a splendid addition to that collection and has a sound all its own worthy of picking up as well. The film is about a divergent group of people fleeing a society that seeks to destroy them for being different. Through dreams, musical numbers, and technology, the group is pulled together to shine a light on the conditions and exploitation of Rwanda's coltan mining industry, where the world gets much of the minerals needed for its technological components. 
I spent much of directors Anisia Uzeyman and Saul William's film comparing their conceptual allegory to aspects of John Coney's Space is The Place. Nearly fifty years after Coney's film, Saul Williams imbues his story with many similarities to Space is the Place through the power of music and societal viewpoints, even considering bringing the group to another dimension, making Neptune Frost feel like a spiritual successor. I'd argue it surpasses Space is the Place by opting to fix what is broken here on Earth, arguing for racial and gender freedoms. Advocacy for acceptance in the film's home country of Rwanda is usually met with ignorance and the government often harasses supporters. Neptune Frost boldly stands its ground by gutsily calling out the government and conveying the truth that the community is only getting larger and stronger and isn't going anywhere.  
With vibrant cinematography, makeup, production, and costume design, Neptune Frost is unlike anything you've seen before. It's a heavily abstract and poetic experience that, at the start, can be slightly difficult to follow. The film's lengthy exposition and initial character journeys provided a very Holy Mountain kind of vibe. As the second act ticks up, things become clearer, making for a visually stunning arthouse delight by the end that will beg you to remember that no matter how hard people try, they can't change who you are. 
Medusa
I had no idea what to expect when I began Medusa. I had heard some of the reaction to the film after it premiered at Cannes and had a vague sense of the film's subversive tone, but I was unaware of how extremely scathing the movie would treat institutional religion. Medusa is about a group of girls coming of age in a place where the church is the state and going against Christian values singles you out as a blight on the community. It begins with a vigilante group of girls in masks shaming and assaulting a girl in the street for her sinful acts. The girl is forced to accept Jesus in the street or face incurring further violence. And that's just the tip of a very deep iceberg. 
In a place where the religious message has become unimportant, oppression is all that remains for the molded youth. With their individuality stripped away, we watch how Christian law is enforced through various means. The tale of a particular girl whose face was set on fire many years ago has become a violent folk legend that provokes fear. When one of the group, Mari (Mari Oliveira), is attacked, the effect it has on her beauty has a larger impact on her status within the organization. At one point, she's even blamed for being out by herself. Discovering that the scars she's left with mean more than who she is as a person, she embarks on a personal journey with her eyes newly opened. 
Medusa was my absolute favorite movie of the 22nd Boston Underground Film Festival. Director Anita Rocha da Silveira's sophomore film is sure to ruffle some right-wing feathers here by interpreting faith and institutions aren't the same and offering a dystopian look at the oppression of women through biblical context. Medusa modernizes the '50s sentiments of homemaking women, marrying in their teens, and repressing sexuality, glistening its characters into a near Stepford Wives state of perfection. As Silveira slowly peels away the veneer, she reveals bold honesty in the characters she and collaborating writer Érica Sarmet have created. Many will suggest Medusa is more of a drama than a horror film, and I can easily tell them that they're wrong. If you consider the perspective, there's nothing more horrifying for a woman than living in the world Silveira has created, unless maybe they're living in one made by Margaret Atwood. 
Medusa will be available later this year.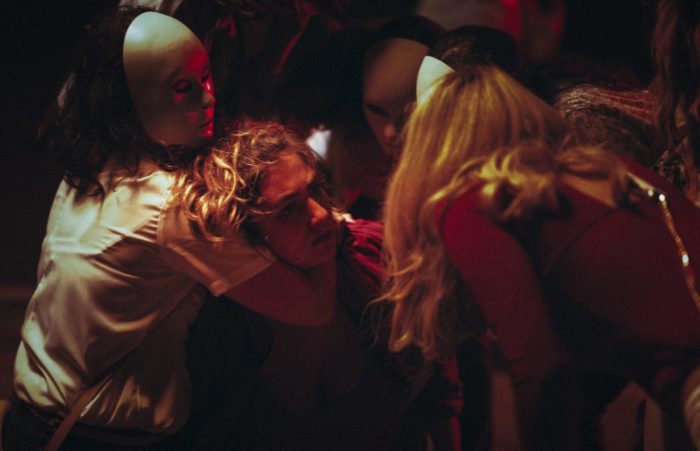 Hatching
Hatching felt like a great way to close out the 22nd Boston Underground Film Festival and a fantastic film to pair alongside Medusa. Both films have a lot to do with maintaining a perfect image, even if Hatching is told under the guise of a creature feature. From the outside, we see a flawless family portrait of suburban idealism as we meet a family who embodies the Joneses, the enviable greener grass types we all try desperately to keep up with. On the inside, through the eyes of daughter Tinja (Siiri Solalinna), we're shown that the family is breaking apart through having to maintain their elitist paragon. 
In the wake of witnessing an act of cruelty, Tinja is quick to save a bird egg which she hides and cares for while it grows wildly larger than any egg outside of the Jurassic era ever should. The creature that breaks forth begins to take on Tinja's characteristics, making for an interesting look at mother-child bonds and relationships. The film puts Tinja at an age where she starts questioning her mother (Sophia Heikkilä) as a role model and thematically considers the concept of kids-raising-kids and how influential our parents' disappointment can be. The pressures placed on Tinja by her mother affect the pressures Tinja places on her hatchling, and the film's symbolism of hand-me-down parenting techniques speaks volumes.  
Hatching is a fun albeit dark take on mother-daughter dynamics, but it's a ride worth taking. Director Hanna Bergholm has crafted a quick strange trip that is well written and exceptionally performed. The incredible effects and shocking ending are likely to give you nightmares for weeks to come.  
JP Nunez will have a full review when Hatching releases on VOD and in limited theaters on April 29. 
______________________________________________
Awards were given out at the end of the final feature, adorning Neptune Frost with the Best Debut Feature award and Chloe Okuno's Watcher, which played Saturday, with Best Feature. One last post featuring some of the 22nd Boston Underground Film Festival's shorts is still to come.